"Do you have something to say? Do you have a story to tell? ", The Neapolitan director Antonio Capuano asks Fabietto, the protagonist of It was the hand of God, the last and autobiographical film of the filmmaker Paolo Sorrentino (Naples, 51 years old). And Fabietto, transcript of the director of The great beauty (2013), a skinny boy, with his walkman always at the waist and the headphones around his neck, he replies with great sorrow, as if that story he has to tell weighed on him: "Yes." Screaming, Capuano blurts out: "Then spit it out."
We do not know, because Sorrentino does not want to confess it, if this scene occurred. "The facts are not all real. Emotions, yes ", he clarifies. But it was Capuano who first gave him a chance in the cinema, as a co-writer in the film Powder of Naples (1998), and the cinema was what shook him to wake up from the lethargy in which he was plunged by a sad and mediocre reality. 23 years and almost a dozen feature films after that debut, It was the hand of God (tomorrow in theaters and on December 15 on Netflix) is his most personal work, his true story, the one that he knew he had to tell for a long time. Since ever. But only now, turned 50, has he dared to spit it out.
The story in question is the death of his parents in a home accident, by inhalation of gas in 1987, one month after Sorrentino's 17th birthday. He was going to be with them, indeed, but he was saved by Maradona, the hand of God. Instead of marching with his parents, he went to the game, to the Naples stadium: God saved him, his personal god, the god of the city of Naples. San Diego Armando Maradona. They say that cinema is healing, healing. For him it has been.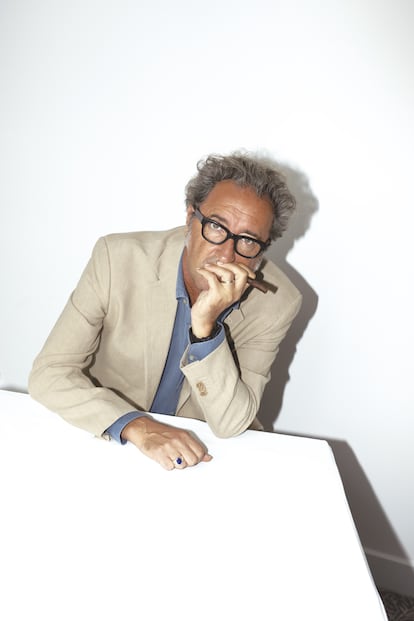 Sitting on the terrace of the Hotel Londres, during the San Sebastián Film Festival, almost new to the Venice Film Festival, where he has just won the Grand Jury Prize, he seems happy, satisfied, much lighter than Fabietto. "It has been an attempt at therapy, yes, because for many years I have had an internal monologue, I talked to myself about my pain and I have improved very little, I was a bit stuck in those 17 years," he admits between puffs of those cigarillos. , the only public vice that he retains at his age. "I thought that if I tried in another way, if I shared it … When you make a movie about yourself, this happens, you have to talk about it for many months and, at a certain point, you end up getting bored. And I hope that, in the end, after all these interviews, I end up getting bored with my pain and thus forgetting it ". He lets out a laugh.
It was the hand of God It is a separate point in Sorrentino's filmography. He has let go of that personal burden that he was carrying and thus now seems even freer, unleashed from the style that he had created and had defined him, especially after the success of The great beauty. Here there are still extravagant, exaggerated characters and of course there is his muse, Toni Servillo, in this case in the role of his father: "It could not be another, for me he is an almost paternal figure." But there is more restraint, more simplicity, more emotion. Because there is not even music: although he wrote it while listening to the song Bullet Proof, from This Is The Kit, the only one that sounds is Napule E ', by Pino Daniele, on the end credits.
"This is a very small movie, which I envisioned from the beginning just for my family and my people. It is a simple film, made of memories, of adolescence experiences. It's simple and I wanted a simple staging. The first days of filming I tried to do things the way I have done until now, but we realized right away that we were making a mistake ".
The last push to make It was the hand of God gave it to him Roma (2018), by Alfonso Cuarón, another film based on personal memories of its author, who moved away with him from his previous cinema. "I wrote to tell him, it helped me understand that I could do something small in my own way," he says. "The same thing happened to me when I had to make the movie about Andreotti (The celebrity) and saw in the cinema The Queen (2006), by Stephen Frears. They are films that enlighten you and show you the way ".
How it was marked Once upon a Time in America (1984), by Sergio Leone, the VHS tape that goes around in It was the hand of God, a title that he discovered in that adolescence in which he devoured video cinema like crazy. "It was the first film that gave me to understand how fascinating epics are in the cinema," he recalls, although later he admits that the one he probably saw the most was Taxi Driver (1975) by Scorsese. As a young man I constantly went to the video store ("I am of the generation that discovered cinema on VHS, an instrument, like streaming, which democratized access to cinema "). "Since I was little I watched a lot of movies, and it seemed like a hobby. But after the death of my parents, I continued watching movies and I realized that it was no longer just a hobby, it was the time I enjoyed the most. I began to think that I had to find a way to do this that made me feel good, dedicate more time to it in my life, link my life to the cinema. Instead of watching 200,000 movies to feel better, see only 200 and start making movies myself, "he laughs.
All that is told in some way in It was the hand of God. It is his explanation of why his cinema is nostalgic. "Because melancholy is a way of being in the world, and I was before the great tragedies of my life," he says. He also exposes his look Fellini (and controversy) about women, a subject that he shuns in public. Although it is not clear if, as Capuano tells Fabietto, "to make movies you need to have eggs." Sorrentino laughs again. "I don't know if it is the correct expression. You do have to be persistent. Because when you are a young person of 26 or 27 years old, it is difficult to convince older people to give you three or four million ", he responds.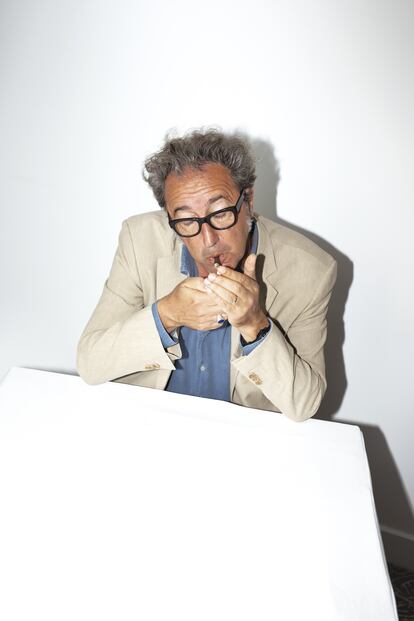 Now you don't have to convince anyone? Laugh again. "Right now I am in a wonderful position. It happens the other way around: people come to offer me money and I reject it. The most beautiful thing in life is being able to say no without regret, and it is not easy. If I have regretted something, it is for having said too much yes, because what I really like is being at home watching football games on TV ".
Because he no longer plays except with his son, things of his age, but football, his Naples, follows him religiously. "It is a show like cinema, even a little more beautiful because I know cinema from the inside and I know all the tricks, I know why it ends the way it ends. But in football I don't know what will happen. There is magic. Soccer is more surprising than cinema ". And it is not a religion, although Maradona continues to be a god, the best player in the world, as he starts saying in the film. It is? "Definitely".
You can follow ICON on Facebook, Twitter, Instagram, or subscribe here to the Newsletter.



elpais.com