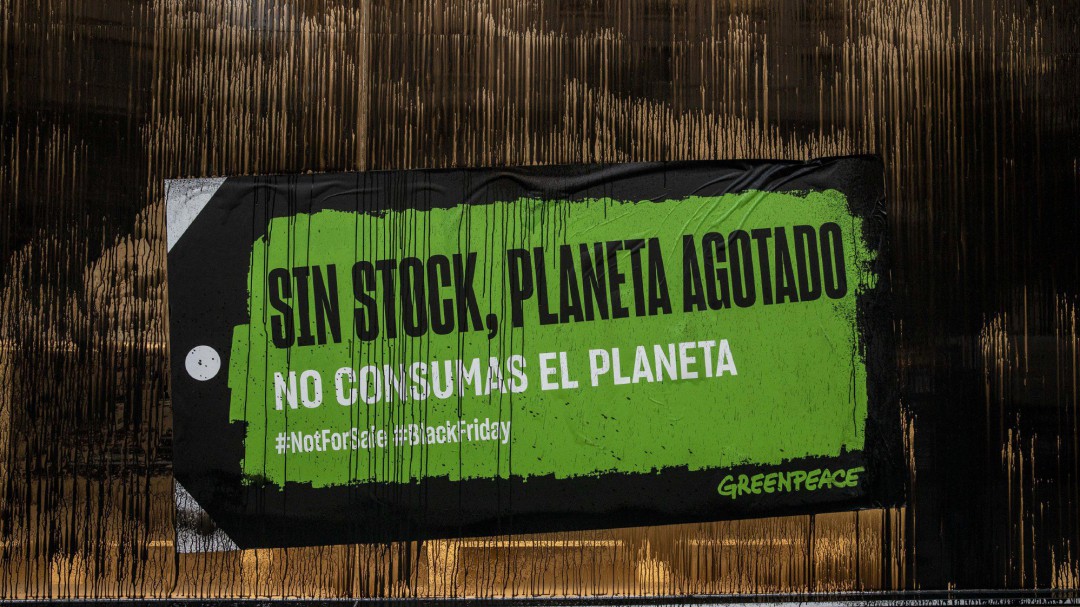 As is customary every year, the day of 'Black Friday' dawns with protests by activist groups against climate change. Greenpeace has covered the windows of fast fashion stores on Madrid's Gran Vía to denounce the "socio-environmental disaster of Black Friday" that fosters a "consumerism that depletes" the planet's resources.
With stickers and paintings with the message 'Out of Stock. Exhausted Planet ', the NGO has chosen fast fashion establishments as "an example of the tip of the iceberg of consumerism" and its environmental and social effects.
For Greenpeace, Madrid's Gran Vía is an "example" of how cities are being transformed into shopping centers that suffocate small shops and promote consumption that depletes the planet's resources and exacerbates climate change and the loss of biodiversity.
"The current rate of consumption is unsustainable and is destroying habitats, generating emissions of greenhouse gases and garbage that pollute water, air and soil. Governments and cities must establish regulations that regulate production, limit planned obsolescence, prohibit the advertise polluting brands and promote a true circular economy that is not based only on recycling. A change in the system is necessary to save the planet, "said Celia Ojeda, head of the Greenpeace Consumer Campaign.
For this reason, Greenpeace calls for a binding regulation so that fast fashion brands do not continue to manipulate the limits of their destructive business model, increasing more and more the volumes of clothing that are manufactured.
According to Greenpeace, the current use of natural resources is on a world average 1.7 times faster than ecosystems can regenerate. This global average is very unbalanced, if the whole world consumed like the United States, up to five planets would be necessary; in Australia, 4.1; South Korea, 3.5; Russia 3.3. Spain consumes 2.5 planets per year, remaining within the European Union average (5).
Since 2015, Black Friday sales have increased 10-20 percent each year. To this increase must be added a change in the pattern of consumption from 2019, where online shopping increased. In 2019, 33 percent of Spanish consumers said they would make purchases to take advantage of Black Friday. In 2020 that figure rose to 40%.
15 Amazon centers in Europe, also affected
Outside the Spanish borders, climate activists attacked 15 Amazon centers in Europe against 'Black Friday' and the world's largest e-commerce company also faced protests from workers and delivery people in Germany, France and Italy.
Seattle-based Amazon has faced criticism from climate activists that overconsumption harms the environment, while an alliance of unions points to the company not paying workers or governments enough.
"'Black Friday' epitomizes an obsession with binge drinking that is not consistent with a habitable planet," said the Extinction Rebellion group after blocking 13 Amazon warehouses in the UK.
"Amazon and companies like it have capitalized on our desire for convenience and fueled rampant consumerism at the expense of the natural world," he noted.
For its part, a spokesperson for Amazon, which brought the traditional Black Friday discount day from the US to the UK in 2010. "We have a large network of sites across the UK and we are working to minimize any potential disruption to customers." In addition, Amazon also stated that it takes its responsibilities "very seriously."



cadenaser.com
George Holan is chief editor at Plainsmen Post and has articles published in many notable publications in the last decade.