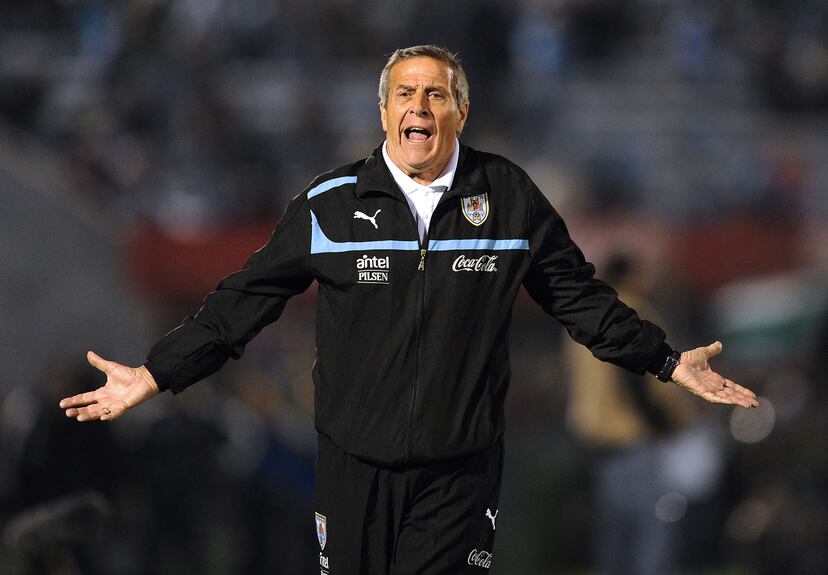 There are people who change the history of a trade. Óscar Washington Tabárez (Montevideo, 1947) is one of them. A school teacher who put teaching at the service of football or life, which, sometimes, is almost the same, because it is impossible to convince entire generations of something that they are not sure of. The Master imposed a way of training and competing that marked an era of legend.
Tabárez managed to make his way of seeing sport impact Uruguayan society and incidentally, he left lessons in different settings in which he was invited to speak as part of his profession or because of it. "The road is the reward," he said raising his left fist before the crowd that welcomed him as a hero after Uruguay's unforgettable performance at the World Cup in South Africa. A phrase that became part of popular culture, El Maestro is an influencer without a YouTube channel.
In times when immediate success is a mandate, he resisted 15 years and more than 200 games as head of the Uruguay National Team. As a soccer man, he always knew that only triumphs guarantee emotional and contractual ties. In sports, glory is fleeting. One day it is being celebrated in front of thousands of people and the next you have to go back to work. Like life, I already said it. That is what it is all about.
In the country of three million inhabitants and two World Cups, Tabárez launched a training project for youth teams based on teaching, training and evaluating not only tactical and technical concepts of the game but also values. Greet and thank as basic gestures and education ("access to the cultural universe") as a fundamental principle to train people. Very few guys become professionals.
He always affirmed that the 'chiquilines' who passed through the Celeste sports complex were his direct contact with the reality, the shortcomings and the challenges of his country. He committed himself to young people and their role as a trainer. Ever heard the song together with the U17 footballers Jose knew from the band La Vela Puerca, because as the lyrics say "when everything seems screwed up is when you have to put it on". That is the Master.
A serious man, with firm convictions and just words. One of his most forceful interventions was in Brazil 2014: he questioned the power and interests after the sanction of Luis Suárez for the bite of Giorgio Chiellini. "There is harassment that seems to last forever," he said. "It is not prudent to coincide with people who have criteria, procedures and values ​​that are very different from those I think I have," he added after announcing that he was leaving his position in the FIFA strategy committee.
On one occasion, I saw him upset when a journalist asked him if he would sign a tie against Colombia. "Those are not football things," he answered without joking. In those days, he was recovering from Guillain-Barré syndrome that prevented him from walking normally. Thus, holding his cane, he climbed the stairs to the field of the Metropolitan Stadium of Barranquilla where he was received amid applause by the fans. An unforgettable ovation.
Respect is the word that defines his relationship with the world of football. However, the results of La Celeste in the Qatar World Cup Qualifiers generated a climate of tension that not even the loyalty of its players could conjure up. They questioned the style, the proposal, the speed … of his team and his own. In the absence of four games and with a brief statement, the Uruguayan Football Association announced the end of his contract. In minutes his last name was a trend.
Over the years and the World Cups the question about his retirement had become more and more frequent. In an interview he responded by quoting Estela de Carlotto, president of Abuelas de Plaza de Mayo, that he was excited to "grow old doing". 36 years after his debut as a coach, he is valued not only what he did, but what he generated. Even if he leaves, Tabárez will always be …
Sign in to continue reading
Just by having an account you can read this article, it's free
Thanks for reading EL PAÍS

elpais.com
George Holan is chief editor at Plainsmen Post and has articles published in many notable publications in the last decade.