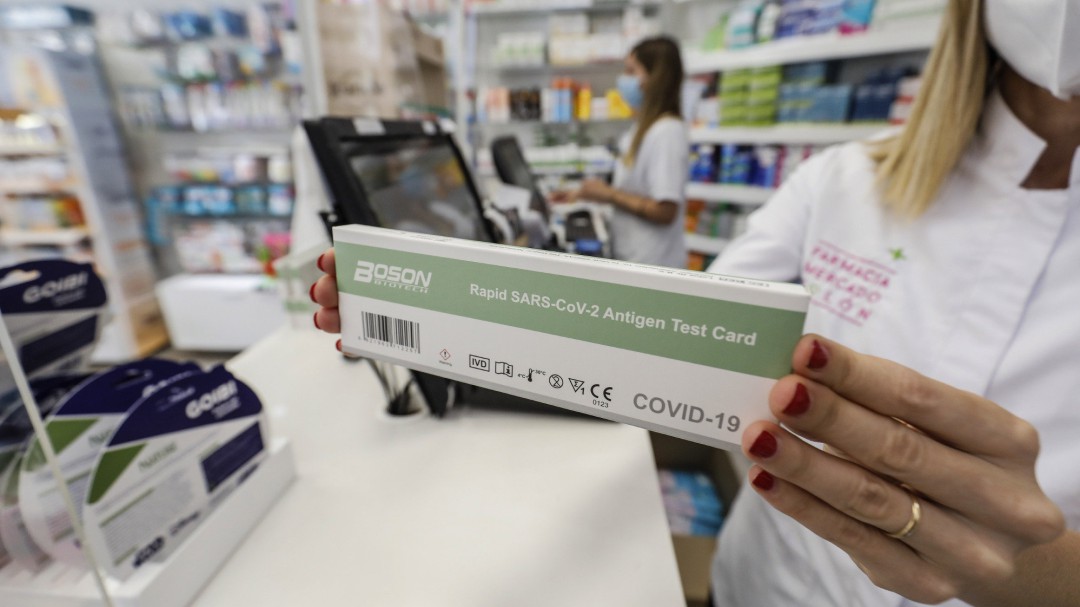 A proof of the dizzying speed at which the virus is moving with its new variant omicron is the rate at which antigen tests are sold in pharmacies, which each one can do at home. The proximity of the Christmas holidays, trips or company dinners have caused Spanish citizens to be flocking to pharmacies to check if they are infected or not before to be more sure (although these tests are not conclusive 100% of being or not infected).
For this reason, in the last week, from November 29 to December 6, with the definitive expansion of ómicron, the sales of tests in pharmacies have shot up by more than 500%, as well as their price, even doubling in some cases. According to data from the IQVIA consultancy, pharmacies sold 1,120,000 diagnostic tests, that is, an increase of 545%.
The sale without a prescription officially began in Spain on July 21, after being published in the Official State Gazette and approved the day before by the Council of Ministers. Before this date it was possible to acquire them with a medical prescription, so their availability was very limited. And since mid-November it has experienced a significant rebound, for which pharmacists say they are not to blame. "Pharmacists are victims of this situation, since we are the ones who see the real needs of patients. We can understand that demand has increased but we are not responsible for them," says Ana López Casero, spokesperson for the General Council of Pharmacists. The Council denounces any type of speculation that is taking place in the test production and distribution chain.
The increase in the sale of tests by autonomous communities
Catalonia is the autonomous community that leads the acquisition of this type of diagnostic tests against COVID-19, with 227,981 in the week from November 29 to December 6.
That week was followed by Madrid (156,463), Valencian Community (133,124), Andalusia (126,826), Basque Country (97,150), Galicia (88,414), Castilla y León (61,237), Aragon (54,908), Canary Islands (28,720), Asturias (28,668), Balearic Islands (27,150), Castilla-La Mancha (23,884), Murcia (22,214), Navarra (14,587), Cantabria (11,135), Extremadura (10,362) and La Rioja (5,708).
Thus, the 'stock' after this week stood at 1,428,426 at the national level, with a clear preponderance again of Catalonia, with 279,053, followed by Andalusia (247,203). The IQVIA report points out that this 'stock' would "cover demand" for the following week if it remains at the same level.
Antigen tests are scarce in Madrid
In the Community of Madrid the "exhausted" sign is already becoming common. From the College of Pharmacists of Madrid they attribute this shortage of tests to the increase in demand, so high due to the proximity of the Christmas holidays.
Now, customers not only face a more difficult treasure hunt, but when they find it, the price has changed. Until a few weeks ago, antigen tests did not exceed € 10 in any pharmacy in the Community of Madrid. However, given this increase in demand, the market takes advantage of the opportunity and makes prices more expensive.
In addition, no pharmacy in Madrid has received the free tests that Ayuso promised for each Madrilenian. The delivery date, in theory, was to be yesterday, December 15, but is expected to last until early next week.



cadenaser.com
George Holan is chief editor at Plainsmen Post and has articles published in many notable publications in the last decade.