For three months now, Zakia Kawiyan, Shahla Arifi and Maliha Hashemi have come every week to sign in the register of the Ministry of Women's Affairs, in the center of Kabul. It is a requirement not to lose their status as civil servants. But neither the Ministry exists, they don't even let them pass much past the entrance. The Taliban, who have rechristened the building as the Ministry for the Promotion of Virtue and the Prevention of Vice, are urging them to sign their name and not be distracted. A few weeks, they have had them sign the listing on a bench in the parking lot.
"It is a punishment for our protests," say the three women, who have been very active in claiming their jobs and the rights of Afghan women. its last manifestation It took place on November 25th on the occasion of the International Day against Sexual Violence. Together with other brave Afghans they marched from the Ministry that the fundamentalists have taken from them to the Presidential Palace. It was very risky. As soon as they realized their audacity, several vehicles surrounded them, took away their posters and a Taliban came close to shooting at them. "That, kill us rather than trample our rights," Arifi snapped, according to her companions, who in the end calmed the situation. Since then, the threats have intensified.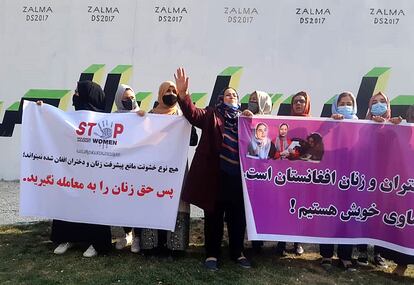 They say that every time they appear in the media, they receive calls asking them what they want to work for, or why they do not send their children to the ranks of the Taliban fighters. They do not hide their fears, but they say they are willing to die defending their rights. They regret that the many women's organizations that have emerged in recent years have been seriously weakened, if not inoperative, with the departure of their promoters from the country and the loss of foreign funding. Amnesty International denounced this Monday that women and children survivors of gender violence have been left without assistance since the fundamentalists came to power. Despite this, they ask that you do not fall into their blackmail: "Do not recognize the Taliban as long as they do not respect our rights." After the repression of the protests, they are convinced that it is their last asset.
The Ministry of Women's Affairs had almost a thousand employees (the vast majority were women), three hundred of them at the Kabul headquarters and the rest spread over the various provincial delegations. Like the rest of the female officials, they lost their posts on August 15 at the same time that the Taliban took over the capital. Arifi, who ran the Education department, remembers that two days later she went to work and was not allowed in, not even to pick up things from her office. It was not the only one. On the second attempt, a few days later, a clergyman who identified himself as maulana Khatib and that he told them they had to wait "until a segregated system was organized."
They tried again a third time with the same result. "It was then that we began to demonstrate in front of the Ministry," says Kawiyan, who was responsible for communication. The answer came with the change of ownership of the building: a coup of great symbolism because the ominous Ministry for the Promotion of Virtue and the Prevention of Vice that now occupies the headquarters of Shahr-e-Now is the same as during the first dictatorship Talibana (1996-2001) acted as moral police and was concerned, above all, with repressing women.
Join EL PAÍS now to follow all the news and read without limits
Subscribe here
Trap
By age, Kawiyan (40 years old), Arifi (44) and Hashemi (47) remember that time very well. They admit that the measures now don't seem as drastic as they did then, but they see a catch. "The opening is limited to Kabul. Women cannot move with the same freedom in [las provincias de] Badakhshan and Takhar, for example ", Kawiyan says. They are convinced that it is only a ruse to gain international recognition by giving them access to Afghan reserves and development aid. "What good is it that we can go out on the streets if we cannot educate ourselves or work?" Asks Hashemi, a widow with three children whose salary as head of the Ministry's Administration was the only sustenance for her family. "I don't mind respecting the hijab or wearing a long skirt if they let me work," he abounds.
The Taliban have not directly banned women's work. However, their restrictions substantially limit it and raise concerns that their objective is to eliminate them from the public sphere as they did the first time they were in power. It is still possible to see some in the private sector, but this represents only a fraction of total employment and it is in the public sector where their presence (30% of the civil service) paved the way. Now, they have only been readmitted to the health and the issuing services of passports and identity documents.
Activists also reject segregation. "They tell us to wait until they adopt a system in which we can work apart from men, but two generations have studied and worked together and we do not want a separate place because that would end professional competition," Kawiyan emphasizes. "If God said that no human being is above another, why do they try to differentiate between men and women?", He adds, seeking to dismantle the supposed religious arguments adduced by fundamentalists.
Roya and Heelai, two in their twenties who barely had a month to graduate in Spanish when the Taliban banned women from sharing a classroom with men, confirm that in their generation, educating themselves with the other sex has not been a problem. Both bright students aspiring to pursue a master's degree, they are concerned about their future. They see no other way out than to emigrate. Although they only know about the abuses that the Taliban committed because of their parents' stories, they are suspicious of what is to come.
Both are convinced that "the majority of Afghans, especially among the less educated, applaud the measures of the Taliban because they have never accepted women as equals; they consider that we should limit ourselves to being good mothers ". But they refuse to resign. "We have not gone to school for 12 years and four to university, after passing a tough selectivity exam, and now we stay at home," they say. Despite this, they have not joined the protests. "I would have liked it, but my mother considered it very dangerous," Roya confides. Heelai didn't even think about it; With her sick mother, she is in charge of five young siblings and of taking care of the home.
Reinforcing that traditional view of women, the Taliban Supreme Leader Haibatullah Akhundzada issued an edict on women's marriage rights last Saturday. To veterans it seems like a joke. "It has nothing to do with women's rights, it does not even mention education, work and health," says Arifi, who last week could not have a CT scan because the specialist in charge of the machine was a man. The decree reminds that these are not property and establishes the need for them to give their consent for the wedding. Hashemi considers it cynical that it stipulates that a woman cannot be handed over "in exchange for a peace agreement or to end an animosity" when "it is the Taliban who have generalized this practice."
Segregated at age nine and uneducated at 13
The Taliban have achieved their goal without even changing the law. Since they came to power in mid-August, adolescent girls have been kicked out of the education system. "The rules have not changed yet, but we have received instructions," explains Mina Hengama Bik, director of the Abdulqahar Aasi School, a modest private center in Kabul's district three that provides primary and intermediate education (up to grade 9).
The instructions mean that, in the middle of the school year (which in northern Afghanistan runs from March to December), they have had to segregate their students by sex from the third grade (9-10 years) and left out of the system to girls from sixth grade (13-14 years). "In public schools they segregate from the first, and we suspect that private schools will also have to do it next year," admits Bik.
The principal's biggest concern, however, is the effect this has had on student and teacher morale. "It has generated disinterest in the students and their parents [que no ven sentido a estudiar cuando no van a poder pasar de 6º]", Says the director. On the other hand, the flight abroad of some families and the loss of income of the parents in others has led to a fall in the number of enrolled.
"There are barely 120 left of the two hundred we had at the beginning of the year. That has forced us to fire six of the twelve teachers we had, "he declares. In addition, this December, when they do not teach and are dedicated to correcting exams and other administrative matters, the teachers will see their meager salary of 3,000 Afghans (27.6 euros) reduced by half.
Follow all the international information at Facebook and Twitter, o en our weekly newsletter.



elpais.com