[ad_1]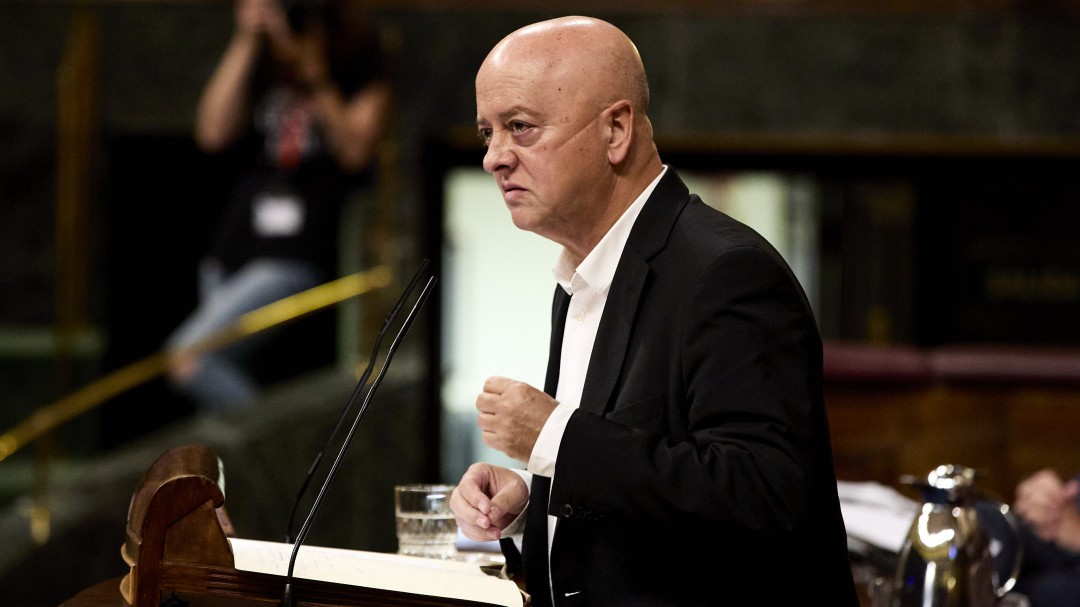 The PSOE deputy Odón Elorza has starred in a fiery speech during the debate on the budgets of the Ministry of the Presidency in the plenary session of the Congress. Olorza has attacked the use of ETA to attack the government by the right wing, which he has labeled "coup plotters by vocation."
His harsh words, addressed in principle to Ciudadanos by the speech that his deputy Guillermo Díaz had delivered, have been extended to the PP and also to Vox, with whose spokesman, Iván Espinosa de los Monteros, he has maintained a verbal confrontation while returning to his seat .
The Vox deputy has accused Elorza of being "the worst of all" and "partner of the terrorists", while the former mayor of San Sebastián has called him "miserable" before taking a seat in his seat.
The scuffle has put the culmination of the debate on a section of the public accounts in which there has been talk from the alleged intention of the Government to "erase" the Transition by rejecting the Amnesty Law, the alleged manipulation of surveys by José's CIS Félix Tezanos and the mass of Granada in which he asked for Franco's soul to which Pablo Casado attended, according to him by mistake.
Citizen Accusations
Odón Elorza did not like anything that, on behalf of Cs, Guillermo Díaz accused the Executive of promoting a "erasure" of the Transition with his amendment to this law referring to the application of the Amnesty Law of 1977, and that also distinguish the socialists "who gambled against Franco" and who promoted that rule against the "anti-Franco de güija" of today.
But, above all, it has bothered him that he suggested that they also want to "erase ETA and its victims from history" and that he called on the PSOE to clarify whether it wants to honor all the victims "or only those who do not bother at the time of agree with Otegi "supporting an initiative of Cs against tributes to ETA that is debated next week.
"On the part of the Citizen spokesperson, there has been talk of intimate people, at least for me, and of the Socialist Party," he said. "There has been talk of Fernando Múgica Herzog, a close friend and companion whom I accompanied in his last moments of life in the neighborhood of San Martín Street, when he still had a pulse, and whom I accompanied to the hospital. There has been talk of Ernest Lluch, a close friend , a socialist, with whom I spoke five hours before he was killed in the garage of his house in Barcelona. I could talk about Enrique Casas. I was the first to arrive at his house, because of his wife's call, even before the ambulance. I was a few minutes after the assassination of General Garrido, his wife and son, on the boulevard of San Sebastián, next to the City Hall, with a limpet bomb. I expressed my sorrow for Gregorio Ordóñez, whose body lay in Bar La Cepa, in the old part ".
"ETA disappeared, it is not here!"
"Okay!" He said, changing his tone. "Stop using the victims of terrorism, who belong to everyone, to attack the left-wing government! Stop using the victims of terrorism to denigrate and attack a budget! Don't be so miserable! Leave alone. ETA's terrorism! ETA disappeared, it is not here, there are no terrorists here, that's fine! Here what there is are Francoists and some right-wing coup vocations, as in Brazil or as it happened with Trump!
The Basque PSE deputy has continued, already with many PSOE deputies standing still applauding, wondering ironically if Pablo Casado would still be "at mass, in memory of the dictator."
The episode of Casado's mass had already come up in the debate, but by PP deputy Edurne Uriarte, who had urged the PSOE to stop "fabricating false news" on this matter instead of "condemning the dictatorships of communists ".


[ad_2]
cadenaser.com
George Holan is chief editor at Plainsmen Post and has articles published in many notable publications in the last decade.