There is a motto that says: "New Orleans, every day, every moment." In some way, it is a philosophy that stems from the very idiosyncrasy of what is known as the musical cradle of the United States. A city that from its origins is a meeting place, refuge and cultural exchange to the point of having been fundamental in the birth and development of jazz, the first great popular musical phenomenon that spread to the rest of the world.
It was a long process of sedimentation, from the earliest native Indians to human development through French, Spanish, English, Dutch settlers, as well as black slaves from Africa and the Caribbean. Its metamorphosis was always accompanied by a constant musical storm that ended up giving the city its own identity. Jazz pundits have always said it: New Orleans music makes performance for the first time hot. Hot means "hot" and is characteristic for jazz and derived a heat in the expression taken to its extreme. Sound formation, articulation, intonation or vibrato are of great importance. You express what you feel.
Therefore, the city that gave birth to Louis Armstrong introduced this concept or this philosophy with respect to music, but it could also be said with respect to life. To have hot Within a melting pot of races and communities it could also be to live intensely and with a certain collective and community cooperation as a result of a common idea. Singer Earl King referred to the sound of New Orleans as that almost atavistic rhythmic essence, which allowed the city's musicians to play without rehearsing thanks to a unique connection. The city had developed a hybrid style as a result of the multicultural fusions that had been forged over centuries.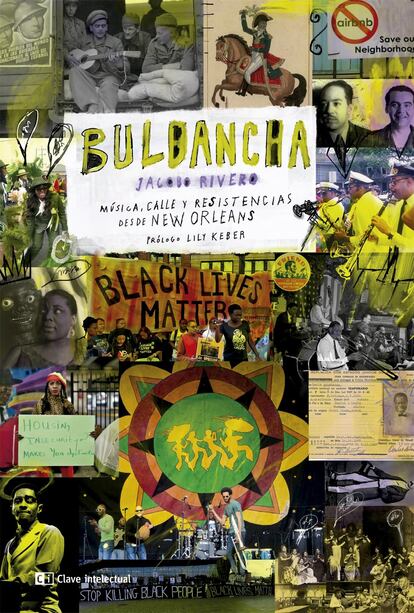 There is a book that explains in a magnificent way how jazz was forged in New Orleans, but also how jazz itself and its derivatives (blues, R&B, soul…) is a tool of resistance and a challenge to creativity. That book is Bulbancha (Intellectual Code), written by the journalist Jacobo Rivero. Bulbancha means: "Place of many languages". And it is the name with which the Native Americans knew the territory in which the city of New Orleans would rise. This place of many languages ​​is very well reviewed by Rivero in his essay, consisting of 14 original stories, elaborated through interviews with characters from the city. Conversations and documents that people like Allen Toussaint, Cole Williams, Sweet Emma or Leyla McCalla go through.
The book is especially interesting from the first chapter in which it talks about the connection of current New Orleans with the local music of Haiti and Cuba. The black rhythm has a direct thread with the Hispanic legacy. That which the pianist Jelly Roll Morton, Creole black and godfather of jazz, claimed as the Spanish touch or Spanish tinge, that fundamental ingredient to understand jazz and how well the musician Santiago Auserón has studied in his book The lost rhythm. It is a starting point for you Bulbancha, An essay so didactic and journalistic that it is read to the devilish rhythm of a good jazz, defend an idea from beginning to end: New Orleans as a space of cultural resistance in the face of current times. Memory and tradition space. As Jacobo Rivero writes in his book: "One of the main processes of struggle in the city is the ability to build its own cultural story from the mix of many, always looking with respect for the ideals of tradition, among which are the freedom to improvise. individually and collectively ".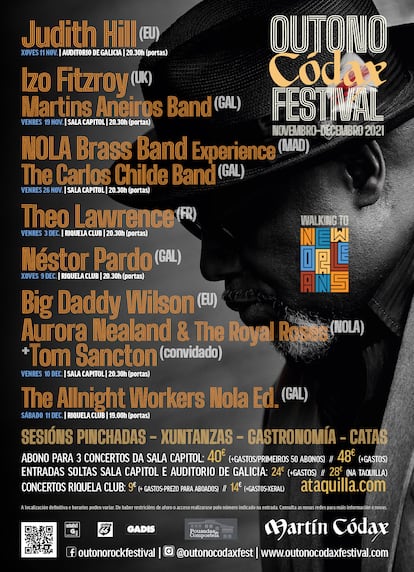 Jacobo Rivero will be presenting his book this weekend in Santiago de Compostela within the Outono Códax festival, a wonderful contest focused on the essences of African-American music. Essential figures such as Irma Thomas, Naomi Shelton and Barbara Lynn have passed through Outono Códax. This year, the Galician festival has set its sights on the city of New Orleans and its music through the bands present in this edition, as well as the various scheduled thematic events. To the presentation of the book by Jacobo Rivero, a meeting entitled Walking to New Orleans, a fabulous date of reflection and debate with the clarinetist and famous writer of the city, Tom Sancton, and the singer and saxophonist Aurora Nealand, who will also perform accompanied by The Royal Roses.
Because New Orleans remains a primitive and fundamental source of inspiration. Outono Códax should be thanked for shedding light on this and betting on this city, its music, its people and its legacy.

elpais.com