The bus starts and the music plays. A man approaches from the back rows, where he was sitting with his group of friends. He is 25 years old, was born in Mali and in the Public Refugee Reception Center (CAR) of Puente de Vallecas (Madrid) they call him Baba small to differentiate him from the other Baba, who also resides there and is much taller. Refugees of various nationalities travel on the coach, heading to Albacete to play a football match against a similar team from the Mislata (Valencia) reception center, in a pilot initiative promoted by the Ministry of Inclusion, Social Security and Migration . In total there are 36 players of ten different nationalities. "Here I am calm in body, but in head … More or less, because our families are still in our country and there is war there," says Baba, little. He and his friends landed in Spain, distributed among some of the cayucos that arrived at the Arguineguín dock (Gran Canaria) earlier this year.
The one in Puente de Vallecas is one of the four public centers for asylum seekers in Spain, along with those in Seville, Valencia and Alcobendas (Madrid). The soccer league organized by the ministry, and developed by the Red Deporte Foundation, aims to facilitate their inclusion inside and outside the reception center. In May the teams began to prepare (only with male players, between 13 and 31 years old), and this Saturday the first match was held.
Carlos Beltrán is the director of Red Deporte, a foundation that has worked in African countries since 1999 and that uses sports activities to improve interaction between vulnerable people. In this case, he assures that the reception was enormous: "We were astonished. The first week that we started looking for a group, we completed the team in the two centers ". The Secretary of State for Migration, Jesús Perea, present at the event on Saturday, affirms that they intend to give continuity to this type of initiative: "They promote interculturality and diversity; it is also a learning of citizenship. Sport breaks down barriers and is one of the great vectors for integration ", he emphasizes.
Only 5% of the 10,000 places that currently exist to host refugees are in public centers (the rest are private centers or flats, managed by social entities with a subsidy from the ministry), but Perea assures that they will create several more devices in the next three years, to go from those 400 public places to 5,000. And all will have sports facilities.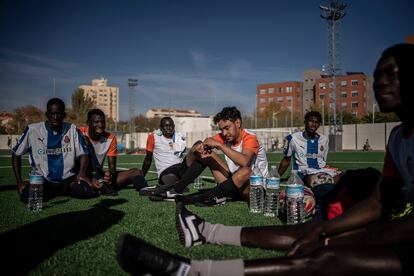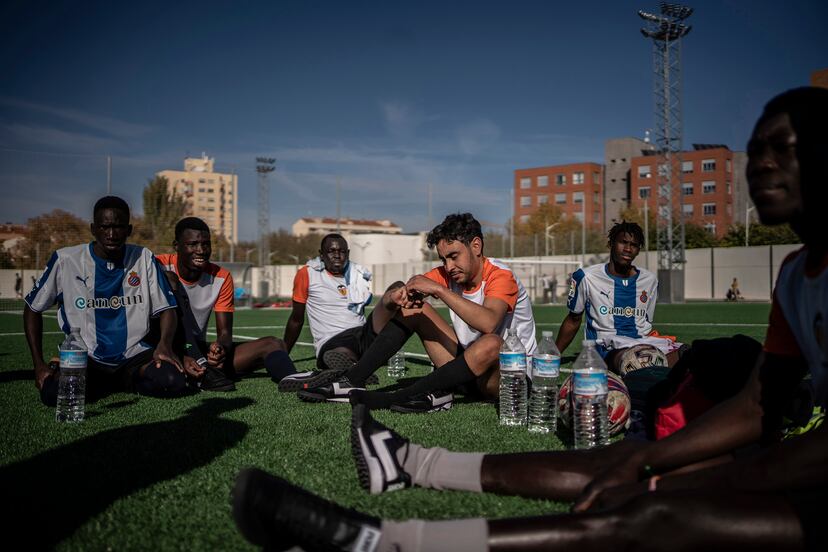 With the same agility with which he moves the ball, Baba jokes about being the leader of the team. He does not refer to football, but to his teammates in the center. He speaks five languages ​​and acts as a translator for anyone who needs it: "I'm very happy to be here," he admits, smiling, as if thanking him. During training, members of local teams such as Independiente de Vallecas joined the migrants to play at the reception center. "We understood that football could generate spaces of trust and cooperation between the local population and refugees," says Beltrán. Baba fondly remembers those months: "I made friends with one of them and he gave me his phone number. I talk to him a lot to improve my Spanish ".
Between songs of African rhythm the song sneaks in Loco, by Justin Quiles. Soccer is not the only universal language. "We really like Latin American music," says Baba in reference to reggaeton. In the locker room, already about to go out to the field in Albacete, everyone runs to get shirts and pants as if they were going to end. The kits are donations from first division football teams such as Espanyol, Valencia, Deportivo de la Coruña and the Madrid Football Federation, which has been in charge of providing them with the shoes. Many cannot bear to laugh because their teammates have had clothes at least two sizes larger and they look like NBA players.
Giorgi, a 26-year-old Georgian, is the star striker. The leadership he demonstrates on the field also stands out outside. He and Nika —30 years old and also from Georgia— live with their respective families in the center of Vallecas and devote themselves to taking care of their children and in tasks that, in their culture, are usually assumed by women. "It is striking because they are very aware of them," says Jorge Villegas, the sociocultural animator who works for the La Kalle Cultural Association.
The intensity during the matches is high and they take it seriously. In Albacete the semifinals are disputed: two teams from Vallecas against two from Mislata. The final will be held in Madrid, although there is no date yet. In one field the Valencians are winning, in the other the Madrilenians overwhelm 5-0. Once they finished, Mohamed T., who has lost, complains about the distribution of players at the Madrid reception center: "All the good guys were on the same team," he mutters, grumpy. Meanwhile, her brother Baye T. can't stop laughing. He went with the good guys and scored a goal. They are 27 and 31 years old respectively. The two left northern Senegal together almost a year ago. His patera took five days to reach Gran Canaria. But there they were separated: Mohamed had to make a living for weeks on the streets of Las Palmas and Baye was transferred to Granada. After a month, Mohamed was displaced to Vallecas. And several weeks later Baye arrived. "Our brothers and our parents are still in Senegal."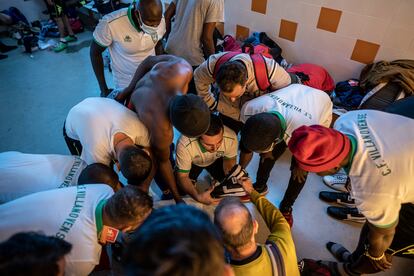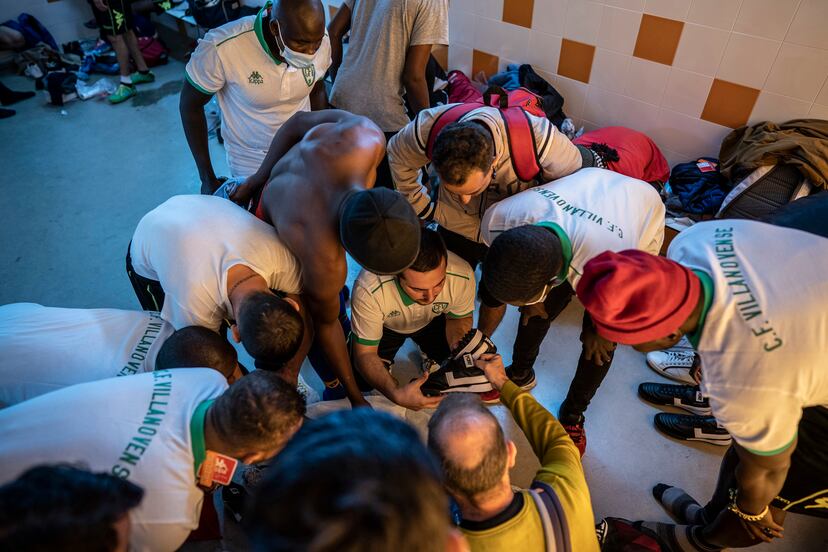 Jorge Villegas, a fan of Rayo Vallecano and the person who spends the most time with the members of the Madrid team, believes that these activities help them get out of their heads: "Many have gone through experiences that they do not even want to talk about," he says. Visi Martínez Blasco, social mediator from the center of Mislata, agrees: "They have learned to manage certain moments of tension that they have experienced. It is quite a positive activity ". Villegas affirms that "the objective of the center is that, when they go to buy bread, everything is fine."
Emad (31 years old) and Abdulkarim (24 years old) separate from the rest after the meetings to fulfill the prayers of the day. Both are Yemenis and did not know each other before meeting at the reception center. Abdulkarim has been a driver since he was 13 years old and dreams of being one in Spain. At the center they receive Spanish and computer classes and are enrolled in courses so that they can get a job when they leave. "We do not have papers to work," several point out as the main obstacle to overcome. Baba wants to be a mechanic, as he was in Mali. Before returning on the bus to Madrid, he stops to speak with the refugees from Mislata. He knows many of them because he met them in the Canary Islands. Of others, he does not even know their nationality, but he greets them with the same confidence. "They're my siblings".

elpais.com