A couple of tourists from some western country; whites. A walk through a beautiful park in Kisoro, Uganda. Four indigenous people dressed in clothing they no longer wear. And a ranger who takes the photo for the memory. The same one who charged them 70 euros per person and who asks Florenz Mariserena, one of the four members of the Batwa community who guide foreigners, to throw a wooden spear into nothingness. She holds it without understanding anything.
— If there is nothing to hunt…
— White people like to see you try to hunt like they used to. Oh, Florenz, can you throw it away now?
This is one of the powerful scenes of the short film Nyama (Carne, in Spanish), which portrays Florenz, a Batwa mother expelled from her home and doing everything she can to feed her young son, Tuyi. The film, barely 15 minutes long, reflects what happens to many indigenous peoples on the African continent who are systematically displaced from their ancestral lands in the name of nature conservation. These communities lose their means of subsistence and are forced into appalling poverty. For many, like this brilliant first-time actress, "selling" their culture to foreigners is one of their only means of livelihood, even though most of the profits do not even accrue to them. Tickets to natural parks in this region range between 500 and 2,000 euros. Fiore Longocampaign manager Decolonize nature conservation of Survival International, criticizes that the percentage obtained by the locals is "minimal".
And that's just the tip of the iceberg. Longo is also very critical of the role of environmental organizations in Africa: "The conservation model that is being carried out is very racist and colonial, since it is based on the idea that for nature to be healthy, it has to be safe from humans because they destroy it. But not all. The indigenous people have always depended on it and taken care of it, but not in an invasive way, which is what white and Western men are used to. However, under the pretext of wanting to create protected spaces, the guardians of the land are expelled from them to let tourists in". For the activist, large NGOs such as WWF (World Wildlife Fund), WCS and African Parks have been aware of these "atrocities" for years, "but continue to finance and support colonial conservation." "Blaming only African governments makes no sense," she ditches.
The Batwa are a community present in several African countries; Uganda, Rwanda and the Democratic Republic of the Congo, mainly. It is a hunting and gathering society that depends exclusively on nature. Although it is estimated that more than 80,000 live in the heart of the continent, the vast majority have been forced into displacement, with hardly any government alternative to their way of life. "What we saw in the short is not an anecdote; It's not a case that went wrong. What we saw is the norm for protected areas in Asia and Africa," he explains.
For me, as a white male, the creative process was a lot of stepping back and asking all the time.

Asher Rosen, co-director of the short
When Asher Rosen, co-director of the short, arrived in Uganda, he had a completely different intention. "He wanted to talk about the rangers and their role as heroes," he acknowledges. "I myself did this route that I criticize in the tape and I felt that something was not quite right. It didn't seem real to me and that's when I realized that the story had to be that. I had to tell the reality of these populations and how wrong this tourism approach is." After an exhaustive casting of 927 people belonging to the community, the film team briefly trained those selected and it was they who wrote practically the entire script. "For me, as a white man, the creative process was a lot of taking a step back and asking all the time," he says by video call.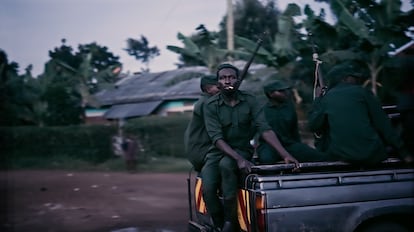 The short has a clear intention to show the nuances. For both Rosen and Longo, it's not about "good guys and bad guys." "It's more of a war between the poor," says Tongo. "The rangers are just as poor as the indigenous people, but suddenly the organizations give them a power that they didn't have before." Adds Rosen: "A lot of those we met were just people trying to get by. It is important to understand the complex reality that surrounds us and its dualities".
Awarded by the African Film Awards for best short and screened in January by Survival International, it was recorded in 10 days after more than two months living in the same house. "We share space as a family that lives under the same roof and can be seen brushing their teeth, eating, having a bad day… That made us understand each other a little more as equals. Only after that process were we able to start building a real story", narrates the Englishman. And real it is. The interpretation is authentic because the stories are also authentic.
The conservation model that is being carried out is very racist and colonial, since it is based on the idea that for nature to be healthy, it has to be safe from humans because they destroy it. But not all

Fiore Longo, director of Survival International's 'Decolonize Nature Conservation' campaign
Mariserena, a petite but robust woman with a voice as deep as her eyes, is a victim of everything she plays on the film. A mother of 11 children and orphaned by the Rwandan genocide (in which the Batwa were also targeted), she suffers daily from the stigma and poverty of being a landless woman. "It seems that when you talk about communities affected by the conflict, only tangible needs are reflected," says Rosen, "the house, the food… Nobody talks about mental health," he says in relation to the depression he has suffered for years Mariserena.
Economic instability as a rule is also well known to Bizimana Hussain, the actor who plays the ranger. The performance, they say, came as a gift. Forced to emigrate when he was a child, also because of the Rwandan genocide, he grew up in the slums around other locals. Although he does not really belong to this group, he learned the songs, culture and accent from him and, they say, he fools everyone in the city. The need made the talent. He has posed as a Congolese when the refugee camps fed them during the emergency. And by batwa in the movie. "As he himself told me: he managed to survive thanks to the 'circus of poverty,'" recalls the co-director.
Enter someone else's house without asking permission
Although the criticism of tourism is scathing, the director insists on not generalizing or "demonizing" the foreign visit. "We didn't want to make an angry movie. Nor attack travelers. But we did want to show that they still aren't understanding the world they're entering." Rosen insists: "I wouldn't want our project to stop people from coming, because it's so necessary, but clearly it's not working that way."
For Longo, the responsibility also falls on the visitor himself. "The fundamental thing is to inform yourself before traveling. Nobody defends the end of tourism in Africa. But as we conceive of it today, we are fueling land theft. It is as if we entered someone else's house without asking for permission, "he explains after defending that there are hundreds of complaints and public news that are easy to find on the internet. "We have to be careful about the shelters we go to, the parks we visit… Because even if there is a good intention, our money may be fueling the eviction of people like Florenz around the world."



elpais.com
George Holan is chief editor at Plainsmen Post and has articles published in many notable publications in the last decade.