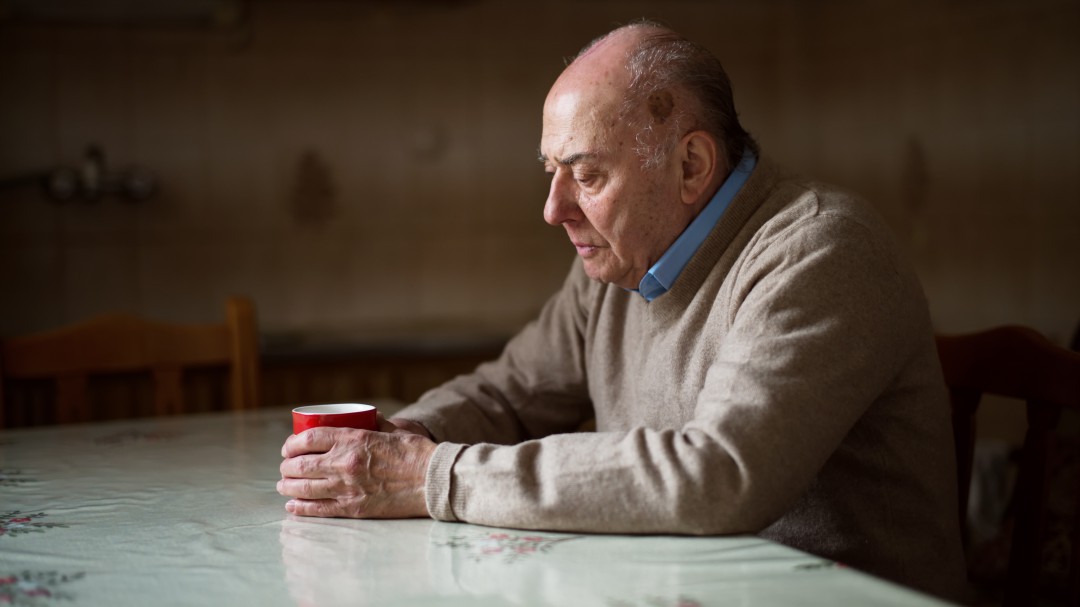 On the panel of a supermarket in Bilbao there is a note that reads: "I'm looking for friends aged 60 or over." Include a phone number and a name. When dialing the number, the other end of the line is answered by a woman in her 65s who has spent her entire life caring for the elderly and has been retired for a few months. She is unfamiliar with social media or using the Internet, and admits that she has always been shy. He lives with his brother, but he is not his friend. The friend with whom he has always gotten along and used to relate is not in good health and now they hardly see each other. He has not found any option but to hang up this notice that sounds like a cry for help. She confesses that she feels alone and with little to do. He is not looking for anything special: he just wants to go out, walk, chat and have a drink; contact other people and have a social circle in which to feel supported.
The woman in the ad suffers from unwanted loneliness, the one that occurs when interpersonal relationships are insufficient or do not have the quality or intensity that we need. It is a widespread problem: it affects one in four people in industrialized areas, and the World Health Organization has warned that it poses one of the greatest risks for deteriorating health. So much so that countries like the United Kingdom or Japan have launched ministries against loneliness to try to stop this evil that stalks contemporary societies and that, according to some public health studies, is just as harmful as smoking 15 cigarettes a day.
The pandemic has isolated and lonely many more people of all age groups. However, Ana Margarito, president of the 60ymucho + platform, affirms that it is nothing new, the alarms have long gone off, although the confinement has revealed it and made it more visible. For older people, unwanted loneliness is more complicated because it is more difficult to reverse, while for young people it can only be a temporary stage caused by some personal circumstance, such as loss of employment. The increase in single-person households, the stigmatization of retirement and aging and health ailments are some of the conditions that affect loneliness. The good news is that there are ways to combat it, in addition to well-equipped social services and public support, associations and volunteers who make friends and foster social interaction can work.
One Sunday in November, in the only square in the Salamanca district, a group of people linked to the 60ymucho + platform meet for the first time to have an aperitif, which works and coordinates to improve the lives of seniors. Like them, there are other associations in different parts of Spain (Viejenials, VidaSilver…), which are walking in the same direction. The event is attended by 40 interested parties from a wide age group – from 50 years to 80 -. They are married couples, widowers, divorcees and above all friends who want to expand their circle.
Many are retired and others on the threshold of this life disruption. They appear little by little. One of them intervenes: "I have 17 days left for retirement, as is the sentence." Another woman points out: "I was a teacher, well I am," she corrects herself. Retirement is an abyss for many. Omar Culi, doctor and director of the Aging Chair at the University of Valencia, explains that, although it should not be the case, retirement is a change of role that is sometimes a kind of stigmatization: "You go from an active phase to the one that you contribute to society to a liability and to be 'helped' because you collect a pension ". The doctor clarifies that it is not about imposing a set of family obligations and taking care of the grandchildren. It is one more stage of life in which the person has to choose what to do. "Older people can get tired, but they have to do it with whatever they want."
The mood of everyone who attends the aperitif is positive, proactive and enthusiastic. They introduce themselves and also confess, and somehow, they embody all the possible faces that life has beyond 60. Eduardo opens his speech like this: "I really like to do networking", But Pilar admits:" I'm not modern at all. " She says that "it is released in the third age" because it has just turned 65. She is accompanied by her husband. She recognizes that it is a stage and they are looking for a way to face it because the last of their daughters has left home: "The house has been left empty." Her husband justifies his attendance: "My theme is that I have retired." And Juan, who got divorced a year ago, opens up on the channel: "I'm very shy, I'm alone because I don't have anyone and I've lost contact with my friends." Concha also thinks that "at this age one is more alone", but there are those who liven up the atmosphere: "Better to order paella for two than for one".
Between wine and wine they share that they are concerned about the lack of spaces to satisfy their needs, that sometimes they feel that they no longer have much to contribute and that it is difficult to meet people in their age group. Ana Margarito, the president and organizer of the meeting, says that she is very saddened by the loneliness of the elderly, and that her figure is undervalued: "We are making a mistake: sectorizing the population." He defends that the elderly cannot cross a barrier where they become invisible, and concludes with an invitation: "We have to give ourselves a little thought." But they speak of life calmly, and among those gathered there they look for and find:
– Is there a biker in the room?
Four hands are raised in unison. Everyone laughs accomplices.
The commitment to end stigmatization, labels and marginalization is such that they have also jumped into the political dimension. Some members of the Third Age in Action party attend the aperitif in a personal capacity, but speak of the need for political change as well. Nuria Martínez Ros, its president, is clear: "It is the only way to reach the institutions."



cadenaser.com
George Holan is chief editor at Plainsmen Post and has articles published in many notable publications in the last decade.