A few weeks ago, the gate of the homeless shelter in Comuna 10 in Medellín became a movie theater screen. At 8:00 p.m., fifty street dwellers lined up to enter in batches and not sleep one more night in the open, knowing that not all would have room. When the group of Everyday Homeless volunteers arrived, in an SUV that would act as a power source for the projector and with a sack full of sweet and salty popcorn, some decided to get out of line and take a place in this makeshift room. "They hardly ever visit us. It's time to take advantage ", said Luis Fernando, 51 years old, six children and more than 30 years sleeping in sidewalks like these.
Giovan has been homeless since he was six years old. He is 38. "My dad threw me out and I had to learn to live alone," he says without releasing a black bag. Inside, recycled paper copies of word searches and crosswords that he buys for 140 pesos and sells for a thousand. "I no longer steal," he presumes. But it was his turn. A group of gang members recruited him within weeks of living on the street. "I was going to do? He was alone and he was very young. He robbed supermarkets, shops, people… ". Although he says he no longer wants to "be like that." "Now I sell the notebooks with my energy and all my respect ". His dream is to find a girlfriend and live in peace. "I don't even hold a grudge against my father. Although sometimes I see him pass in front of me and he doesn't even look at me ".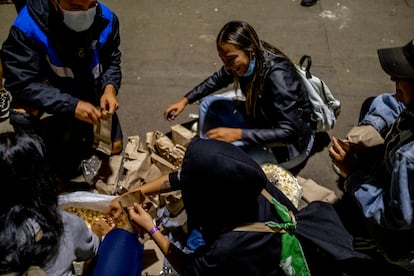 Life on the corners is the grossest expression of exclusion. For many, stepping on it is never leaving the wheel of marginalization again. Drugs and invisibility are often the main reasons that perpetuate their condition. Therefore, some do not trust volunteers. Others give in for popcorn. And most wander. They come and go and look at pieces of the film that they show today: The days of the whale, a story about rebellion, urban art and violence in Medellín. For the director and today one of the spectators, Catalina Arroyave, it is important that tapes are seen here. "This is a movie that tells of a little revolution and is very streetwise. This is a good place to share it. In addition, art is usually always in a cult space, they are premiered in huge halls or theaters, but they also belong to these spaces ", he whispers during the end of the film.
The idea of ​​the group has everything and nothing pretentious: to bring local culture to the street dwellers. Jorge Calle, co-founder of Everyday Homeless and legal representative, has been photographing this long-forgotten population for 10 years. Three years ago this group emerged and during the pandemic it took a welfare course that has been adapting: "We bring popcornBut our intention is not to end hunger. This is the excuse for parcharnos (socialize). So that people understand that this reality is another culture; and that these people are probably not going to stop using, nor are they going to change their habits, but they are still subjects of rights, "he says during the screening. Including that of access to the seventh art.
The entity works with financing from individuals and "something" from the mayor's office. Volunteers are a key piece in the projections and other initiatives of the group. In addition to time, they are required to leave condescension and prejudice behind. "We began to question the curiosity that attracted the volunteers who came every eight days," says the co-founder. "We want to create a more real relationship with these people and provoke reflection. That is why we began to encourage the most committed roles ". The cinema will hit the streets at least once a month. "It touches us little by little."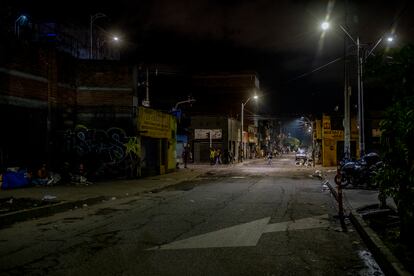 Putting figures on this reality is almost impossible, precisely because of the invisibility of the group and its own condition as a floating population. According to the latest data from the National Administrative and Statistics Department (Dane) for 2019, there are 22,790 people living in the open in Bogotá and the 21 main municipalities, among which is Medellín, with 3,788. They are 0.13% of the Colombian population, 88% are men. This count is made based on the beds in the shelters that, like this one, do not usually provide shelter – even by far – to the entire population in need. An estimate by the newspaper El Tiempo practically doubles this figure.
For the secretariat of Social Inclusion, Family and Human Rights of the city, the challenge is the "dignity" of this population. "The main objective is to motivate them adequately to access the offer of the Mayor's Office of Medellín and the private sector. You have to get them to start a process of re-socialization ", affirms the secretary, Juan Pablo Ramírez Álvarez in writing.
Among the banks, sidewalks and parks, all the social problems of the country meet: drug abuse, forced displacement, people who were thrown out of home for being homosexual or having mental problems, poverty, criminality … "Ask what went wrong in humanity and he finds it here ", laments the photographer. But it is not the only narrative. "We want to destigmatize them. The same things that one does on the street are done by another in a different context and are well regarded. They play craps here and other people do it in the casino. We are not that far away. It is time to break with the stereotype of violence; and stop seeing them as the enemy ".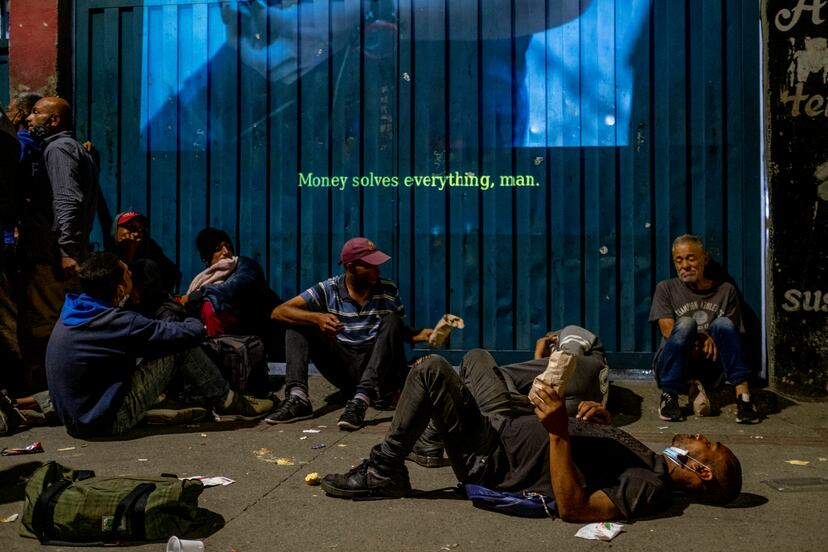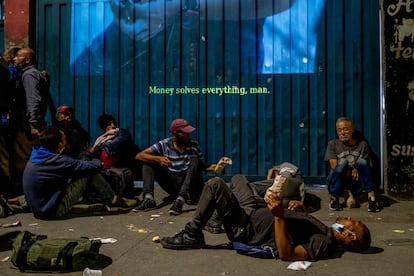 Luis Fernando, 51, says he does not know what it is to have a mother. He spent his adolescence in a boarding school and since he came of age, he sought shelter on street corners. He is a kind man, who hides his constant drunkenness to tell his story. "Come on, I'll tell you," he says with a thirst to be heard. Offer the sipping concoction to a passing friend. "The fresco no one is denied ", he continues, and shows his identity card with pride. On the card, a smiling young man looks nothing like the one who carries it. "I already made myself into this world," he narrates. Katherine, 30, listens to her friend's life journeys and laughs out loud at the most unlikely details. A year and a half ago she managed to rent a room with her husband, which they pay per night. They are almost four euros a day. "My husband sells cigarettes at dawn and so we carry it. Good thing I managed to get out of here. I no longer sleep in fear of being stabbed or raped ".
You can follow PLANETA FUTURO in Twitter, Facebook e Instagram, and subscribe here a nuestra 'newsletter'.



elpais.com
George Holan is chief editor at Plainsmen Post and has articles published in many notable publications in the last decade.