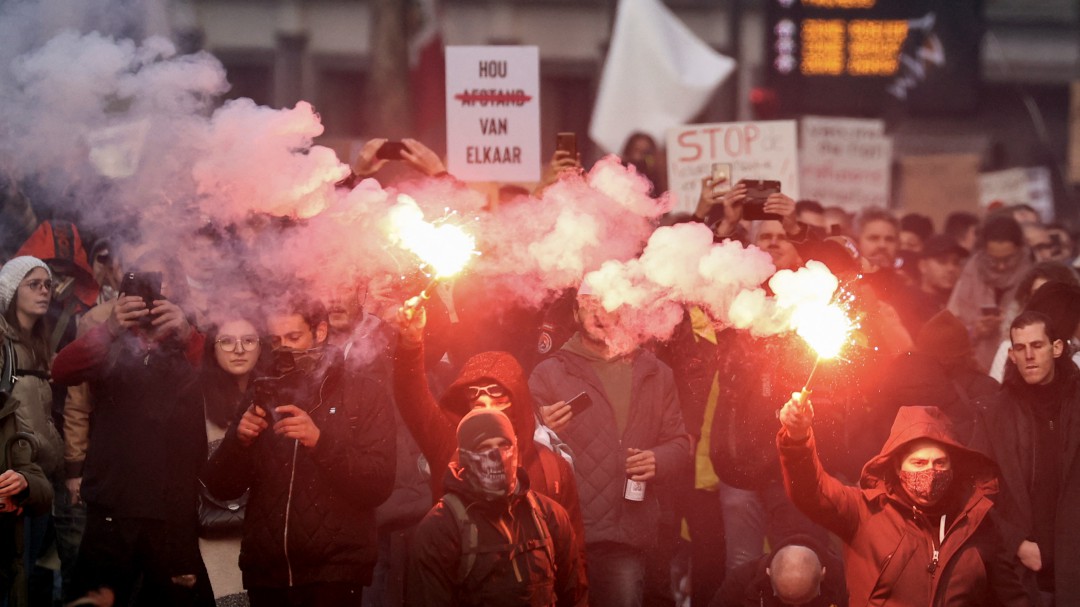 More than 35,000 people demonstrated this Sunday in Brussels against the restrictions adopted to stop the pandemic, in particular the obligation to present the vaccination certificate to access public places, in a march in which there have been incidents between the police and participants in the protest.
The demonstration, authorized by the Belgian capital city council, started at around 1.30 pm, North Station local time, and in the middle of the afternoon it runs through the city center under the slogan "Together for Freedom". The police have used water cannons and tear gas to disperse some protesters.
According to local media, some people have launched fireworks against the police, as well as vandalized some police vehicles, and some officers have been injured. Images disseminated in Social networks show some participants destroying the furniture of some bar terraces that they have found in their path and setting up barricades to which they have set fire, although for the moment it has not transpired if there are any detainees due to the incidents.
COVID passport and mandatory vaccination
The march was called in principle to protest against the use of the COVID pass, there are also protesters who criticize the mandatory vaccination for all health personnel agreed this week by the Government or vaccines in general, according to the public television RTBF. The organizers have denounced in a statement "the restrictive measures of freedom, which do not constitute a structural solution for health."
The police have made a major deployment to prevent altercations such as those recorded the last two nights in neighboring Netherlands, where several dozen people have been arrested for participating in protests against COVID restrictions that degenerated into violent riots with several injured, including two per bullet.
The rebound in covid-19 cases in Belgium, where the cumulative incidence rose 19% in the last week analyzed, to 1,346 cases per 100,000 inhabitants in 14 days, led the Government to tighten some restrictions this week, although not economic sectors have been closed or confined to certain groups, as in other European countries.
'Anticovid' measures in Brussels
The measures fundamentally involve imposing mandatory teleworking four days a week and expanding the use of the mask inside establishments and cultural places, such as restaurants or cinemas, although the COVID certificate has been requested to access them.
Belgium already requires since October to present this document – which proves that the carrier is vaccinated, has passed the disease or tested negative in a recent test – to access the restoration and cultural events.
In addition, the Government has introduced the obligation to be vaccinated for all health workers in the country who, otherwise, from January 1 will see their employment suspended until March 31, date from which their contract will be terminated – with the right to unemployment- or suspended until the worker is vaccinated if he opposes the dismissal.



cadenaser.com