[ad_1]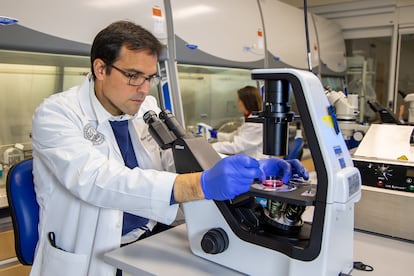 Concepción Vázquez, 83, who lives in a center for the elderly in Seville, holds the portrait of her son with her three grandchildren. But it does not distinguish them. "I can't see well," he explains as he tries to focus, bringing the photograph closer to a few inches from his eyes. 20 years ago, he says, he began to notice blurry images. Over time, he began to perceive objects with distorted sizes and shapes, until he began to stop distinguishing some areas and colors. He suffers from age-related macular degeneration (AMD), a disease that affects 17.7 million Europeans over 50 years of age and which, according to EU data, will increase by 50% to reach more than 280 million people in the world in 20 years. A work led by the Spanish Miguel Flores-Bellver, principal investigator at CellSight – Ocular Stem Cell and Regeneration Program, a center of The University of Colorado (USA), has managed to identify for the first time some of the key mechanisms by which this disease could originate, one of the main causes of blindness in the world, and open the way to early diagnosis and treatment, nonexistent for the most common variant of the pathology (more than 85% of cases): dry AMD.
Flores-Bellver explains that "the macula, located in the center of the retina, is responsible for central vision, where visual acuity is sharper and more precise." Its degeneration prevents reading, watching television or driving and, according to the researcher, "significantly affects the quality of life of those affected." Over time, the AMD patient ends up practically losing vision.
Until the recent CellSight research, it was known what occurred during age-related macular degeneration, but why, a loophole that has impeded the development of early diagnostic methods and investigating treatments.
During wet AMD, new fragile blood vessels grow under the macula and leak to affect it quickly and aggressively. For these cases (between 10 and 15 out of 100) there are medications that are administered through periodic intraocular injections until the lesion is inactivated. "They are not ideal, but there is treatment," explains the researcher.
Yellowish deposits under the retina
However, for dry AMD, which develops over decades and may not show symptoms during its early stages, there are none yet. This degeneration is characterized by the formation of drusen (yellowish deposits under the retina) which, according to Flores-Bellver, are "small groups of cellular debris (abundant in proteins and lipids) accumulated under the cells of the retinal pigment epithelium, a simple layer located under the photoreceptor cells of the eye ". "The lack of therapies", adds the researcher, "responds, to a certain extent, to the poor understanding of drusen formation."
That dark area has been illuminated with his research, published in the specialized magazine Journal of Extracellular Vesicles and featured by the National Institutes of Health (NIH), the US medical research agency, and other entities. Flores-Bellver details that extracellular vesicles (exosomes) contain many by-products, such as lipids, proteins or microRNAs, which are released from the unhealthy pigment epithelium of the retina and contribute to the formation of drusen that degenerate the macula.
When this epithelium is healthy, the secreted exosomes include proteins necessary for the functioning of the ocular system, but when it is subjected to stress or due to genetic reasons or inflammation, the secretion of proteins and lipids by the vesicles increases significantly, up to 20 times more, generating the residue that forms drusen. Flores-Bellver summarizes: "Our study offers the first evidence connecting drusen formation with extracellular vesicles and age-related macular degeneration. We have opened the door to something that we did not know before and we have spent years and years trying to understand why ".
To identify this process, the CellSight laboratory has mimicked the disease using stem cell-derived human retinal pigment epithelial cells and subjected them to stressful circumstances. In this sense, Valeria Canto-Soler, director of the Colorado center, a specialist in retinal organoids and also a co-author of the research, highlights how the research shows that "the cells of the retinal pigment epithelium, when exposed to a similar environment to the one that leads to AMD, respond with a dramatic increase in the release of drusen-associated proteins and opens the possibility of early diagnosis by determining that a person's cells are secreting many more exosomes with these drusen-associated proteins than under normal conditions".
Genes, smoking, and other triggers
Degeneration, according to the Spanish researcher, can be caused by genetic predisposition, mainly, but also by tobacco, a history of high blood pressure, diet or a sedentary life. Smoking is the greatest risk factor for developing the disease, the oxidants in cigarette smoke spread through the bloodstream generating toxicity, reaching the retina and causing its inflammation.
This relationship makes it possible to establish preventive behavior guidelines, reducing stress conditions that affect pigment epithelial cells. But also to develop a system for early identification of pathology. In this sense, Flores-Bellver explains: "Due to the ability of the exosome to travel through fluids such as blood, tears, aqueous humor, saliva and urine, and since its content changes under pathological conditions, exosomes that contain associated proteins Drusen could be biomarkers and give us the key to diagnose AMD early and treat it successfully ".
This is the field in which the Spanish scientist is currently working on the validation of biomarkers in the plasma of AMD patients who are in different stages of the disease.
The researcher adds that it is also possible to look for drugs that can inhibit the release of the particles that accumulate and form drusen. "This discovery", he says, "could help treat millions of people at the onset of the disease and before they develop advanced stages of AMD (geographic atrophy), when vision loss is irreversible and currently cannot be treated. By understanding how drusen form and what mechanisms contribute to their formation, it is possible that we can control, slow down or even stop some of the pathological events that lead to macular degeneration ".
The role of exosomes, not only in the generation of deposits but also in affecting neighboring cells through instructions that alter their functioning or transferring toxic content, is related to neurodegenerative diseases, such as Alzheimer's or Parkinson's, and cancer, where Héctor Peinado, a former researcher at Cornell University (USA) and currently a scientist at the National Center for Cancer Research (CNIO) in Madrid, has stood out. In this sense, a Spanish research published by Nature cancer notes that secreted extracellular vesicles influence the tumor microenvironment and promote distal metastasis.
Chendong Pan, from Cornell University's medical research unit, has also led research, published in PNAS, that adds one more element to the origin of AMD. According to their research, retinal lipofuscin, a yellowish-brown pigment left over from the breakdown and absorption of damaged blood cells, causes the death of retinal pigment epithelium cells and macular degeneration. This research contradicts the belief that it is light that triggers cell breakdown and rejects that the use of antioxidants or light-blocking lenses are effective in stopping degeneration.
You can follow MATTER in Facebook, Twitter e Instagram, or sign up here to receive our weekly newsletter.


[ad_2]
elpais.com
George Holan is chief editor at Plainsmen Post and has articles published in many notable publications in the last decade.