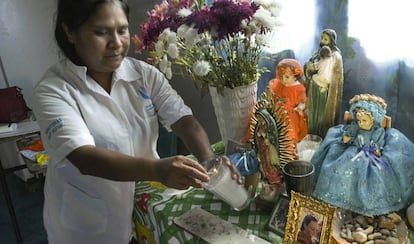 Midwives in southern Mexico are the allies of women who seek a safe abortion and have nowhere to go. Poor, indigenous or very young women, the most vulnerable, go to them to receive a couple of pills that guarantee to interrupt their pregnancy without putting their lives at risk. Medications for abortion, approved by the World Health Organization (WHO), are an essential part of the tools that midwives have to help those who do not find an answer in the health system or to whom the law does not leave them more options to seek company, secretly, to abort.
"In 2016 two died chamacas, one with five months of pregnancy and the other with three months. They killed themselves, committed suicide here in the municipality because they had no other way out. If they had come before, and even if they had no money, we would have helped them. We have to help them because they don't have money, they don't have anything, "says Luz, 63, 25 as a midwife. Her testimony and that of others who, like her, support women who want an abortion with the use of misoprostol and mifepristone, are part of the book Realities and challenges of medical abortion in Mexico, published by the Colegio de la Frontera Sur.
Until last July, Chiapas was one of the few Mexican states in which there was a deadline to access a safe abortion even when it came to rape. The Supreme Court of Justice declared the imposition of times unconstitutional after studying the case of a 17-year-old girl with cerebral palsy who in 2018 needed to interrupt her pregnancy after being abused, but it was denied because she was already 90 days pregnant. The Court then ruled that the temporal limitation "constitutes an act of violence against women that violates their right to free development of the personality and to mental health." The court paid attention to what it called "arbitrary and violent conduct criminalized and reprehensible by the State."
In Chiapas, abortion is not punishable when the pregnancy is the result of rape or when the mother is in danger of death, or it can be determined that the fetus has genetic alterations, but in practice access is still difficult. Women live in a context of poverty, in which health is a privilege. "What the midwives have done is help close gaps, overcome those barriers that prevent many from receiving care. They do it with their own resources, they lend their beds, their small spaces so that women can decide about their lives ", says Georgina Sánchez Ramírez, co-author of the research.
The midwives interviewed by the Colegio de la Frontera Sur have been trained by civil organizations on the use of pills according to the WHO regulations, which has pointed out that not only medical personnel can administer the medicines and has warned that it is a practice that it does not necessarily require hospital spaces. This is how the small house in Socorro has become a safe and welcoming place for women: "After [de las medicinas] I give them a sweetened tea to drink in case their blood pressure drops or if they feel nauseous, it's a special tea and I wait an hour or two and the bleeding starts. If she wants to go home, she can go or if she wants to be here, she can stay, "says the 62-year-old woman, 43 as a midwife. "I keep track of it by phone until I make sure everything happens," he details. Some ask that they send them photos of the sanitary pads to see how the bleeding is going or that they take their temperature and send the result to evaluate if the abortion is being safe.
"They ask me if I have the medicine to lower their periods, they hardly talk about aborting," says Rosario, 39, 19 as a midwife. They avoid using that word that sounds like crime and could land midwives in prison. In Chiapas, accompanying an abortion or practicing it is penalized. They take risks because they know what women who are subjected to unsafe practices live. At home they have had to receive emergencies of unsuccessful abortions: a catheter inserted into the uterus, a suction with a syringe, the consequences of an intentional slip. Women who decide to have an abortion do so anyway, but those with fewer resources put themselves at greater risk.
According to the organization Melel Xojobal, dedicated to promoting the guarantee of rights of girls and boys in Chiapas, this State ranks third in the number of pregnancies in children under 19 years of age in the country and registers the second highest rate of pregnancies in girls. and adolescents with 5.42 per 1,000. In 2020, 14% of the population of women between the ages of 12 and 19 had already been a mother.
Most of the midwives interviewed cannot read, have low education, almost all are Catholic and all, above any particularity, see it as a duty to accompany women. The population recognizes them as key agents in primary health care. "Look, you don't have to tell me, I am not someone who has to judge, we are friends and I am going to help you, you are going to decide what you want to do with your life and I, if I can, I am going to help you as long as be on time, "says Luz who tells the women who seek her help.
Sánchez Ramírez, along with Geicel Benítez, set out with this publication to uncheck the cliché about women in southern Mexico as dispossessed and disempowered. "Since the Zapatista movement of 1994, it became clear that indigenous women had their own agency. Indigenous and rural women from impoverished regions such as Chiapas, have in their politics, their questioning of uses and customs, and their performance of practices in the face of patriarchal power ".
Except for Argentina and Chile, the region has a weak and almost conflictive relationship with midwives with health systems that still do not include them as key in primary care. "When abortion is decriminalized throughout the Mexican territory, midwives will have to be made visible and recognized for their contribution to safeguarding the lives of women of reproductive age, in a warm, safe and confidential manner," the report states. "I was a single mother and I would have liked them to help me," says Lupita, 57, a Catholic, who has been a midwife since she was 17, when she first became pregnant.
Subscribe here to newsletter from EL PAÍS México and receive all the informative keys of the current situation of this country

elpais.com