[ad_1]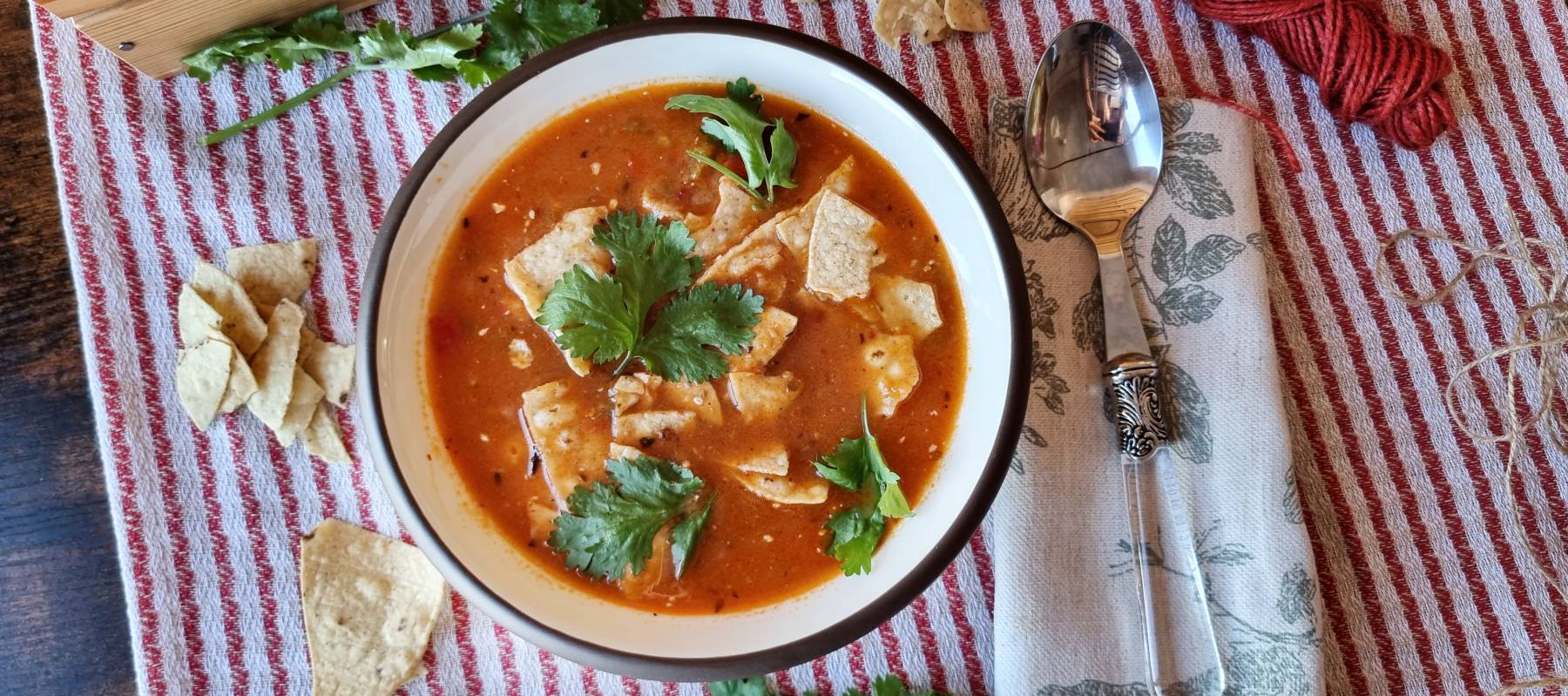 One of my favorite memories of Mexico is the one that arose at the Pozole de Moctezuma, a humble restaurant far from any busy street that I came to on the recommendation of a Mexican cook. There they only serve white pozole and green pozole, the other two varieties of pozole that are in Mexico, and they put something that normally I have not seen there: sardines. They finish it by dressing it with mezcal and you can also add egg, avocado or pork rinds. What is not lacking is the cacahuazintle corn with which it is always made, nor is it a substantial broth made from 'solid' – pieces of firm meat without bone or fat – or chicken. The red pozole that I cooked today is made from ribs and pork head, a wonderful broth with that meat that is totally tender and corn that I get in canned Mexican stores because it is not so easy to find it in Spain.
But let's start from the beginning: white pozole is the most common in all of Mexico because it is the easiest and most basic to prepare. From it arise the other two, green and red; Pozole verde is seasoned with pipián – pumpkin seeds – and is very popular in the state of Guerrero. The red pozole incorporates chili peppers, so it has a characteristic 'hot' point, and it occurs in Jalisco, Querétaro and Aguascalientes; it was in this last place that I tried it for the first time.
In short, we are talking about a stew in which instead of chickpeas we use dried corn. Pork is more limited than in our Madrid stew, but spices such as cumin or, most importantly, Mexican oregano also form part of the dish. This oregano is sold in Mexican food stores, but you can use the normal one if you have more on hand, although it is less authentic. A sauce made from crushed chili peppers with a little onion is added to this red pozole – something very popular in Mexico, a red sauce – and that is why it takes on its color.
It is usually accompanied by pieces of lime, toast or remains of crispy fried tortilla chips, and there are those who add finely chopped lettuce, white onion, radishes or whatever each of us wants. Important: it does not have tomato nor is it expected. Ah! And its origin is pre-Hispanic, we are talking about a soup that is eaten a lot at parties but is tremendously popular, and they say that it resurrects a dead person.
Difficulty
The one to find the corn.
Ingredients
For 6 people
1 kg of pork sausage or loin (can be complemented with rib)
2 pork backbone bones
600 g of canned corn for pozole
1 white onion
6 cloves of garlic
Shall
For the red sauce
3 guajillo chili peppers deveined
3 ancho chili peppers deveined
2 tablespoons olive oil
4 cloves of garlic
Mexican oregano (or normal) to taste
½ white onion
To accompany
Tostadas (fried taco tortillas) or tortilla chips
Cilantro
1 tablespoon of mezcal
Lima
If you like: avocado, chopped onion, sliced ​​radishes or chopped lettuce
Preparation
Chop the pork into tacos, and also chop the rib if we use it. Put the meat and the backbone in the pot and cover with plenty of cold water, between four and six liters.

Also add the peeled garlic cloves and the onion, peeled and halved. Put the heat on high and wait for it to come to a boil. Then, defoam removing impurities and lower the heat to a minimum.

Cover and cook for about two hours or until the meat is very tender.

When the meat is already very tender, remove it from the broth and let it cool completely to degrease it when it is very cold. We will only have to remove the solid layer that has formed on the surface.

To prepare the red sauce, soak the chiles in 400 ml of hot water for 30 minutes, until very tender. Remove all the seeds that you can and the tails.

Put the soaked chilies in the blender glass, add the oregano, the garlic cloves, the peeled white onion and the water where we had soaked the chilies. Blend until you get a sauce.

Cook this sauce together with the oil in a pan or saucepan, at a low temperature, for about 45 minutes. Be careful because if we go up a lot the fire starts to jump and burn.

When we are going to finish the pozole, reheat the already defatted broth and add the red sauce. Add the meat and also the corn, cooking for about 15 minutes with the corn inside. Season with salt and, if you like, add some pepper.

Serve the pozole together with a piece of lime and a few drops of mezcal, top it off with some very crunchy toast or chips and put cilantro, chopped lettuce, avocado …
If you make this recipe, share the result on your social networks with the hashtag #ComidistaRecipes. And if it goes wrong, complain to the Chef's Ombudsman by sending an email to [email protected]
[ad_2]
elcomidista.elpais.com
George Holan is chief editor at Plainsmen Post and has articles published in many notable publications in the last decade.