If you do not know what to give your loved ones this Christmas and there is some budget slack, art may be the answer. ARCO will be held again on its usual dates next February, if the pandemic does not prevent it. But, as an aperitif, and coinciding with the Christmas season, the contemporary art fair has launched a new edition of its #mecomprounaobra initiative, which allows the purchase of works from its participating galleries at more than moderate prices. It is about more than 1,400 works from which we have chosen fifteen in three price ranges. The common rule: never exceed 3,000 euros. The selection is accessible from the E-XHIBITIONS digital platform until January 14. The perfect gift can be here, either to give to someone else or to keep one.
Less than 1,000 euros
Gabriel Orozco x The Skateroom : Black Skate Kite (2019). By Gabriel Orozco. Chantal Crousel Gallery.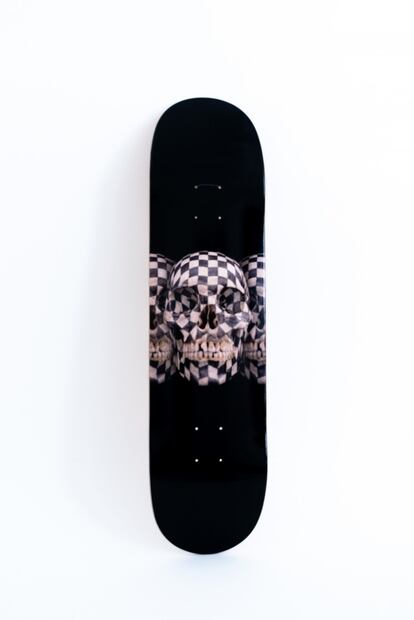 Price: 292 euros.
Why buy it: Mexican Gabriel Orozco is one of the most influential artists on the international scene, and his work is usually only available to large collectors. But in this collaboration with the project The Skateroom he signs an edition of 50 copies on a skateboard, at an infinitely more affordable price than his usual production.
Benditera LXIII (2021) by Marina González Guerrero. Rosa Santos Gallery.
Price: 400 euros.
Why buy it: Its author is one of the most promising young Spanish artists. It was present in the last editions of the ARCO and Estampa fairs. A veteran author of the prestige of Elena del Rivero has chosen several pieces from her series of blessing to participate with her in the excellent group that can be seen right now in the Madrid gallery Travesía Cuatro.
The Dreams of Erauso (2021) by Mercedes Azpilicueta. Nogueras Blanchard Gallery.
Price: 650 euros.
Why buy it: An Argentine artist living between Amsterdam and Buenos Aires, Azpilicueta has exhibited at the Buenos Aires MAMBA or the CentroCentro in Madrid. His textile work uses old techniques for new discourses, as in this work inspired by Catalina de Erauso, the ensign nun, an exercise in historical criticism in a small tapestry.
Contrasombra I (2015) by Ángela Cuadra. NF Gallery
Recio: 690 euros.
Why buy it: It is a delicate and beautiful piece, as can be seen in the exhibition that this gallery dedicated to Ángela Cuadra and Laura F. Gibellini this year. A small geometric sculpture destined to inhabit a corner that, from its apparent modesty, forces us to reinterpret the entire space in which it is inserted.
Sun threshold II (2021), by Inma Herrera and Shirin Salehi. Gallery F2.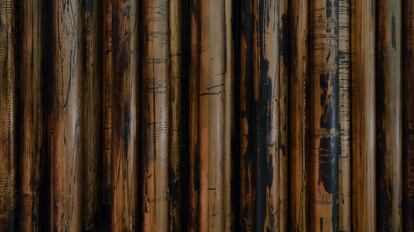 Price: 850 euros
Why buy it: The Spanish Inma Herrera and the Iranian Shirin Salehi collaborate in this edition of three copies. In 2019 they won the Pilar Juncosa and Sotheby's Biennial Prize for Artistic Creation to carry out their first joint project, which was exhibited this summer at the Miró Mallorca Foundation with excellent critical reception.
From 1,000 to 2,000 euros
Night Landscape (MM20.43) (2020), by Miguel Marina. Northeast Gallery.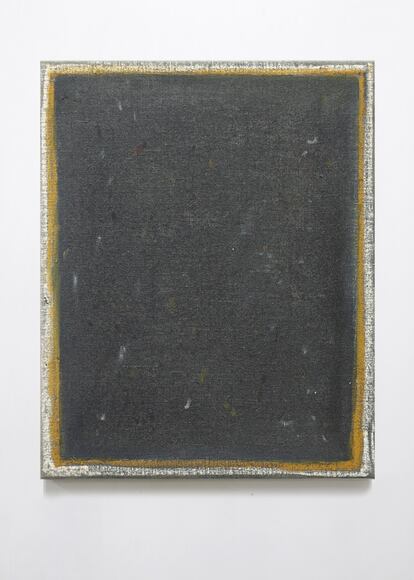 Price: 1,300 euros.
Why buy it: Whether in drawing, painting or sculpture, the Madrid artist Miguel Marina achieves evocative results full of poetry without falling into the prim or the already seen. Many of his best works are large formats, but this other, smaller one, is as good as any of them.
Luck is a form of attention (2021), by Luna Coderch. Àngels Barcelona Gallery.
Price: 1,452 euros.
Why buy it: If it were not enough to know that Lúa Coderch is one of the most respected creators of the Barcelona art scene (she is present, among others, in the MACBA collection), this piece seduces us with her intelligent and poetic humor in the line of a Joan Brossa. Give a twist to the well-known Chinese lucky cat, a contemporary kitsch object par excellence whose mechanism literally exposes.
No title (2021), by Elvira Amor. Moisés Pérez de Albéniz Gallery.
Price: 1,800 euros.
Why buy it: Elvira Amor's bright colors and abstract, rounded shapes turn her paintings into works with which living together is always a pleasant experience. But, far from being just a simple commercial artist, she is a magnificent painter.
The momentum of the archive III (2017), by Julia Llerena. Sabrina Amrani Gallery.
Price: 1,800 euros
Why buy it: A set of small useless objects, or fragments of them, that Julia Llerena presents between glass plates as in a showcase, as in a file, evoking our need to collect and classify. Owning this piece is therefore a declaration of intent for any collector.
Dialogue on a poet, an apple and a grid (Part two) III (2019), by Jorge Méndez Blake. Travesía Cuatro Gallery.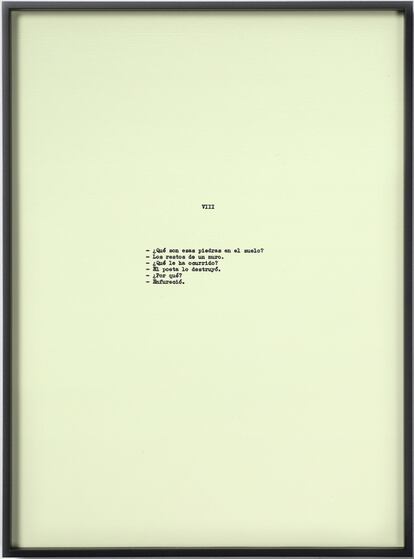 Price: 2,000 euros.
Why buy it: Méndez Blake is a Mexican artist who explores the relationships between art, literature, and architecture. He is one of the most prestigious signings of Travesía Cuatro, and he has exhibited in places such as the Museum of Latinamerican Art in Los Angeles and the Fundación Jumex in Mexico City, and among the collections that have him, the Pérez Collection in Miami stands out. Again, there isn't much of his work in this price range.
More than 2,000 euros
No title (2019-2021), by Damaris Pan. Cibrián Gallery.
Price: 2,500 euros.
Why buy it: The painter Damaris Pan has just won the Gure Artea prize awarded by the Basque government, which in previous years went to prestigious artists such as Esther Ferrer, Ana Laura Aláez or June Crespo. Pan's peculiar tension between abstraction and figuration makes her a very personal author.
Mr. Dollar (2014), by Hans-Peter Feldmann. SD Project Gallery.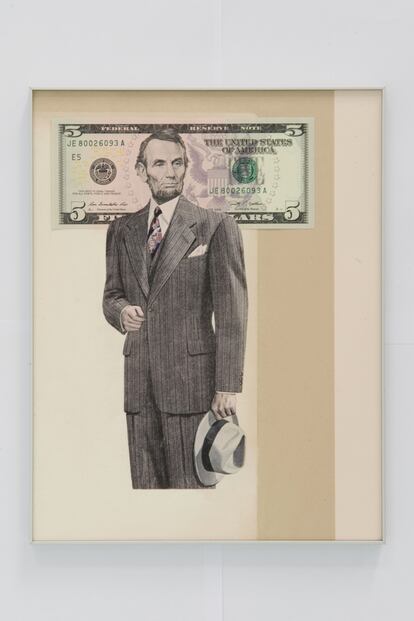 Price: 2,530 euros.
Why buy it: This is another case of an artist of great international prestige that can be accessed thanks to some works that are not unique but that maintain the quality of the rest of his work. This is a highly representative work of Feldmann, a classic from the Kassel documentary or the Venice Biennale, which brings together found images and objects to talk about individual and social issues.
Untitled (Couple) (1985-2017), by Steven Arnold. Gallery Minimum Space.
Price: 3,000 euros.
Why buy it: Filmmaker, set designer, and photographer among many other things, Arnold was one of the most original American artists of the late 20th century. Dalí and Warhol were among his admirers. Died due to the AIDS pandemic in 1994, he left a very varied work in which this series of photos stands out that condenses his original and baroque creative universe.
Knife cut 37/31 (1977-2019), by Imi Knoebel. La Caja Negra Gallery.
Price: 3,000 euros.
Why buy it: Knoebel is a great of German minimalism. A worthy heir to the Russian Constructivists or the Bauhaus school, his work, always recognizable, is common at major international art fairs, or in exhibitions like the one this year dedicated to him by the Dia Art Foundation in New York.
Conticinio # 9 (2021), by Alain Urrutia. Pelaires Gallery.
Price: 3,000 euros.
Why buy it: A Basque artist living in Berlin, Urrutia is a figurative painter who always manages to bring mystery to his images, which are presented to us as magical moments with references to cinema and art history. All of this is present in this black and white landscape reminiscent of the poetry contained in the frames of the best silent film.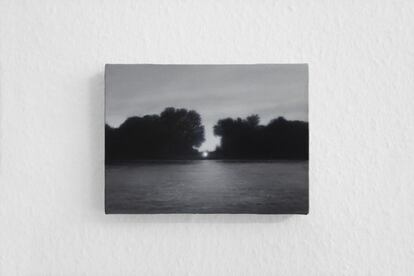 elpais.com