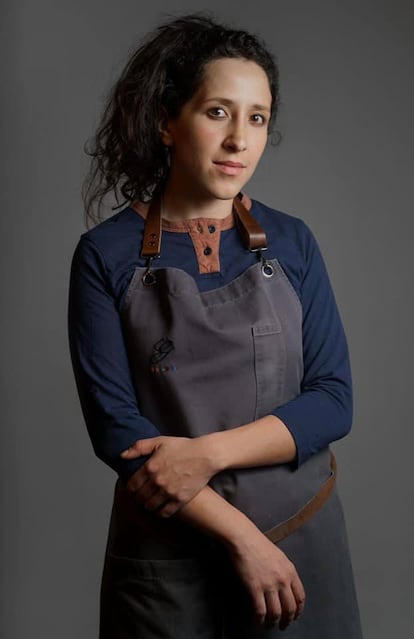 Marsia Taha is not a regular chef. She did not grow up with the aroma or the memory of a meal prepared by her grandmother or mother that transports her back to her childhood, or to a moment stored in her head and reverberates on her senses. Taha grew up, she claims, in a home filled with a generation of women who put the stove aside and opted for the toga. His first approach to Bolivian food was in the markets, led by his grandmother, a "very tasty" woman, who knew the best cooks on the street. They ate entrails there, tripe or anticuchos, or a plate of crouching, a kind of fast food typical served in the streets from a pot while diners eat sitting on stools. "Going to the market in Villa del Carmen, when I was eight years old, and eating a chicken soup with a chicken leg coming off the plate was the most normal thing," he says.
With a Bolivian mother and a Palestinian father, Taha (Sofía, 1989) arrived in the country at the age of five. I used to live in Bulgaria, when that country was transitioning from communism and a one-party republic to a parliamentary democracy. While residing in Europe she was a vegetarian and still remembers the food that came from Palestine, such as olives and spices, as well as Bulgarian yogurt. "My grandmother used to say: 'If you don't give her meat, you're going to kill her.' The first time I ate meat was in Bolivia, "says Taha. He went from the Arab ingredients to the traditional and popular Bolivian, a change "half radical, but beautiful," he admits. 23 years later, those antecedents of gastronomic fusion, of expanding her palate and that innate quality of "good eating", placed her in charge of the kitchens of Gustu, one of the best restaurants fine dining of the country, work for which she was the winner of the award for the Revelation Female Chef of Latin America.
Taha leaves the kitchen of Gustu, located in the southern area of ​​La Paz – a wealthy district of the city more than 3,500 meters above sea level – on a relatively calm day after the announcement of the award received, awarded by the prestigious 50 Best Restaurants list. The last few weeks the reserves have increased and the work has been strenuous. He wears a dark blue long-sleeved T-shirt, which is protected behind a denim apron of the same color, part of the uniform they use in the restaurant. Her hair is held by a colored bandana, she takes off her chinstrap and her face shows a bit of fatigue, but that does not prevent her from keeping her smiling face during the interview, like that of someone who has enjoyed her job since she started at eight years as her stepfather's kitchen helper at home.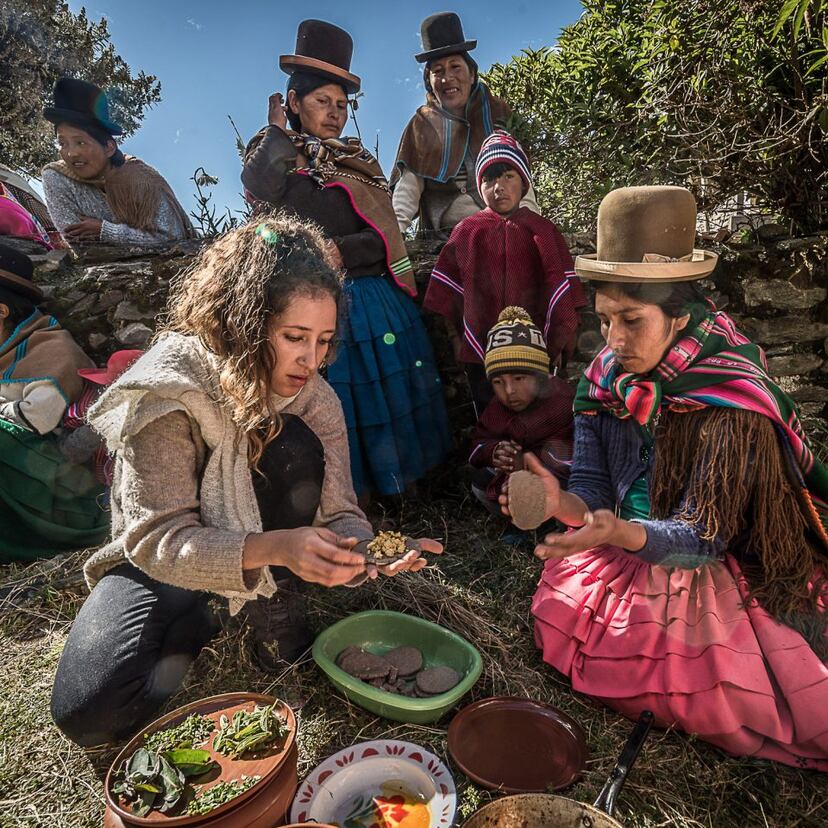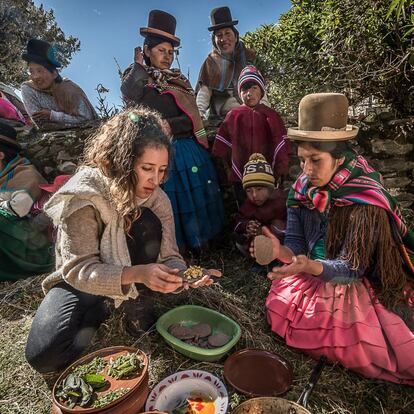 Gustu is a project that was born in 2012, from the head of the gastronomic entrepreneur Claus Meyer, founder of Noma in Copenhagen, chosen as the best restaurant in the world for four consecutive years from 2010 to 2014. The philosophy of the new Nordic cuisine and the rule of kilometer 0 arrived in Bolivia to generate a change in the local kitchens, emphasizing education, research, value to the local product and rescue of endemic products.
Taha, who studied gastronomy in Bolivia at a technical level and later specialized in the Centro de Estudios Hoteleros Canary IslandsIn Spain, she was head chef at a restaurant in La Paz, until she was recruited by Kamilla Seidler and Michelangelo Cestari, the first chefs at the restaurant in La Paz. fine dining. They invited her to learn about the project, see the cuisine and the philosophy behind it, one that she also embraced. It was love at first sight. He asked for two months, trained another cook, left the restaurant where he worked walking and went with them. "In Bolivia there is an immense diversity of products that are unfortunately being lost. As cooks we have the obligation to make the product visible from its origin, the effort of the producer, and I think that is my philosophy, to unite these productive chains, from what the lands are, what the plots are, the work of the communities, and the final process that is to serve it to the plate ", affirms the chef.
He was at Gustu for two to three years, until Taha felt something was missing. I had never worked in a kitchen fine dining, since, according to affirms, it was formed in classic kitchens in Spain. 80% of his career was built on that experience, which is why he decided to go to Denmark for a year to work in restaurants like Geist and Studio, the latter with a Michelin star, the best and oldest restaurant and hotel guide available. stand out with awards of excellence. "My idea was always to leave and come back to be able to contribute more to the restaurant. Go to a country like Denmark that has, perhaps, only 20% biological diversity compared to Bolivia and see that these people are getting the most out of their products when we have 80% more … if these gentlemen can handle it. nothing and they want to be number one in the world, why not us too? "adds Taha.
That is why it is not uncommon to see dishes such as raw yacaré (caiman), with avocado and ají gusanito; or paiche, isaño and chive negro, a combination that uses the meat of an Amazonian fish, a tuber from the Andes and a technique to make a variety of cassava flour, in a mixture of products and recovery of techniques from different geographical areas of the country. The menu is also a reflection of a project headed by Taha, called Sabores Silvestres, in conjunction with the Wildlife Conservation Society, which has brought together scientists, biologists, ethnobotanists, agronomists and cooks to discover the potential and develop the relationship between Bolivian food systems. and conservation at both a biological and cultural level.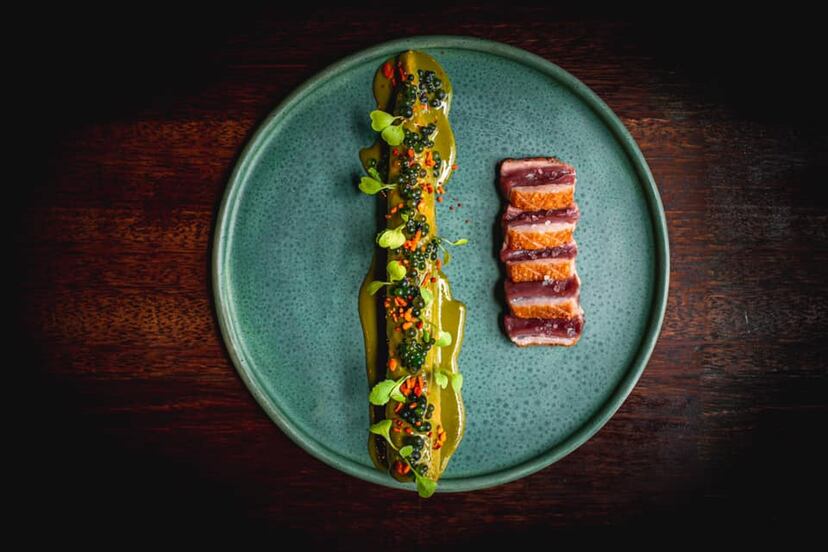 The last four years that the initiative has been carried out have given the head chef many lessons and have allowed her to do research in situ, get out of the bubble of the cities, look for new and innovative ingredients, register endemic products, ancestral techniques and open economic possibilities to producers. "With so much cultural and biological diversity, it is important that the Latin American cook begins to investigate more. It is nothing new right now, there are already several research chefs who are beginning to do the same. It seems vital to me to do gastronomic research in a country as rich and diverse as Bolivia ", adds Taha.
Despite having spent four years traveling through Bolivia with Sabores Silvestres, Taha admits that he has not yet traveled even 5% of its territory. Looking to the future, Gustu's chef is aware that, at this moment, her project and that of the restaurant are inseparable: "This is my life". Studying gastronomy was not among her plans since she had considered a career as a dentist, however, the revelation cook from Latin America fell in love from the first month of her profession. He is aware that the award and what he has achieved so far have given him "very great power". "Every time we travel we realize how little or nothing we knew and that makes me want to continue exploring and investigating. The final objective of everything we do is Bolivia and position ourselves, I think that is my greatest pride ".
Subscribe here to the newsletter from EL PAÍS América and receive all the informative keys of the current situation of the region

elpais.com
George Holan is chief editor at Plainsmen Post and has articles published in many notable publications in the last decade.