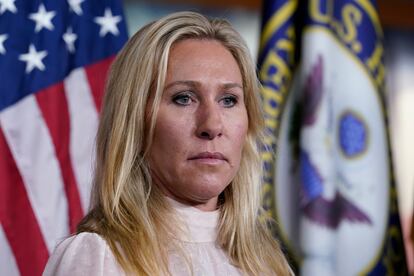 Marjorie Taylor Greene, a representative from Georgia, landed in the Capitol after the last elections, accused the Speaker of the House of Representatives, Nancy Pelosi, on Wednesday of having a force of "gazpacho police" spying on members of Congress. The congresswoman, who came to power by the populist wave in which Donald Trump continues to ride, unsuccessfully tried to refer to the ruthless Gestapo.
to which the lady MTG (as it likes to be referred to, by its initials) wanted to allude to was the terrifying secret police force created by Hermann Goering and led by Heinrich Himmler during the Holocaust to investigate and combat all tendencies that could be dangerous to the regime. That Gestapo to which Greene so frivolously and wrongly refers played a central role in the Nazi Party's mass murder of European Jews. Gazpacho is a cold soup with roots in Andalusia (Spain) consisting of tomato, cucumber, some bread, olive oil, vinegar and garlic, the latter to taste. Not to be confused with salmorejo, pipirrana or porra antequerana, to give three examples.
"We have the gazpacho police of Nancy Pelosi spying on members of Congress, spying on the legislative work that we do, spying on our staff, and spying on American citizens who want to come talk to their representatives," Greene said during an interview with Dan Ball on Real America, a program produced by the far-right television channel servicing Trump One America News Network. "This government has become something that it never intended to be, and it is time for it to end," said the congresswoman, filled with pride at such well-founded thinking.
This is not the first time that Greene uses, in this case he "believes that" he uses, the Holocaust as a reference. Regarding the measures adopted by the Joe Biden Administration against covid, the congresswoman defined the pollsters who carry out outreach activities on vaccines as "brown shirts" (the Nazi uniform was that color) and compared the vaccination logos on the dog tags of supermarket employees vaccinated with the humiliating yellow stars that Jews were forced to wear in Nazi-occupied Europe.
Perhaps, just perhaps, knowing what sources the 47-year-old congresswoman drinks from, such nonsense can be understood. Greene is a firm believer in the apotheosis conspiracy theory that lives in the sewers of the internet under the name of QAnon. When she was campaigning to win the seat she now holds, then-President Trump declared her "the future Republican star." Among some of the most delusional QAnon claims is that Barack Obama is a traitor and a terrorist who has sought asylum in Monaco or that Republican Senator John McCain, a presidential candidate in 2008, did not die of brain cancer but was executed.
Join EL PAÍS to follow all the news and read without limits.
subscribe
dear @RepMTG the Gazpacho police was created by me in 1993 to make sure that no one will add Tabasco or jalalpeño or strange things to my beloved soup! Please don't blame anybody else but me…stop by for a glass anytime. Don't forget your mask and vaccination card!😜 https://t.co/srhSZXWv6L

– José Andrés (@chefjoseandres) February 9, 2022
Of course, this Tuesday night, as the minutes passed and the news of the GestapoGazpacho was growing like snowball, Andalusian cold soup was a trend in Twitter next to the word Nazi. To highlight the tweet that the well-known Spanish-American chef dedicated to the congresswoman, informing her that yes, indeed, the "gazpacho police" exists but that he had created it in 1993 to avoid gastronomic crimes such as adding " tabasco, jalapeños or strange things" to such a delicious summer first course. Come on, to prevent a restaurant from ending up offering paella with chorizo ​​as recommended by the British chef Jamie Oliver. And it's only Tuesday.
Subscribe here to newsletter of EL PAÍS America and receive all the informative keys of the current affairs of the region



elpais.com
George Holan is chief editor at Plainsmen Post and has articles published in many notable publications in the last decade.