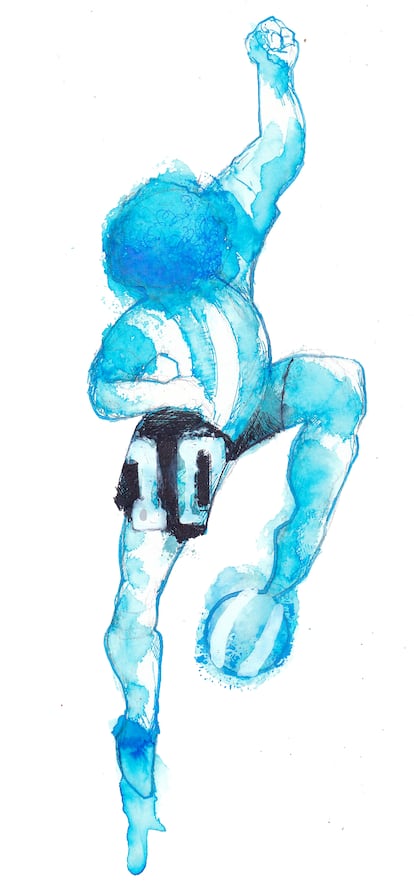 It will be, of course, bigger and bigger. His figure cracked by time, his unfortunate gestures, his bottomless fall will be frayed in the memory and what really matters will remain of him: goals, shouts, the light of his merciless smile.
It has not been easy. There were years when he did not stop irritating: when he seemed willing to do everything possible to disarm his image, our love, our ties. I remember, for example, in 2009, when the team he directed qualified for the World Cup in South Africa and he took revenge on the journalists who had criticized him and launched into insulting them with explicit orders. I then wrote him a few lines in a newspaper: "Mr. Diego sent those who tell him and those who criticize him — all of us — to suck him off or even suck him off. I believe, Mr. Diego, that if you say it you know why you say it, and I just want to ask you to take charge of your words. He asked us — ordered us — to suck him off; here we are, ready to take your orders as wishes or something. All that remains is for you to set the day and time, a more or less discreet place – within what is possible – and several million of us will queue up to exert, one at a time, that suction that you command. It may take days or weeks – it will be worth indulging. It will be our last tribute, for the good old days. Later, if you survive so much respect — I no longer think we can consider it love — forget us, please go where you can and let us remember you as you were when you were Maradona. I say: don't keep destroying your memory ".
But he continued, he insisted, he went to extremes, he died [el 25 de noviembre de 2020]: He left us the job of cleaning it — and finding justifications for it, excuses. Maradona was a great juggler, a great competitor, and he was a man of extreme intelligence who produced memorable phrases – "the hand of God" -, memorable moments —the first celebration of a footballer with the camera, World Cup 94—, memorable definitions . A man with such a difficult life: being Maradona was something that had never happened to anyone before.
So everything about him was drama, or almost. Maradona never seemed, as Messi did, sure of anything. Where Messi played as if he didn't have to make an effort, and without apparent effort he achieved what almost no one else did, Maradona suffered, he showed you at every moment that what he was doing was impossible. Diego Armando Maradona played — and lived — on the edge of the abyss, he always seemed about to fall, and for some unlikely reason — luck, art, dreams — he did not fall, he succeeded. Always on the verge of disaster, so many times in exaltation. And that gave him an extraordinary connection with those we never can, and a power: to make you believe that something that started very badly could end perfectly. The most closed paths opened up to him; Stumbling and tripping could nevertheless turn into a goal: it was joy and relief, a hope.
Everything in him was done in that pair: difficulty and achievement, fall and redemption. That was Maradona: the idea that blows don't sink you, that you can. Enjoyment, after all, is doing what seemed impossible. And so it became a symbol, a synthesis. So, to complete the myth, they invented it rebellious. It was not easy. Maradona was a man whose relationship with power is told in three words: he was always close. He took photos with everyone: there is no Argentine president, leader american, a politician of some relevance that does not have a photo where he and Maradona smile at each other, they celebrate. He lived close to the bosses, always ready to give them the shadows of his name in exchange for some perk. He gave them to —the Argentine president— Carlos Menem to improve the judicial situation in his drug cases; —the Cuban master — Fidel Castro made it easy for him to offer him a roof and some kind palms and thighs; to certain Arab sheikhs and Belarusian nababs and Sinaloan chiefs to lend him a life.
And yet now they build him as a rebellious hero. Argentines are so good at inventing great dead: the two oldest are, without a doubt, Eva Duarte de Perón and Ernesto Guevara de la Serna, but there are also other minors like Néstor Carlos Kirchner and Jorge Mario Bergoglio. The process is long and demanding: we are improving them, accommodating them, removing the shreds of flesh and polishing the bones, burying their lives to perfect their death. Maradona was a billionaire who lived like a billionaire, yachting in jet, from rolls on maserati, and all with the money of his fans, but we remember him so rebellious.
And we consider him – it is said, it is repeated – "the most important Argentine of the century." We justify it by saying that it gave us joy or that there is no one better known – and confusing famous with important is a decisive feature of the time. Maradona is a man who did not change lives: who distracted them from their boredom, who made them more bearable for a while, but a footballer is fundamentally innocuous. A footballer does not produce anything except the illusion of identifying with him and with his team: that vicarious emotion of seeing that "ours" achieved something "for us". And, if anything, that model: millions of youngsters who would like to be like them, earn like them, sell themselves like them, save themselves like them, own cars and asses and brishos like them, succeed in life as they do.
Argentina used to be such a rational country — for better and for worse —. Its emblem writer was Jorge Luis Borges, not Federico García Lorca: theorems, not songs. Now Argentina – millions of Argentines – has been assuming for a few decades that there is something they call passion and that it far exceeds reason, that it is more "authentic", more "ours". It manifests itself in all fields, but football – the "passion for football" – is the apotheosis of that idea: something that makes your heart race and gives you the feeling that something changes when nothing changes.
And Maradona was, was missing more, the apotheosis of football. Maradona was a hero of this contemporary battlefield that is neither a battlefield nor a battlefield: this simulacrum that comes so well for us to believe that we are what luckily we are not even remotely. Maradona was, in that, extraordinary: who would not have wanted to be like him, do what he did. You can't and then we look at it.
Maradona was, more than anyone, one who offers a show: one that makes everyone else sit and watch him, sit and watch him, neither participate nor do anything other than admire him. It is an idea of ​​the world, and to think that this actor is "the most important Argentine of these times" is a definition of Argentina and of these times, of the rigors of winter.
But I suppose it is, in this drought, inevitable. Little by little, we said, the memory of their falls will fade and the glories, the gazebos, will remain, those that were able to produce those moments of such intense joy. To say that Maradona was the best or the almost best or the slightly worse is silly: there are no scales, any scale is disarmed. But it is clear that he was the most dramatic and, in this simulacrum that pretends to be drama, there is no quality that is more enjoyed, that is more enjoyed: then, if everything continues like this, he will be the most joyful player, the most enjoyed of the history. The title fits him and I suspect that he might even have liked it. Although undoubtedly Argentine at last, he would have found something to object to him.
You can follow EL PAÍS DEPORTES in Facebook and Twitter, or sign up here to receive our weekly newsletter.
Sign in to continue reading
Just by having an account you can read this article, it's free
Thanks for reading EL PAÍS



elpais.com