Mondays in the sun, Fernando León de Aranoa's masterpiece, has one of the most impressive phrases in Spanish cinema. It is pronounced by Santa (Javier Bardem) when he discusses industrial reconversion with Reina (Enrique Villén), who is skeptical of the workers' protests. Reina reproaches him that despite 200 shutting himself up against the police, nothing was achieved. "We managed to be together, I haven't forgotten that," Santa tells him. Then there were those who accepted the agreement and those who did not, "and there we were no longer together. We had been separated. And if we're not together, they screw us. But that is not from now, that has always been". At his side he hears, among others, José (Luis Tosar), a man devoured by a cannibal brain who tells him that he has not yet hit rock bottom, that he can still drink more, that his wife can leave at any time and leave him alone to finish as Amador (Celso Bugallo), whose death is announced by a light without turning off.
The two, Javier Ángel Encinas Bardem (Las Palmas de Gran Canaria, 52 years old) and Luis López Tosar (Cospeito, Lugo, 50 years old), collected a Goya each at the most vindictive Spanish cinema gala in memory, 2003, organized by the theater company Animalario. Bardem won the Goya for best leading actor ("Galicia: rich barnacles, beautiful people", he said in reference to the filming), went on stage with a huge card hanging from his jacket that read: "No to war" (Spain supported the invasion of Iraq by the US and Great Britain) and assured that during his filming he had made great friends: "Right, Luilli?". The camera panned to Tosar, who was smiling. The Galician actor also came out with a message on his jacket, but his was "Never Again". "If the short man wants oil," he said, alluding to Aznar, "there is no need to kill anyone, let him go to Galicia to collect it from our shores." months before, the Prestige it had sunk in the Spanish northwest. He also dedicated the award ―this is important to get to know Tosar― to his friends at Pub Atlántico in Santiago. As it was entroido (carnival), the place set up a party that is still remembered, with a fake metal detector at the entrance and disguised policemen messing it up inside.
Mondays in the sun sealed the friendship of two interpretive animals, similar in an abrupt and masculine physique, with marked and recognizable features that have been adjusted to the needs of roles that, almost always, have been protagonists. Bardem, winner of four Goyas for best actor (mouth to mouth, Mondays in the sun, out to sea Y beautiful), one for best supporting actor (numbered days), an Oscar (No country for old men) and a nomination for another this year, and Tosar, winner of two Goyas for best actor (I give you my eyes, Cell 211 ―"He doesn't deserve a Goya, but three", Carlos Bardem said of him―) and one for best supporting actor (Mondays in the sun), have shielded in these 20 years a friendship proof of everything.
They have shared solidarity campaigns (for example with Doctors Without Borders, an entity of which they are partners, against the neglect of forgotten patients), Pearl Jam concerts in New York and Madrid (in Spain, Eddie Vedder interrupted the performance to broadcast a video of the two actors against sexual harassment: "Even if you've been dancing together all night, even if you've gone home together, if he says no, it's no. If he doesn't say yes, it's no"), a extraordinary and brief audiovisual piece of Spanish version in which the two interact only with images from their films, a documentary (The actor's craft) and are residents of the same urbanization (Valdelagua, 30 kilometers from Madrid). movies, from Mondays in the sun, none; they only shared cast in No news from God, but both had anecdotal appearances. They were able to agree Cortes and Montezuma, Amazon series that was ultimately aborted. Tosar is paired with the Chilean actress María Luisa Mayol and they are the parents of two children: León and Luana; Bardem is married to the Spanish actress Penélope Cruz and his children are called Leo and Luna.
All the culture that goes with you awaits you here.
subscribe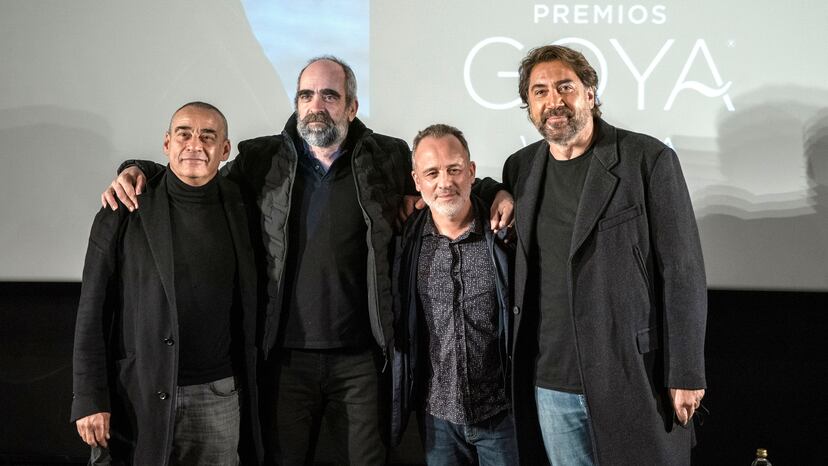 This Saturday the two friends are nominated for a Goya for best actor. Coughing for the role of Ibon Etxezarreta, the murderer of Juan Mari Jáuregui, a repentant ETA member, in maixabel, the film by Icíar Bollaín. Bardem for playing Julio Blanco, the charismatic owner and manipulator of a local scale company in the good boss, the film by Fernando León de Aranoa. At the last San Sebastian Film Festival, Jessica Chastain said that there was a "brotherhood" between performers that prevented her from competing with Bardem. "There's no way you can really gauge the intensity of a performance. I've spent time with Penelope (Cruz) and Bardem and they're geniuses, and I feel like there's a sacred brotherhood with them." The Oscar-winning Spanish actor has picked up the glove, this time in reference to Tosar, Eduard Fernández and Javier Gutiérrez, the other nominees: "Any approach to an artistic expression is a subjective approach. There are some gentlemen who think that you have done something that is more worthwhile than someone else's. It is an opinion, but making a banner of that does not make sense. 11 years ago, the two competed for the prize and Tosar, proposed by Also the rain (again with Icíar Bollaín, with whom he had already shot flowers from another world and then I give you my eyes), it was clear: "Bardem is my favorite". And Bardem won it, indeed, by beautifulby González Iñárritu.
Since 2002 they have been accomplice and supportive friends in the unbreakable way that the characters who brought them together were, Santa and José: "We managed to be together, I have not forgotten that." Because at work, and in life, "if we're not together, they screw us. But that is not from now, that has always been".
Exclusive content for subscribers
read without limits

elpais.com
George Holan is chief editor at Plainsmen Post and has articles published in many notable publications in the last decade.