[ad_1]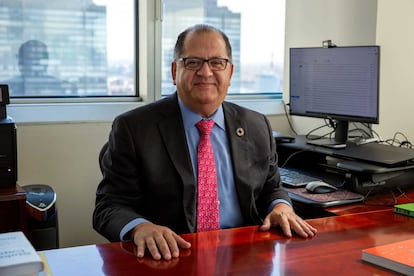 The specter of another lost decade in Latin American development continues to hover over the region. The expansion of vaccination rates and the rise in the price of raw materials – of which many countries are net exporters – have improved the economic situation of the bloc, but they do not prevent it from being the most lagging region in the world in terms of Recovery. Those aspects, the structural ones, are what make the head for Latin America of the United Nations Development Program (UNDP), Luis Felipe López-Calva (Puebla, 1967) sleepless, who warns that "all the shocks" that have arisen of the pandemic "are regressive" and calls for an increase in the tax burden on the richest, especially on real estate. The Mexican official attends EL PAÍS from New York, electronically, after canceling a planned trip to Madrid.
Question. How do you assess the vaccination process in Latin America?
Answer. It started very slowly, but the recent upward revision, in more than one point, in the growth forecast of the International Monetary Fund has to do with the acceleration in the vaccination process. We knew about the very successful cases, like Uruguay or Chile. However, others, such as Ecuador, in just 90 days have surpassed the rest in double standards. Also Colombia or Cuba. There is heterogeneity and a new acceleration is needed: we are still around 50% on average and that is still insufficient.
P. From what vaccination threshold is growth unblocked?
R. When 50% is exceeded, economic activity can resume to fairly normal levels. But that's when you see the other restrictions, such as financing for small and medium-sized businesses. Employment remains six points below pre-pandemic levels, and informality remains very high. This means that, once again, the informal sector is recovering faster than the formal sector. The same is happening with men's employment, which is recovering faster than women's. They are things that we must avoid, because they become structural patterns. Vaccination is essential, but we have other important restrictions.
P. Is Latin America more fragile or stronger in the face of the global supply crisis and bottlenecks in supply chains?
R. It depends on the countries. The south is more protected than the center and north, although Mexico and Central America are benefiting from US growth. In the Caribbean, the problem is the recovery of tourism. In South America, on the other hand, they are more closed economies and there the situation of local companies is having a stronger impact.
P. How worried are you about inflation?
R. It is a temporary shock. I don't think core inflation is going to go structurally higher. Central banks are already beginning to halt their expansionary monetary policy to curb that pressure.
P. How concerned are you about the effect of monetary policy normalization in the US and Europe?
R. I do not foresee an abrupt change towards a contractionary monetary policy: I hope, rather, a soft landing. It is true that it takes us more indebted, but I do not think there will be a great disruption, neither globally nor in Latin America. The region is better prepared than in the past. And countries like Uruguay, Paraguay, Mexico and Brazil, for example, have a good level of reserves to avoid turbulence. Also, I see a greater attitude of international coordination, and that is important.
P. Perhaps the best news for Latin America is the recent rise in prices of raw materials, by far the largest item in its exports. Is it going to long?
R. It is expected to last, at least as long as expansionary fiscal policies are maintained in the US Although inflationary pressure is also increasing in the region, fiscally it is very positive. The conjunctural part is taking a more favorable tone, but, once again, the problem continues to be structural issues, such as the fragmentation of social protection systems. That worries me much more than the current trends.
P. Let's get to the structural, then. Would you say that the risk of another lost decade in the region has been averted?
R. If the trend continues, we will lose that decade. But the region still has time to avoid it, to react to prevent temporary shocks from having permanent effects. We have to stop acting with patches, reach basic agreements on where we want to go and define a route with a systemic vision. If we continue to react with patches in the social, economic and institutional aspects, we will deepen the fragmentation and inefficiencies. This is a great time to partially stop thinking. If we don't, we will have at least another lost decade.
P. The crisis has rowed, perhaps more than ever, in favor of universal social protection systems, such as those that the UNDP has been demanding for years. But months go by and no new schemes of this type arrive. Has the opportunity been lost?
R. I don't think so: there are countries in which the governments are young and still have a political cycle that allows them to think about that vision of the future.
P. Is inequality increasing in the region?
R. Unlike financial shocks, all those caused by the pandemic are regressive.There are those who are even benefiting: those who have companies that generate large and stable cash flows, those who offer services that have had a boom during the pandemic (health, finance, home deliveries, digital services …). And then there is inflation, which is also a typically regressive tax. Definitely, the crisis has brought with it a significant increase in the concentration of wealth in the highest part of the distribution.
P. Joe Biden's arrival in the White House has paved the way for tax increases. But in Latin America there are very few movements in that direction.
R. The arrival of Biden, indeed, has created a very different dynamic. But we must first think about what we want to do and then carry out a tax reform. Politically, it is suicidal to argue about who we are going to ask for money before where we want to go.
P. Who should pay?
R. In the last two decades, much of the redistribution in Latin America has been effective but it has been from the middle class to the poor. Now is the time for those at the top of the distribution to pay more.
P. And the companies? To what extent can the global minimum rate of 15% help on corporations?
R. It is an excellent idea to avoid downward tax competition. However, in Latin America we have confused a lot of companies and individuals, and we have poor corporations and rich individuals. More emphasis needs to be placed on the wealthiest individuals, and not just businesses, contributing more to these common goals. I am not saying that corporate taxes should not be reviewed in some cases, but I think we place too much emphasis on them and too little on individuals.
P. Can taxing property be a solution?
R. It is a very progressive tax and our region collects very little in this way. While Europe collects more than four points of GDP in this way, Latin America does not reach half a point.
P. Why has this tax not been further developed in the region?
R. On the one hand, there is an issue of capacity, of not having the cadastres well done. And there is a part of political economy: in many cases it depends on local governments subject to very short political cycles, which win elections without charging taxes.
Subscribe here to the newsletter from EL PAÍS América and receive all the informative keys of the current situation of the region
[ad_2]
elpais.com
George Holan is chief editor at Plainsmen Post and has articles published in many notable publications in the last decade.