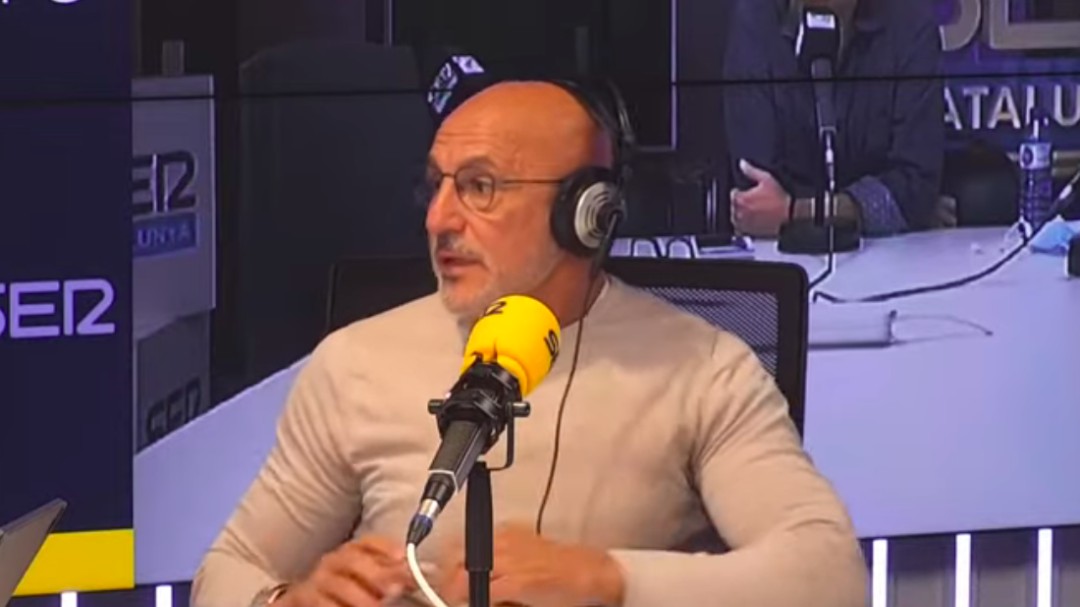 The U21 coach, Luis De La Fuente, has passed this Thursday by El Larguero, with Manu Carreño, to participate in the program's El Sanhedrín. After the national team stoppage, De La Fuente has analyzed the regeneration of the senior team with many of the players with whom he has worked in lower categories and the emergence of others such as Gavi or Nico and the weight they have in FC Barcelona these players. He has also dealt with other issues, such as the decision not to summon Sergio Ramos for the Tokyo Olympics or his future beyond July 31, when the contract ends.
The non-call of Sergio Ramos
There was a lot of noise around a possible presence of the PSG player in Tokyo, but Luis De la Fuente assures that he had no doubts at any time. His decision was made.
"At no time did I consider taking Sergio Ramos. I was convinced that I had to take those who had earned him. It was very clear to me. There were some great players. I was 9 years old, I could only choose 3: Fabián , Fornals, Mikel Merino … How could I choose someone who was not in those 9? It seemed an injustice to me "
"It was an interesting question and it seemed phenomenal to me. You ask and I answer, but I didn't ask myself."
Criticisms of Eric García
Eric García, recently signed by FC Barcelona and one of the players with whom De la Fuente has worked the most in the lower categories, plays in the position of the former Real Madrid captain. The U21 coach defends his performance.
"You're talking about national team performance, which is the TOP performance of a footballer. At his club now he did well, at City he did well … He has something different, his time will come."
"Eric does not have the size that other centrals have, but he has many other things. It depends on what you want. If I want him to win the entire passing game, I'll be wrong signing Eric. If I want to get the ball out, anticipation … No you're wrong".
The future of Luis De la Fuente
Luis De la Fuente ends his current contract with the RFEF on July 31. Despite wanting to do "something else" outside the Federation, at the moment the coach feels how and valued within and ensures that he would like to continue within. Catch the senior team at some point? He does not rule it out.
"I have a contract with the U21 until July 31. I have learned to be a short-term player. My goal is to get the national team back in the European Championship. Besides, it takes us to the next Olympic Games. I only think about that. ¿ After? I don't know. The RFEF has told me that they are delighted with me and I am happy in my work. I enjoy a lot, I have a good time and I feel valued. When I stop feeling valued, I still question something else "
"Of course I have considered taking the senior team. If you ask me if I feel prepared, of course I do. I know that I will do something else besides being with the U21. I think it is legitimate to think about it. What I am not in a hurry is nor the ambition to say that I want to do it, for example, after the World Cup. Or maybe I tell you that I would like to continue at least until the Paris Games, that I have already experienced some wonderful games ".
The growth of Nico González
Gavi's emergence is not the only one that has surprised the U21 coach. Another of the FC Barcelona players who has surprised Luis De la Fuente the most has been Nico González, who is winning integers at the Barça club.
"Nico has surprised us all. He has an amazing evolution. It has been seen that he has gone step by step and has grown a lot (…) There are players who are touched by the wand of God."
"He is versatile, he makes few mistakes, he can play 6 and 8. He has what the very good ones have. You can see that he is different. When you see hundreds of footballers and you see him, you see him. He is different."
The young people of the Barça and the selection
Luis De la Fuente has also been asked about Barça's representation in the senior team and in categories: Eric García, Gavi, Ansu Fati, Jordi Alba, Busquets, Nico, Mingueza … The coach has assured that this is not only It happens at Barça, but there are clubs that work the categories well and then decide to bet on putting these players in the elite, for example, Real Sociedad with the good work of Imanol Alguacil.
"It not only happens at Barça. In other clubs there are also very good ones, but you have to give them the opportunity (…) It has happened at times that many young players have had to leave."
"This is convincing and betting on an idea and on a coach. If the coach is convinced that, if these players are good, he will put them on".



cadenaser.com