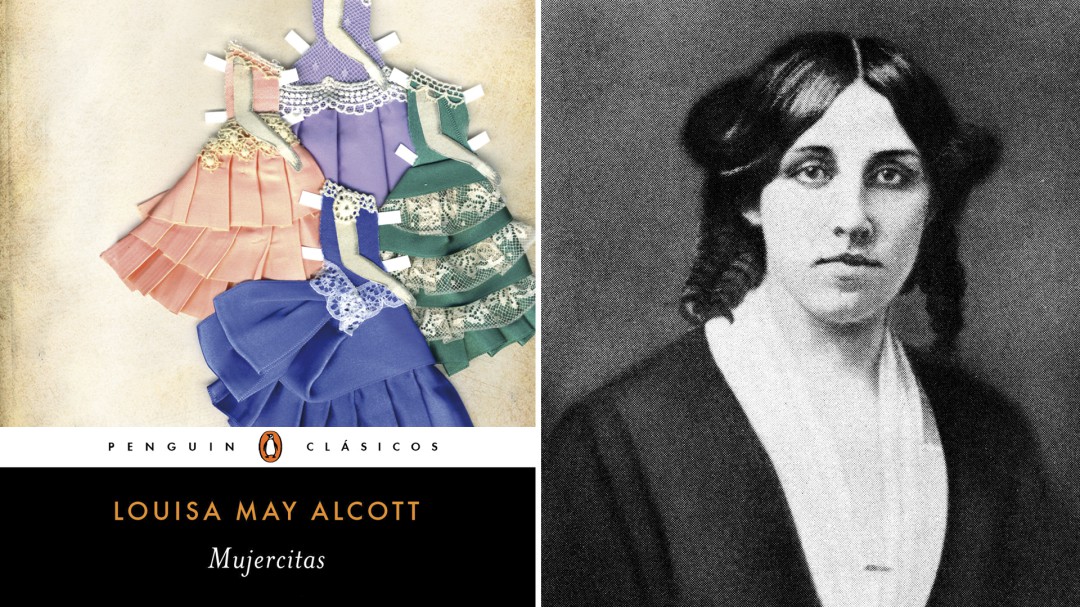 Louisa May Alcott was born in 1832 in Germantown (Pennsylvania) and died in Concord (Massachusetts) in 1888. The energy and independence that she already had since childhood accompanied her throughout her life and led her to accept different jobs in order to help your family financially. In 1854, she published her first book, which was followed by more than 30 novels and collections of stories, but her name will always be linked to that of 'Little Women'.
'Little Women' was written between May and July 1868 commissioned by its editors. It is a tender, exciting and fun novel, full of magnificent characters, such as the unforgettable Jo. I think it is impossible not to enjoy it. In September 1867 Thomas Niles, a partner at Boston's enterprising Roberts Brothers publishing house, asked Alcott to write a "girl's tale" for them. A "girls tale" was a moralistic tale intended to advise submission, marriage, and obedience rather than autonomy or adventure. The author had moral obligations.
"Literature for girls should contribute to the formation of women," wrote a 19th-century critic. "If when choosing books for boys we must remember that we choose mental food for future bosses, when choosing books for girls we must bear in mind that we do it for their future wives and mothers." 'Little Women' was published on October 1, 1868 and was a huge success. By the end of October, the first edition of 2,000 copies had been sold.
A very influential novel for women, but very ignored by men
It comes as a surprise that this famous, influential and popular novel, which has been translated into dozens of languages ​​and sold millions of copies worldwide, has only recently been accepted as an American literary classic or received serious attention from critics. literary. While it has influenced the work of many American female writers, in literature written by men, such as the Hemingway and Fitzgerald stories, 'Little Women' exemplifies sentimentality and feminine piety. There cannot be many more books in American literary history that have so greatly influenced the imagination of half the reading population and have been so ignored by the other half.
Alcott specialist Madelon Bedell has described 'Little Women' as "the American female myth," a paradigmatic story of female maturation. Various Americanists have analyzed the novel as an important feminist critique of the transcendentalist movement. "Little Women" has been interpreted as a novel about self-sufficient female communities, while others consider it Alcott's personal "Civil War," a novel spun off by opposing impulses about femininity and creativity.
Reading 'Little Women' in our time is to investigate contemporary ideas about female authority, critical institutions and the American literary canon, as well as nineteenth-century ideas of the relationship between patriarchal culture and women's culture.
'Little Women', as compelling as it is inspiring
'Little Women' has survived because it is as compelling as it is inspiring. Alcott's novel on female development dramatizes the transcendentalist dream of sexually equal lives in love and work. Seen from this perspective, Jo's literary and emotional evolution is happy, even if it does not correspond to our contemporary feminist model of the needs of an artist. Furthermore, despite the rush with which it was written, 'Little Women' is better constructed and stylistically more elaborate than any of Alcott's other books. In 'Little Women' he managed to create vivid, credible and timeless characters and write about them with a memorable, personal and American voice.
Simone de Beauvoir wrote in 'Memoirs of a formal young woman' in 1958: "There was a book in which I seemed to glimpse my future self: 'Little Women' by Louisa May Alcott. […] I passionately identified with Jo, the intellectual. Abrupt, bony, Jo climbed trees to read; she was more manly and bolder than me, but I shared her horror of sewing and housekeeping, her love of books. "
Alcott's greatest ambition was to be "a good daughter" and not "a great writer."
Like Simone de Beauvoir, though without the same reflective irony, Louisa May Alcott always considered herself a serious young woman. She declared that her highest ambition was to be "a good daughter" and not "a great writer." 'Little Women' itself is one of the best studies we have on the literary daughter's dilemma: the tension between female obligation and artistic freedom.
Louisa May Alcott was very committed and linked to her lineage, both maternal and paternal. She was the second of four daughters (her sisters Anna, Elizabeth and May inspired the characters in 'Little Women': Meg, Beth and Amy). He always harbored towards his father a feeling accused of rivalry and affinity at the same time.
Amos Bronson Alcott was one of the eccentric prophets of American transcendentalism, a social visionary, speculative philosopher, and educational reformer who was admired and often upheld by more successful contemporaries such as Emerson and Hawthorne. For Louisa he was always "the modern Plato," an admired intellectual who took his rightful place, but also a philosopher so impractical that he was comical, in need of constant nurturing and a great deal of energetic female support.
This article contains excerpts from Elaine Showwalter's introduction to the Penguin Classics edition.
The last audios of A Book One Hour



cadenaser.com