From the corner it is clear that the place is close. The shout is heard along the sidewalk: "Tacos, tacos de canasta, los tacooooooos." The voice is part of the icons of Mexico City. Francisco Marven, that natural speaker who announces himself every time his bicycle passes by with a basket full of food, is sitting at a table in his business. Until six years ago, she did not dare to wear a dress or make up to go out to work. But a viral video, where she is seen selling at the Pride march, turned her into Lady Tacos de Canasta. The name started out as a joke, but has been turned around. "It was my liberation," he says. Marven identifies as muxe, a third gender recognized in Oaxaca (southern Mexico), where the man assumes a female role. Her rise to fame has made her a symbol of inclusion in a country where machismo and LGTBIphobia still predominate.
Marven, or Lady, as her friends and employees call her, wears a huipil — a typical dress with a flower embroidered on the chest — white with orange. She has braids that reach her waist with a green ribbon. She constantly interrupts the interview because calls come in from her providers: "Yes, I'm Lady, yes, yes, I'll wait for you here, thank you." Since she was little she has not stopped working. She was born 37 years ago in Villa de Etla (Oaxaca, 9,200 inhabitants) and since she can remember she has been linked to the sale of Mexican food. His parents moved to the capital when he was seven. His first memories in the city are the vegetables he had to cut to be allowed to play. These were difficult times, his mother cleaned houses and his father went out with the tacos since the early morning and came back very late at night. "My two brothers and I had to be quiet so that he could sleep. I would see it and say to myself: 'I will never do that.' And look at me ".
The muxe community has criticized Lady Tacos for "cultural appropriation", because she was not born in the region of the isthmus, from where they originate.
His life passed between tianguis (markets), where he sold bread or cleaned vegetables, and the school, the scene of intense harassment. He had not yet made the transition as a muxe, but that did not stop the ridicule for his Oaxacan origin and his femininity: "You can imagine … they called me a fucking and a fag." According to the World Education 2020 Monitoring Report in Latin America and the Caribbean prepared by UNESCO, 75% of LGTBI + students in Mexico have been intimidated and insulted at school. In the case of indigenous people, this situation is just as serious. According to the latest report from the National Institute of Statistics and Geography, from 2017, 76.5% of people from indigenous communities feel little valued by society.
The problems of racism and LGTBIphobia are aggravated when it comes to the muxe population. This community is part of a centuries-old culture in the Zapotec region of the Isthmus of Tehuantepec (Oaxaca). There are no official censuses on how many there are in Mexico. Only in the area where they live there are about 90,000 residents. Although they are part of the tradition of the place, the muxes have lived a real nightmare in recent years. Local civil associations, such as the TRANSformándome project, have documented the murder of at least 15 in the last 17 years.
Local civil associations in Oaxaca have documented the murder of at least 15 muxes in the last 17 years
Sheltered in Mexico City, Lady has not been immune to harassment. But with the passage of time he knew how to ignore it: "I have been told in networks that I am even going to die." These threats, despite being ignored, are still dangerous. The LGBT + Observatory recorded 209 hate murders from 2014 to June 2020. In 2021 alone there have been 65 homicides against people with an identity other than the one assigned to them at birth, according to Fundación Arcoiris. "A lot of people are always going to be bothered that someone is different," complains the taquera. It wasn't until she was 17 that she learned she liked men. That caused him a lot of anguish. He was afraid that his father would take it badly, so he ran away from home and returned to Oaxaca: "I didn't want to cause them pain. My dad was very macho and everyone told me that he was going to kill me if he found out ".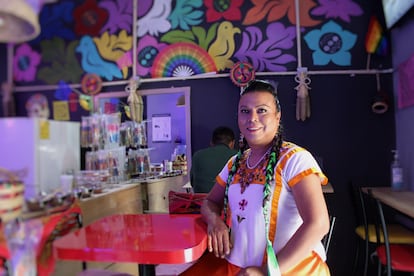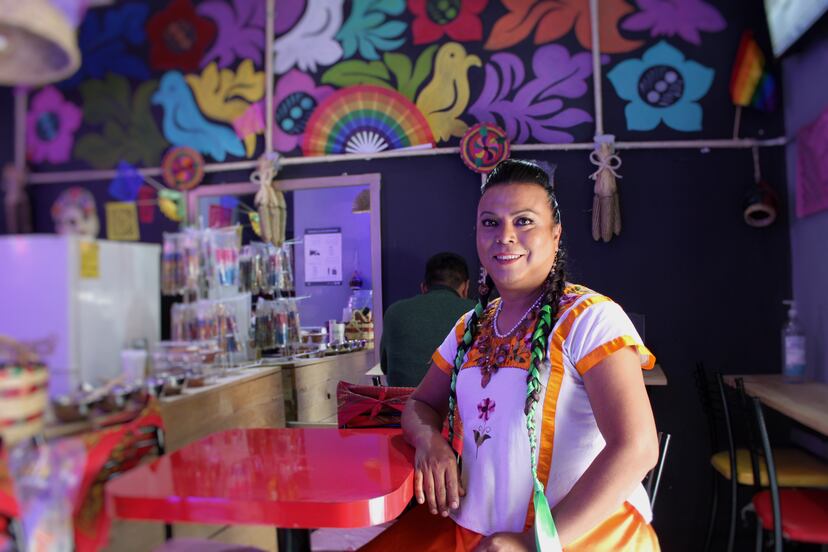 Marven changed his mind when he learned that his parents were having a hard time, so he returned. He did not give credit at first. When he got home, his father came up to him and said: "Clean and clean", and they melted into a loving hug. However, her gender identity remained hidden. "Out of respect for them, at that time I did not transition from male to female," he says.
In 2015, some friends from Oaxaca visited her and convinced her to dress and paint herself to go selling during the Pride march. Going viral gave her the courage to go out in public in her typical dresses. "In the end, Lady Tacos allowed me to introduce myself to my parents as the woman I wanted them to see: hard-working and fucking good," he says with a wide smile.
His figure is not without controversy. It has been criticized by the muxe community for "appropriating" its culture to "profit from it." Marven was born in the center of the state and not in the Zapotec region of the isthmus. She prefers not to argue and uses one of the most famous phrases of the late Chavela Vargas: "Mexicans are born where we want."
Fame has taken her to places she never imagined. He was the protagonist during a chapter of the Netflix documentary series The taco chronicles. The episode won the 2020 James Beard Media Award, recognition given to the best culinary shows. And, during the June 2021 legislative elections, she was a candidate for local deputy in Mexico City for the Equity, Freedom and Gender party, although she did not manage to get the seat.
Fame has taken her to places she never imagined. He was the protagonist during a chapter of the Netflix documentary series 'Las crónicas del taco', winner of the James Beard Media Award, a recognition given to the best culinary programs
For her, the fact that a muxe has become one of the iconic characters of Mexico City is the greatest of victories. Its premises have been transformed into a kind of tourist spot for LGTBI + people around the world. It has received clients from Russia, Australia, Canada and from different countries in Africa.
The interview does not end. At least not in a formal way. A young blond boy approaches him with broken Spanish.
– Lady, I came from California. Can we take a picture?
She looks at the interviewer and concludes: "So you can see that I'm not lying, huh. And that is the first of the day. It's barely 12 o'clock. This is a normal day in the life of Lady Tacos.
You can follow PLANETA FUTURO in Twitter, Facebook e Instagram, and subscribe here a nuestra 'newsletter'.



elpais.com