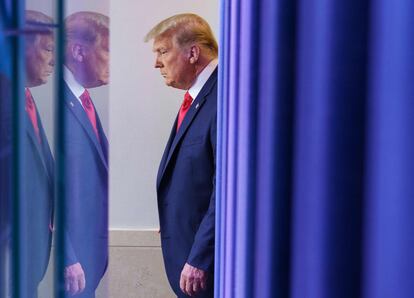 Former US President Donald Trump has sued New York State Attorney General Letitia James on Monday in an attempt to stop the investigation into his businesses. Ten days ago, the prosecution had summoned him to testify under oath next January. The lawsuit, filed by Trump himself and his business conglomerate, the Trump Organization, is based on an alleged violation of his constitutional rights and considers that in James' action there is a clear attempt to harass him for political reasons.
In parallel to a criminal investigation conducted by the Manhattan prosecutor's office, the investigations against Trump's business network by the New York prosecutor's office try to determine if the former president committed tax fraud by presenting declarations of the value of real estate and properties significantly higher than those of the market, to obtain financing.
According to a person close to the cause, in statements to the newspaper The Washington PostJames is analyzing whether widespread fraud "permeated the Trump Organization."
Trump has repeatedly described Letitia James's case, which has lasted since March 2019, when the Republican was in the White House, as a politically motivated "witch hunt." The prosecutor, a recognized Democrat, had recently announced her candidacy for governor of the state, but withdrew it on December 9, a few hours after summoning Trump, to focus on her re-election as prosecutor "because there are many pending cases." "There are a number of important investigations and cases underway, and I intend to finish the job," James tweeted that day.
The Republican, who has filed his lawsuit in federal court in Syracuse, upstate New York, accuses James of being "driven solely by political animosity and the desire to harass, intimidate and retaliate against a private citizen by that he considers a political opponent ". That is to say, he picks up his usual speech, which had repeatedly referred to the "presidential harassment" of James. His lawyers are expected to ask James to cancel the call to testify, theoretically on January 7, a day after the first anniversary of the assault on the Capitol by a horde of Trump supporters.
In recent months, Prosecutor James's civil investigation and Manhattan prosecutor Cyrus Vance's criminal investigation have focused on elucidating whether Trump Organization employees artificially inflated or deflated property values ​​to obtain loans or evade taxes, respectively. If James found signs of wrongdoing, he could file a lawsuit against Trump, but since this is a civil investigation, he would not be able to press criminal charges. Vance's office, who is retiring at the end of the month, is helping James' cause.
Join EL PAÍS to follow all the news and read without limits.
Subscribe
Vance's team last month issued new subpoenas for registering Trump's business emporium properties, including golf clubs, offices and hotels. Most of the charges stemming from the investigation thus far are based on allegedly fraudulent tax-related schemes. This summer, Vance indicted the company and its chief financial officer, and Trump's right-hand man for decades, for tax fraud. The tycoon and his family circle have emerged unscathed for the time being.
Follow all the international information at Facebook Y Twitter, o en our weekly newsletter.



elpais.com
George Holan is chief editor at Plainsmen Post and has articles published in many notable publications in the last decade.