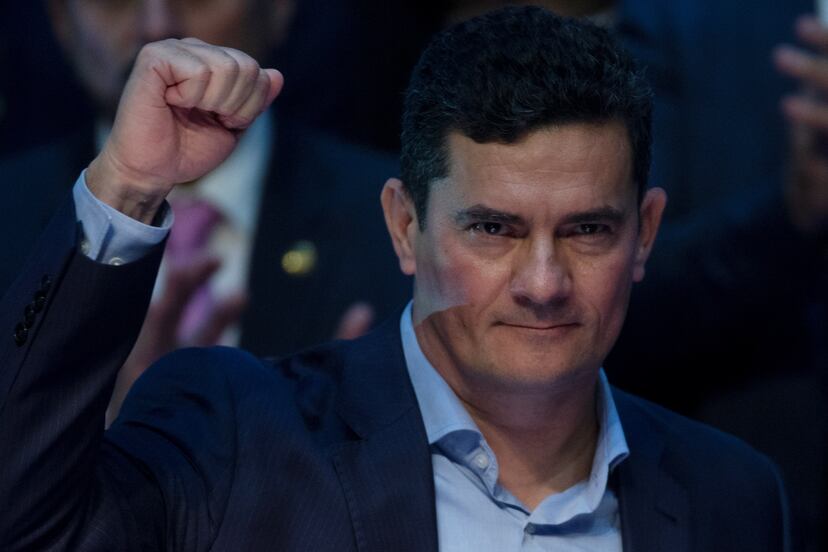 Former judge Sérgio Moro, champion of the Car wash, considered a hard without nuances, has decided to enter the complex and malleable world of politics. And he is seen in his first interviews as a child in new shoes. You may, however, have to understand that doing politics is different from doing justice. The judge condemns or acquits. Politics, in reverse, has been defined as the "art of compromise." Justice is black or white. Politics is kaleidoscopic with a thousand shapes and colors.
In politics, sometimes no is yes and vice versa. In justice you are criminal or innocent. A judge who suddenly wants to make the leap into politics is like the tennis player who wants to be a surfer. It is not the same to play on land than in the complexity of the waves of the sea.
When the rigid judge Moro from day to night wants to play at being a politician, he has to learn before he enters a game that if he tries to turn it into a court of law, he is bound to fail. When he affirms, for example, that there are also "good people" in the parties, it is the best confession of not having understood that politics is the difficult and complex game of compromise, as is diplomacy.
Democratic politics, with all its faults and defects, with all its compromises and corruptions, avoids many wars. Politics is intimately linked to dialogue, to you to you with people, to understanding people's weaknesses, their crises and anguish.
Politics, unlike justice, must be warm, empathetic, compassionate. It becomes more politics in the street than in the coldness of the cabinets, in the light more than in the shadows. The politician needs to know how to cry and laugh, play and understand pain and compassion. He can be a magnificent judge, severe and lashing, impassive and a bad politician. It is not that a judge cannot transform himself into a good politician, but nothing can be worse than wanting to suddenly go from being a bureaucrat to a stage actor.
Moro will be able to try to make the leap to politics but for this he will first have to do an apprenticeship. Learn to be moldable, know how to listen and recognize your mistakes and even your sins as a judge. Hence, today people wonder if the judge known for his rigidity and for his sentences without appeal and even partial will suddenly be able to know how to dive into the complex and tangled sea of ​​politics that involves a lot of dialogue, a lot of approach to pain and the joy of the people and an infinite dose of knowing how to listen.
When Lula confessed that he is a "walking metamorphosis", he was actually supporting a classic way of doing politics, which is knowing how to adapt to the reality of the moment, since life is never static. As the Greek sages said "everything moves, nothing is stopped". If justice is rather static, politics is movement and it needs to know how to keep pace with the people and their most urgent needs.
Will the rigid judge Moro know how to suddenly learn that being a politician means knowing how to forgive more than to condemn? That is the great unknown that Brazilian politics is shaking at this time with its waters poisoned by its president who never understood that doing politics is something more important and complex than going around the world shaming Brazil and denying the evidence of reality. A dramatic reality like that of the new poverty, symbolically reflected in the 9-year-old boy who just a few days ago fell to the ground in a school in Brasilia, passed out from hunger. Her unemployed mother confessed that she only sometimes manages to give her children some beans and rice. Thus they arrive at school after hours of travel without eating. A child who faints from hunger in a public school is the most serious sentence in a rich country where more than 30 million people already suffer from food deficiency. A country where 10% accumulate 90% of all the wealth of the country.
Being able to break that injustice is doing real politics. All the rest is hypocrisy. Judge Moro who promises, if he wins the elections, to create a new, fairer and more caring Brazil, must know that this is not as easy as signing a court ruling. To start his new political adventure, the former judge has gone to a speech therapist to improve his voice. What, however, a politician needs more than pronouncing words well is knowing how to listen to the voices or the pained silences of those in need. He needs more than having the voice of an actor, knowing how to listen to the heartbeat of those who suffer loneliness and abandonment by power.
Subscribe here to the newsletter from EL PAÍS América and receive all the informative keys of the current situation of the region
Sign in to continue reading
Just by having an account you can read this article, it's free
Thanks for reading EL PAÍS

elpais.com