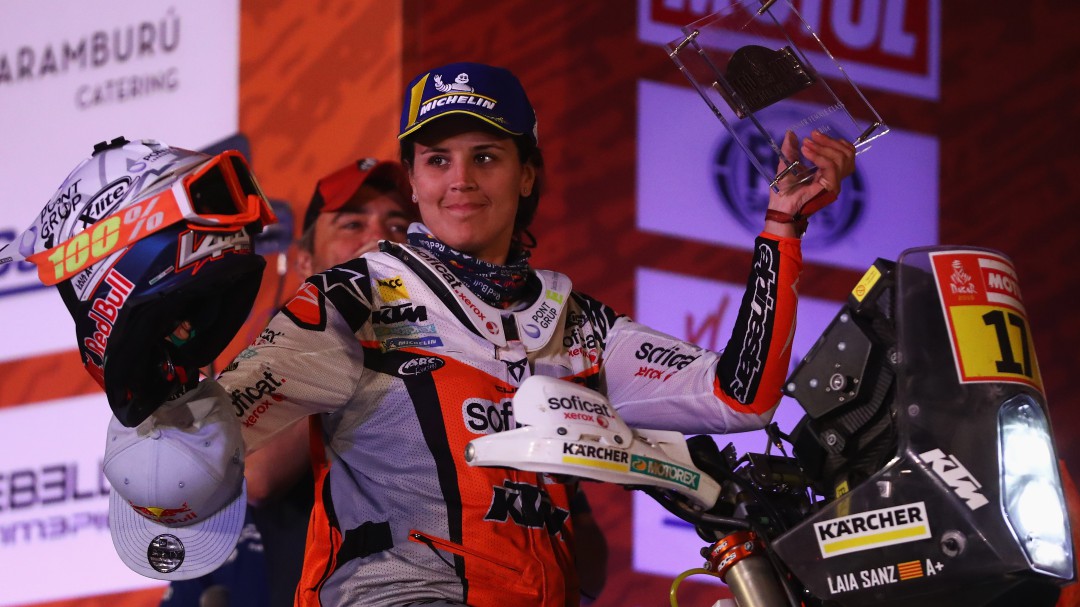 One of the referents of women's sport in this country passed through El Larguero before contesting her twelfth Dakar. Laia Sanz, eleven times female champion of the historic race, will begin a new adventure in a new edition that will take place in Saudi Arabia. However, Laia will not sit on a motorcycle like on the previous eleven occasions, but will do it from a car. These were Sanz's feelings before one of the most important tests of his career.
How are you going to spend this Christmas days before you start?
"You have to avoid all risks. We will see my family outdoors and with a mask because I can't risk not being able to go to the Dakar. I hope that everyone takes care of themselves and that this happens quickly "
Not catching COVID is the first stage …
"It is the stage that you do not control. Without seeing people and without seeing friends, we are almost quarantining and without having "
How did you change from motorcycles to cars?
"I had always dreamed of the issue of cars and it was always clear to me. The two penultimate years I already saw it very close. I have the feeling that I have achieved more than I could have imagined. The need for new challenges and the issue of risk is very important. The last two years I have not enjoyed them so much because of that "
11 participations and 11 times you have finished … it must be a record …
"It is very complicated and on a motorcycle most people finish half of it. There has been some luck, but it has been to be smart, work hard first and get to know you well. You do not have to risk more than necessary "
More nerves before your first edition on a motorcycle or on this one?
"There was a bit more in the first one. As much as they explain it to you, you cannot imagine it. I'm a little calmer, but there are nerves. Now I am the one who is counting battles "
What is your biggest anecdote?
"What makes a lot of difference to people is the fact of the early rises that you do in Moto. In South America you would get up at 3 and you had to put in a plate of pasta. There have been a thousand battles with comrades ".
When will you write a book telling us about those battles?
"We made a book that tells of the year of my best Dakar in 2015. I am alternating with things in my life and I think it is a book that is very good for people who want to know more about the Dakar."
Is it more complicated to prepare for a Dakar by car or motorcycle?
"By car it is more difficult to close the budget and try to get the necessary help. You must have a good co-pilot and it is not easy. Then you have to find a way to gain experience. We arrived quite green because we only had one Rally before arriving. 15 days in the car that if you don't get along with your partner, you have a bad time ".
How is your relationship with Carlos Sainz?
"It has been very important since the day he called me. He has always been my idol and ending up running with him has been quite a 'masterclass'. Imagine running with and against my idols. He has been a fundamental person when it comes to convincing me of the change ".
Will you have contact with him during these 15 days?
"You have to leave him alone because he will have to concentrate, but for sure we will see each other and comment on the special. He will give me good advice ".
Is rocky or sandier terrain expected?
"I hope there are less rocks than last year. On a motorcycle you suffer, but in a car you can have a lot of punctures ".
Do you like to compete more in South America as before or in Saudi Arabia?
"Are very different. Maybe on the bike, South America was more of my style. These are faster and straighter stages. There is more risk and also here people are missed. In South America that was a party ".
Do you dream of a return from Paris – Dakar?
"I would like. I was superfan and I was waiting for the summary of the day. Everyone who dreams of a Dakar dreams of a finish at Lake Rosa, but I see it complicated by the situation there. It is very difficult as the world is to organize a race like this ".



cadenaser.com
George Holan is chief editor at Plainsmen Post and has articles published in many notable publications in the last decade.