[ad_1]

The letter of the subject that gives title to The cante, the new work by Kiki Morente (Granada, 31 years old), is almost an argument to intervene in the debates on purity, fusion, appropriation and renewal that have monopolized the flamenco scene in recent years. "I listen to the cantes of / old masters that my father sang and that / taught me flamenco", sings Kiki, born José Enrique Morente Carbonell, in a verse that his sister Soleá also repeats and that ends in a chorus – "I know the roots and also what is right now"- that undoes the Gordian knot of origins without turning to Byzantine discussions. "I wanted to translate my tradition into a current sound," he explains. "At this point in my career I wanted to go a little further and develop a new sound to accompany my cante".
The last time this magazine interviewed Kiki it had just released with a first feature film, Albayzín (2017), which his father, the revolutionary of the genre Enrique Morente (1942-2010), had left outlined. This was a classic, orthodox record; a presentation card. Four years later, The cante face other horizons without burning the ships. "I'm happy to look back, to see that time is passing and we continue to want to learn," explains Kiki, who, like other union colleagues, usually uses the first person plural to refer to the circle of collaborators, producers, musicians and creatives involved in each project.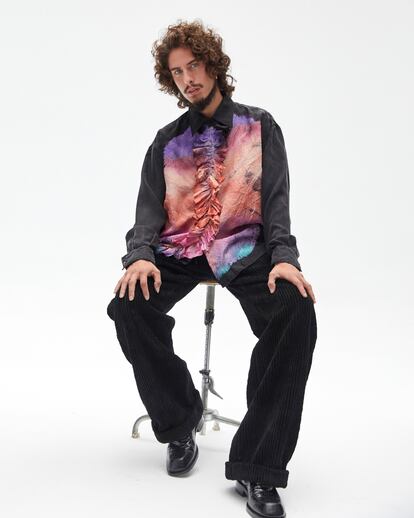 In The cante, that circle is led by Enrique Heredia, The Negri (from La Barbería del Sur), and includes the names of Jaime Beltrán (from Pájaro Jack) or José Romero from Madrid, who is responsible for the electronic arrangements and traperos. The result is a compact and meticulous sound that shows that reinterpreting flamenco after Rosalía is something more complex than seasoning old cantes with autotune Y samples de R & B. The cante It is an album that, says Morente, his father would have approved.
"Every day I learn something new about my father's career, from him comes the love of singing and art, and also a discipline and a way of working and learning," he explains. "Morente opened the doors through which many of us who dare to do new things are entering right now. What Morente defended is that you have to be brave. And I think he would have liked this album, because its roots are cante, and also because I entertain myself, I work a lot with music and I fight with myself. Making music is getting up in the morning, going to the studio and leaving at dawn. Eat your head, give things 20 turns and try to perfect them. That is called working. You have to dedicate time to what you like. That he valued a lot ".
The presence of Enrique Morente hangs over the entire album, but especially in The fight at the New Sale, a Malaga that father and son sing in unison thanks to technology. It is also present in the Goya song titles, in a nod to the culturalist legacy of a flamenco genius who mixed jondo with rock, literature and commitment. "For me, Goya represents the color of flamenco, because flamenco emerged in Goya's Spain," says Kiki. "My sisters Estrella and Soleá helped me to soak up the work of the genius, to seek not only the hits of Goya, but the pieces that told something of each song ".
The interview takes place in a studio in El Rastro, near the Madrid house where the Morentes live when they are not in Granada. During the photos, the cantaor has fun with the clothes and sends his mother photos of the outfits. He assures that social networks do not obsess him, and neither does the media celebrity. Since last summer, the talk about his friendship – even the official version – with the journalist Sara Carbonero have put his face and his name in the forums of the pink press. He assures that his presence in the press of the heart does not take away his sleep.
"We are in an age where we are moving, and these things happen. I try to stay out of it, "he replies. "I am interested in good media, that contribute to culture, art and fashion. Pink fame doesn't interest me ". What interests him, he repeats, is work. When it comes to dealing with the media, he explains, he applies the advice of his sister Estrella. "You have to always be well, take care of everyone, be nice, do your thing, work and ahead".
You can follow ICON on Facebook, Twitter, Instagram, or subscribe here to the Newsletter.


[ad_2]
elpais.com
George Holan is chief editor at Plainsmen Post and has articles published in many notable publications in the last decade.