[ad_1]

Elijah Isaboke Omwata, 42, lost his identity card. For this reason, this neighbor of the informal settlement of Kibera, in Nairobi, went one day in mid-2020 to request a new one. When he went through the door of the complex where the office that provides this service is located, he was approached by a woman in a white coat who told him that before doing the procedure she had to enter some data into a machine to check for tuberculosis. "I refused. I explained that I was coming to something else ", he acknowledges. Violet Chemesunde, the community health worker, insisted when she returned to pick up her new card. And he got it.
Isaboke answered the five-question quiz on the touch screen. Do you have a cough? He feels tired? Have you lost weight? Do you sweat at night? Do you live with a tuberculosis patient? With a single affirmative answer, this unique ATM prints a piece of paper that reads: "You probably have tuberculosis. You have to take a test ". That was the case with this mechanic, father of three children. Next step: take a sputum sample at the neighborhood clinic for the laboratory to confirm the suspicion. Two weeks later, the result was positive.
"I told them it couldn't be, that I was healthy, strong." Isaboke acknowledges that the diagnosis was not believed and did not accept the treatment. Again, Chemesunde insisted. "He explained to me that I could be cured, but that I had to take the medications." For six months, he took his four daily pills. Isaboke today proudly shows the half-torn chart that shows that he was disciplined with the guideline. "I started in November 2020 and finished in June 2021. Every week I came to the health center for the tablets and when I finished, they asked me for more sputum to check that it had worked. I'm completely cured, "he proudly points to the word on the yellow cardboard.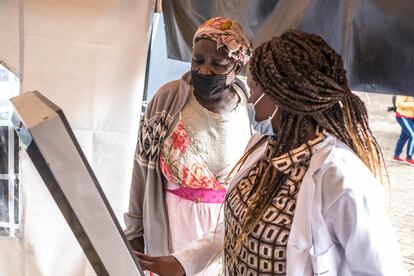 The testing of tuberculosis cases in Kenya (54 million inhabitants) fell by 15.7% in 2020, due to the impact of the pandemic, according to the annual report on this disease from the Ministry of Health. The national program estimates that last year there were 140,000 cases, of which only half were diagnosed (72,943), 66% men between 20 and 44 years old, like Isaboke. And informal neighborhoods like Kibera are an ideal breeding ground for the spread of the bacteria that causes this ailment: very small homes and businesses, without ventilation and with a population density that makes maintaining distance practically impossible.
21,000 people died of tuberculosis in 2020 in Kenya, an increase of 5% over the previous year
To reverse the underdiagnosis, which has been worsened by the pandemic, five of these machines, similar to an ATM, have been installed in Nairobi in crowded places, such as the Kibera administrative complex or the train station. Since its launch in July 2019, they have surveyed 8,000 people and detected 262 positive cases such as Isaboke's. The invention was developed by the Kenyan company Sema Limited when the medical NGO Amref launched a request for ideas, the Kenya Innovation Challenge for TB, to find patients who were not reached by traditional methods, that is, those who go to clinics with symptoms, almost always when they are already very affected, with a high risk of dying. In fact, 21,000 people died from tuberculosis in 2020 in the country, according to estimates from Stop TB. Which represents an increase of 5% compared to the previous year.
Globally, deaths from tuberculosis have increased for the first time in more than a decade due to the effect of covid-19. The recently published annual report of the WHO estimates that the pandemic has caused an 18% drop in new diagnosed cases and more than 1.3 million victims.
"At the beginning of the pandemic, there was a lot of fear and confusion. Many neighbors of the slums, who have informal jobs, lost their income and returned to rural areas. It was a challenge to find them to continue treatment wherever they were, "says Sarah Chandi, the Kibera coordinator of the Kenyan Ministry of Health's tuberculosis program. "The diagnoses decreased, people did not want to come to the clinics for fear of contracting covid-19, even if they had symptoms such as cough or fever," he notes. "And the men, less. They consider it a weakness, "notes Anne Munene, HIV and TB project technician at Amref Kenya. "There are those who do not seek care because they cannot stop working for a single day because their daily livelihood depends on it. It is sad that, due to lack of diagnosis, patients arrive very late, when they are already very affected and many end up dying ", he adds.
It could have been worse. Munene feels that her project, supported with funding from the Global Fund for HIV, Malaria and Tuberculosis (the organization that made this trip possible) has saved hundreds of lives. Not only did the 262 diagnosed with Sema Limited's invention have access to medication and a chance to heal before it was too late, but their relatives were tested and were able to put positive cases on treatment. Isaboke's youngest son, the only boy, three years old, was one of them. "When they told me, I felt very bad," says the father. But the little boy was also able to heal. Detecting the disease also helps prevent new infections. One of the people Chemesunde met was with Isaboke's boss, who works in a workshop, so that he could assign him tasks that he could carry out away from other colleagues (and not lose his job) and ventilate the place.
"This is an idea born from the people of the country. Before, there were follow-up days in which people were summoned to take samples. It was also done door-to-door, but that is a very expensive intervention, "explains Elisabeth Makali, project manager at Sema Limited. "With this innovation, which had not been done previously in Kenya, we see that the pilot program has worked. Now we are evaluating how to improve and scale it ".
In addition to the machines, from Amref they have promoted media campaigns, mainly radio, to report that coughing does not necessarily mean having covid-19, but it can be tuberculosis. "Many are unaware that they have similar symptoms and that tuberculosis, in Kenya, kills more. So the pandemic was an opportunity to tell ".
You can follow PLANETA FUTURO in Twitter, Facebook e Instagram, and subscribe here a nuestra 'newsletter'.


[ad_2]
elpais.com
George Holan is chief editor at Plainsmen Post and has articles published in many notable publications in the last decade.