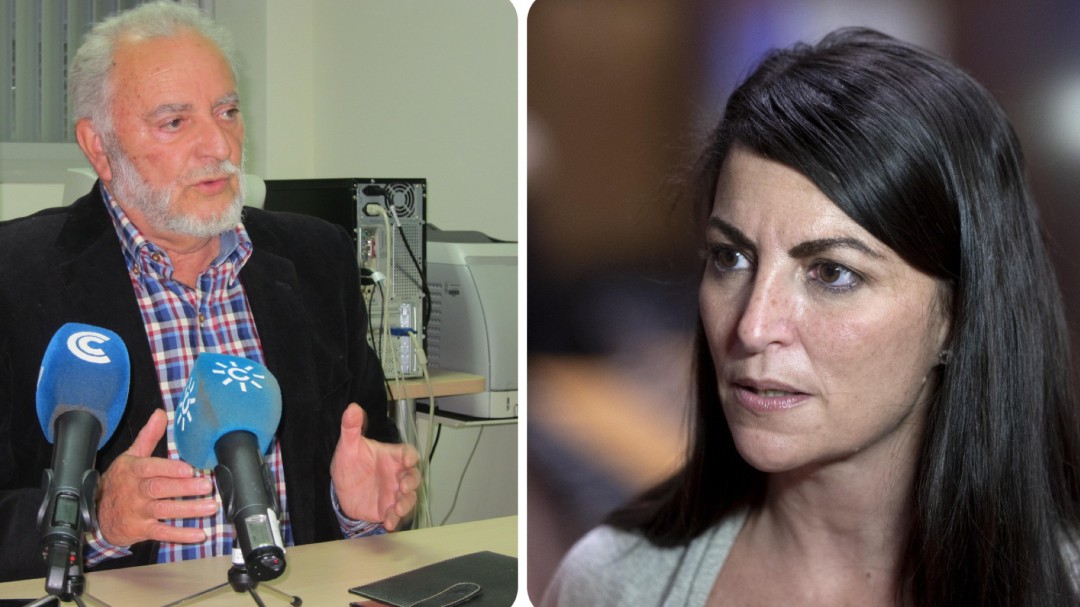 The scene was last night in Lepe (Huelva). The spokesperson and general secretary of Vox in Congress, Macarena Olona, ​​starred in a public event in which she mentioned a speech by the deceased former general coordinator of IU, Julio Anguita. The address was from 1999 and Olona defended it as one of her favorites. "I have wanted to hear again one of my favorite political speeches, from a politician who has undoubtedly marked the history of Spain, with whom I have great ideological differences, not so much in the diagnosis of the problems as in the solutions he proposed. I have spent some time alone with Julio Anguita, rest in peace, remembering one of his most famous speeches that he delivered on his way to Spain in 1999, "said the Vox deputy.
Macarena Olona continued her speech with the defense of the former communist leader: "Don Julio was undoubtedly a man of the people, a man who loved the people, a man who today would be deeply ashamed of those who claim to be on the left and defend the working class. I mean both the political parties and those shellfish unions. " The words of the far-right leader have provoked the IU reaction. The IU general coordinator and spokesperson for United We Can for Andalusia, Toni Valero, has recovered a video of Julio Anguita in which he said in 2019: "I don't like being used, and above all being used by people who have this performance" (in reference to Vox). Julio Anguita, 2019.
In the 2019 video rescued now, Julio Anguita, explained his vision about the extreme right of Vox: "I still think that honesty and the extreme right is an oxymoron. An oxymoron is a literary figure that represents something that is totally contradictory like black snow or clear night ". He also recalled that at that time there were already cases of corruption: "That appropriation that they made of my words, as if it were the reference, have been totally unauthorized. This extreme right has high rates of corruption"
"Corruption is also maintaining a false speech. I have not seen our extreme right talk about the situation of workers, of the pensions. On the contrary, four days ago I heard its leaders talk that it was necessary to give priority to businessmen, putting the Ibex companies in the same bag as the self-employed, "he stated.
Julio Anguita, in 2019: "The extreme right does not care about the social"
Anguita denounced that the Spanish extreme right "does not care at all about the social" and that it smelled "of mothballs, of dandruff." In addition, he said: "People who do not have work, who have economic difficulties or who are living poorly and who believe that the solution comes from the hand of our extreme right, will be disappointed. But I would ask them to go thinking not only about what I have said, but in what you are observing ".
"You have to have a very hard face"
Various positions of United We can have called the statement of the general secretary of Vox in Congress, Macarena Olona, ​​as "madness" and "barbarity". "Well, no, Julio Anguita would not be nor was he ever proud of Vox, what an absurd delusion," said the general secretary of the PCE and leader of IU, Enrique Santiago, through Twitter.
The deputy of United We Can in Congress for Seville and member of IU, Miguel Angel BustamanteHe has also criticized Olona's statements and added that "you have to have a very tough face to say this outrage."
"Julio Anguita defended democracy against fascism, opposed neoliberal policies, defended human rights and greater social justice and left us with the PCE card," he also stated on this social network.
The deputy in Congress and leader of En Comú Podem, Gerardo Pisarello, has shared a fragment of an interview that Anguita offered and has paraphrased that he does not like to be used by a "right wing, corrupt, submissive to the powerful and socially insensitive."



cadenaser.com