[ad_1]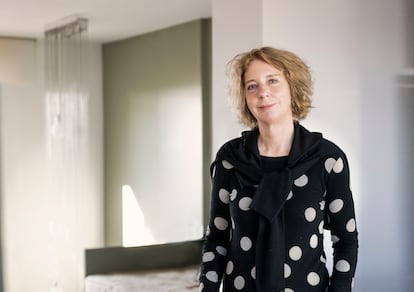 German based in Barcelona for 30 years, Julia Schulz-Dornburg (Munich, 60 years old) is an architect, exhibition curator and author of books. Books like hilarious and revealing Where is Frank? (Three Sisters), the result of six years of research and combat against various administrations to locate and document the nine equestrian statues of Franco scattered throughout Spain. The conclusion: the Historical Memory Law sent them to limbo, yes, but nobody really knows what to do with them. They are not, nor are they not. Pure Gila.
Ask. Who was going to tell a German architect living in Barcelona that thanks to Franco she was going to end up as an investigative reporter…
Answer. Yes, this is an aspect that I discovered doing my previous book on modern ruins. I discovered that the research itself is already the journey.
P. Well, here in reality a double trip, right? Franco's and his own.
r Yes… plus everything that happened around and I don't count in the book.
P.For example?
All the culture that goes with you awaits you here.
subscribe
r Well, things like that very probably I would never have thought of going to Melilla if it hadn't been for the book. And man, it's not my favorite city, but it's interesting to see places you wouldn't normally see and do things you wouldn't. That enriches.
P. Do you dream of Franco?
r No longer! The publication of the book closes a long circle of almost six years, six years of great hope, great desperation, great anguish and great curiosity.
P. Although it is the result of a very rigorous investigation, this story of yours with Franco rides between Gila, Berlanga and the Marx brothers, you are aware, right?
r And Kafka…
P. And Larra and her famous Come back tomorrow… so much processing of permits, so much refusal, so much silence and so much bureaucracy… it had to be exhausting.
r It exhausted me very, very much, until the moment I understood that the success of this project is its own failure. This was very liberating, but it took me a long time to get to that point.
P. Can you develop that?
r Without the traumatic experience of the demolition of Franco's statue at the Born exhibition in Barcelona [Franco, Victòria, República. Impunitat i Espai urbà, 2016], I would not have considered trying to understand more about the power of symbols and the long shadow of the dictatorship. When I undertook the trip and realized how insurmountable the wall that protected Franco's statues was, I considered doing a photo report with the protagonists of that story, but I saw that it was also doomed to failure. That was the hardest moment, but then I realized that all those exchanges of emails, requests and refusals, all those witnesses to my failure, were beginning to draw a map that had a very clear shape.
P. Which was?
r The idea of ​​mapping failure. That's what made me think: "This is where we have to attack the issue." From then on, my frustration turned into insistence to get more answers to my requests… knowing that it was going to be a "no" almost every time. You have to know how to turn things around and sometimes what seems impossible is a great possibility.
P. And he was right, because regardless of the historical background of the book, which it has, its value lies in having known how to stage that octopus with a thousand tentacles called "the Administration" and "the bureaucracy", or "bureaucracy".
r Yes that's how it is.
P. What happened with the exhibition in El Born and the subsequent demolition and evacuation of Franco's statue… was it just a misunderstanding -in the literal sense, "misunderstood", that is, that people did not understand the exhibition- or was there also political instigation?
r A lot of things came together and it was a perfect storm. We were in a very heated political moment and in the midst of a strong discussion about historical memory, and we were at Ground Zero of that delicate moment. And as always, each one wanted to take political advantage of all that. But in the end, the ones who knocked down the statue were drunken foreigners.
P. It turns the dictator into a little character with his feelings that is almost pitiful. "I met a despondent Franco on my first visit…he seemed disenchanted." Or: "Franco perked up with each visit. He seemed excited." Why the humour?
r In general, the topics that interest me are uncomfortable topics. And you have to be very sensitive to how you count them. And humor works well there. Leave space for each reader to fill in the gaps as they wish.
P. Forty-six years after Franco's death, this country still lacks a consensus on how to manage its recent past. "Franco is still among us", you write.
r Yes. And it's true, he's still with us. No law obliges, for example, those who keep the equestrian statue of Madrid to have to show it if you apply for a permit. It is suspected where it is, but there is no way to verify it.
P. How is Spain coping with memory, what grade do we get?
r The image of a statue of Franco covered by a cloth or hidden in a box is a metaphor. A metaphor that here, with memory, the general strategy that is applied is to cover up. And that's cheating. And the things that are covered, in the end do not usually work. But we are in a very polarized moment and there is a lack of space for discussion. I believe that until reparations are made for the victims of the war, it will be very difficult to have a serene discourse. And when that happens, then we will be able to decide if it is better to melt the nine statues of Franco, or expose them, or bury them or whatever.
Exclusive content for subscribers
read without limits
[ad_2]
elpais.com
George Holan is chief editor at Plainsmen Post and has articles published in many notable publications in the last decade.