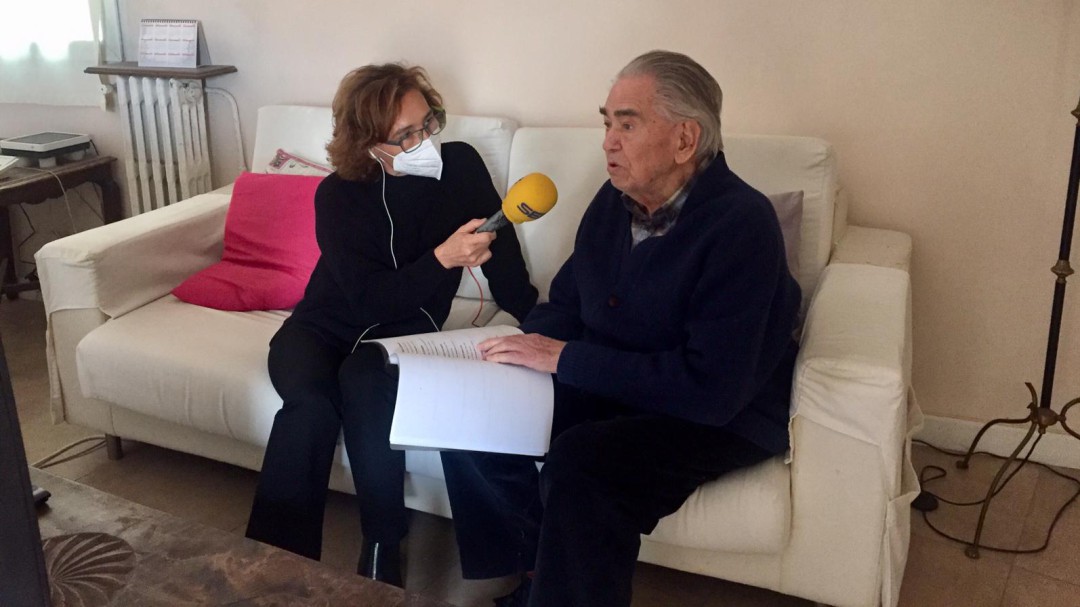 We take a look at the life of Juan Mariné, a cinematographer who began as a meritorious one at the Orphea studios in Barcelona in 1935 and who has participated in 140 films. Some, like Durruti's burial, are part of the history of cinema, others, like The big familyThey were a blockbuster at the time and there are, too, that have been forgotten. Today, Mariné, having turned one hundred, has opened the doors of her house to us.
Juan Mariné was 15 years old when he began in the world of cinema as a meritorious one and those beginnings have been blurred in his memory. He remembers that it was his uncle who was related to the Orpfea studios in Barcelona and it is Concha, his wife, who continues to explain to us that this uncle took him to the set one day because he needed help to transport some cameras. Juan, at just 14 years old, entertained himself by reading the instruction manual and when on the set there was a problem to synchronize the sound and the image, he was the only one who knew how to find the solution. The director, Arthur Porchet, suggested that he go to the filming every day in case they needed him and thus, by chance, Mariné's relationship with the cinema began.
Juan knows that we come to talk about cinema, about his life, about his films and how sometimes memory is no longer what it was … he asks Concha for her notebook, a folder that keeps a handful of typewritten sheets where, under the year and the title of the film appear the name of the director, producer, operator and camera assistant. It is a perfect tool to remember some episodes that happened more than eight decades ago.
The first title that appears in the notebook is The eighth commandment, film directed by Porchet in 1936. It is surprising to see this centennial man, he will turn 101 on December 31, read without glasses either from far or near and, notebook in hand he points out a title, Dawn of hope. It was the first fiction film made by the CNT's Show Industry Union during the civil war. It is a melodrama that narrates the problems of a Barcelona worker to find work after the closure of his factory and his social awareness. It is considered an artistic jewel, a historical film shot in 1937 and in which Mariné appears in the credits as a second photo assistant.
It was not the only film with a political content in which the adolescent Juan Mariné intervened. That same year, 1937, he participated in the filming of The burial of Durruti, a documentary whose version in Spanish is not preserved. "My work was very important," he explains, "I had to go around Spain collecting all the cameras possible to film the funeral. We installed them in trucks and vans and at fixed points, which allowed us to faithfully reflect the farewell that Barcelona gave Durruti ".
In front with 17 years
Juan Mariné was sent to the front when he was 17 years old. When the war ended he fled to France. There he was held in two concentration camps. He managed to escape by swimming from the one in Argelês sur Mer, they say he was one of the few prisoners who managed to flee without being arrested again before crossing the border. Already in Spain he ended up in a third concentration camp, in La Rinconada, Seville, where he was rescued by his father thanks to some contacts. Those incidents, which, told today, seem like a movie, have been explained by Mariné on other occasions, not in this interview in which we focus mainly on his professional life.
140 titles is a lot of titles so we take a round up The big family, a film declared of national interest, a blockbuster that was released in 1962, Mariné was the cinematographer. Juan pauses before saying that this is a very special title not only because of the success it achieved but because the characters were very authentic and his gaze lights up, his eyes, very blue, sparkle when he remembers Alberto Closas, the protagonist . An actor who came from Argentina, he tells us, and tells an anecdote about Closas that comes out in Catalan, his mother tongue, even though he has spent a lifetime in Madrid. Juan gets up from the sofa on which he is sitting, without the help of anyone, not even a cane, and goes to look for a photo of Alfredo Fraile who was a friend and director of photography like him.
And so, between movies, the morning is gone. Before saying goodbye, we asked Juan what cinema has been for him. The answer … obvious … "All your life." And he adds that also "it has made him very happy."



cadenaser.com