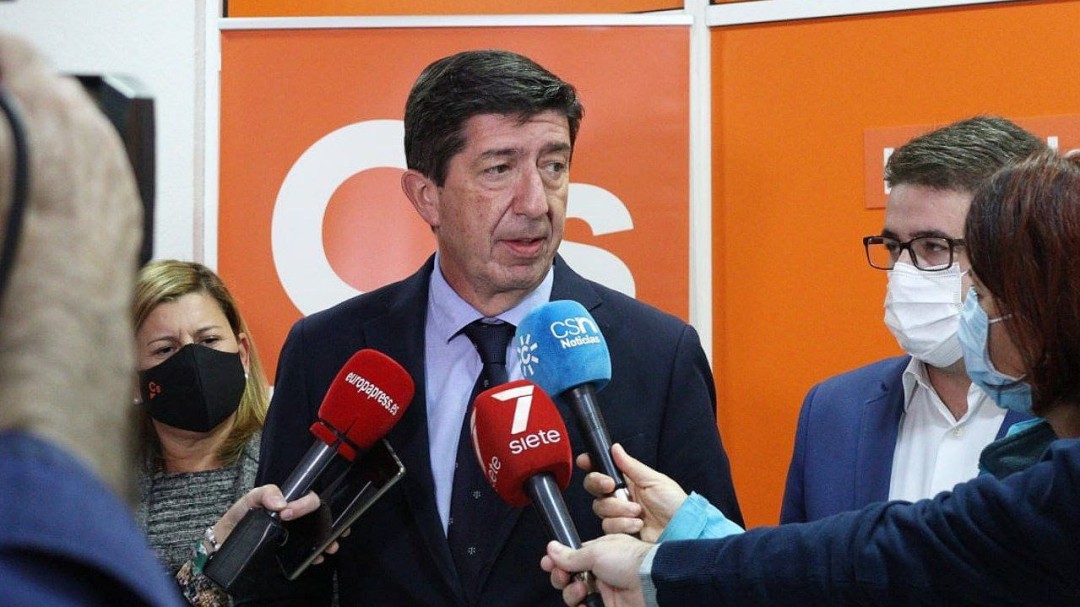 "In an election year, we cannot afford to present a budget? I think not. It is stupid. No government approves budgets in the last year of the legislature, but not because it cannot approve them but simply because it is not interested in approving them and that is why extend, nothing more ". This is how blunt the vice president of the Board, Juan Marín, was shown last July at a meeting of the Citizens' parliamentary group.
Although this same Monday, Marín called on the PSOE and Vox to support new public accounts "due to responsibility", the vice president of the Board revealed to his deputies last summer what was the true strategy of the Andalusian Executive regarding budgets.
"We as a government are obliged to have a budget, but we are not obliged to when, do you understand me? (…) it is that we are not interested. We extend it and that's it."
Elections in October: "In an election year we need to sell a stretch"
In the recording, the Andalusian vice president explains to his followers that even if they had the necessary support, in the best of cases, the budget processing times would imply that the new accounts would take effect next April 2022. "And If the elections are in October or November, which is when they are going to be, we could only run the new accounts for a few months, until July, because then (elections) are called and it's over. "
In this context, Juan Marín explains to the members of his parliamentary group that at the time the elections are called and the Andalusian Government is in office, the electoral law limits the room for maneuver before any electoral calculation. "You can't sell a towel anymore, you can't make a public announcement, you can't make an appearance. Nothing at all."
The vice president of the Board recognizes before his followers that, with an eye on the polls, the Andalusian government's strategy is to be able to execute the budget from January "because in electoral year we need to sell a stretch." According to Marín, new public accounts "would be a drag" from an electoral point of view by requiring a processing time that would delay the execution and therefore the ability of the Andalusian Government to show that "stretch".
"The electoral campaign begins in January and it is necessary to deprive the PSOE the possibility of proving itself useful"
"It is necessary to bear in mind that the tanks go out into the streets in January … that is where the pure and hard electoral campaign begins," says Marín at the meeting, assuring that in the first quarter of 2022 the legislature will be "finished."
"The PSOE only has one play left, which is to show that it can be useful in some way in this legislature and if we take away that possibility (…) then in the end we get full." With that strategy we have to play to the end. "
"Why new budgets if they are going to imply cuts?"
"We already have some public accounts. Why do others that are going to involve cuts and that we are not going to be able to practically execute?" He says in the recording.
Marín argues that when payments are made on account, the settlements of previous years are taken into account "and in 2020 there was much less income than in 2019, specifically 2346 million euros," he assures, "It is overwhelmingly logical that it should be done cuts"
Contacted by Cadena SER, Juan Marín downplays what was said last summer in the meeting with his parliamentarians. "It was an internal conversation. Susana Díaz did not present budgets in 2018 because tactically it did not interest her … it is that tactically it may not interest her." He considers it scandalous that the recording has taken place but assures that when he used the word stupid he was referring to the possibility that Vox or the PSOE supported new budgets.



cadenaser.com
George Holan is chief editor at Plainsmen Post and has articles published in many notable publications in the last decade.