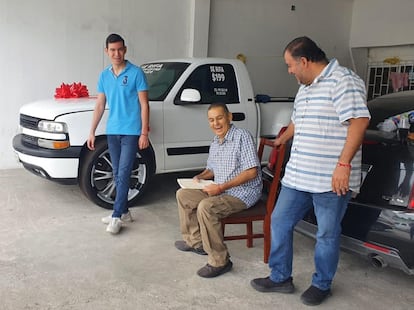 Juan Manuel Vidales assures that his white truck is old, but valuable for those who know about it. Slowly repeat the model: Chevrolet 400 SS year 2000. He had always wanted to have an account, but they cost up to 200,000 pesos (about $ 10,000) and he could not afford it. After years of tracking, one day in 2020 he found one that was "abandoned to sun and water", got it at a good price and went out of his way to repair it. Vidales cleaned it, looked for each piece, saved, took off other expenses, fixed it for eight months. "For me, I made her beautiful," she says now on the other end of the phone, "but when the cancer happened I thought: 'I'm going to sacrifice her, this is all too expensive."
Huimanguillo, Tabasco, is a small town and the neighbors saw the traffic of Don Manuel and the Chevrolet. They also heard the news early: The 47-year-old man had stomach cancer. In June, Vidales remembers that he began to turn yellow. In the hospital they thought it was hepatitis and he completed a month of treatment, after not improving, they detected the tumors. He also says it slowly: stage four, duodenum, pancreas, stomach. "They told me that I didn't have many possibilities, but as long as there is life, there is hope, everything can turn out well. They gave me two months to live and that is how I have been fighting throughout, "he says, because six have passed.
He had been repairing cell phones for 18 years and had to stop doing it. Since the news, he travels frequently to Villahermosa, the state capital, to a public hospital where he has had four chemotherapy sessions and an emergency surgery, where they removed an already too damaged gallbladder and placed a bypass. "I am very grateful because they opened the doors of that hospital, I did not have money to go to one of private care, but it is very saturated, there are many patients, it takes time to find the medicines, so you have to buy them, you have to be prepared" , recognize.
A recent study by the Economic Commission for Latin America and the Caribbean (ECLAC) points out that seven out of every 10 pesos that Mexicans spend on health, comes out of their pockets. Faced with an insufficient and fragmented public system, which has had to face the brutal health crisis of covid-19, private savings have become the only way to access hospitals for many families; for Vidales, without work and with expenses, that ticket was the Chevrolet.
His daughter and sister, who are the ones who know well about social networks, were informed to organize a raffle. The great trophy would be the truck, but there would be a second prize of 20,000 pesos and another of 10,000. "My friends told me if I was throwing the house out the window now that I was sick," he laughs. The price of the ticket was 199 pesos (about 10 dollars) and they sold almost half. They reached Tijuana, Coahuila and the United States, and of course, the residents of Huimanguillo.
Marco Rodríguez's family had bought almost 35: they had all, brothers, cousins, daughters and Marco Polo, the youngest son, 16 years old. In your WhatsApp chat of racers, Rodríguez and his friends went from talking about cars and motorcycles to publicizing the raffle everywhere. Rodríguez says that God's happiness is so great that on December 24 they marked him to tell him that he had won the truck. "We looked for the numbers in the lottery, the tickets of the ticket, and my son had taken it from him. I told him: 'It's in your name, what do you want to do?' "Well, we're going to buy her a big bow, we arrive and put it on the truck."
Vidales was surprised at the giant red ribbon that had been attached to the Chevrolet, but thought it was his brother's doing. He positioned himself with a chair in the center of the garage – he can barely walk after the operation – and next to him, Marco Rodríguez and Marco Polo Rodríguez. They started recording. Skinny, with a plaid shirt and pants beige, the former telephone repairman thanks all the participants of the raffle, which he calls and their blessing. "Here I give you your award, many congratulations," he says smiling to the tall and lanky boy, to whom he gives a folder with the vehicle documents. "I feel very happy, very happy, to still be with you," he says goodbye, hugging his body.
But the camera continues. Marco Rodríguez approaches the truck, touches the red bow and barely articulates: "A gift." "I couldn't speak, my voice didn't come out, my emotion got the better of me," he remembers now, laughing. Marco Polo brings the papers back to Vidales, who begins to cry. The video, designed only for the participants of the raffle, has gone viral and accumulates thousands of visits.
"It was a Christmas present," says Vidales, whose words of thanks hit his throat. "Seeing Marco Polo so happy, so satisfied with giving me back the truck, that was what defeated me, another young man would have said 'well I'll keep it," he says and insists that none of the gratitude is for the material award, " it is the emotion of knowing that there are people with so much humanity ". "I have noticed the affection of the people and one becomes sensitive, one becomes happy with good hearts, what a father."
Now, Vidales has decided not to sell the truck, which has become his amulet: "I will only do it if last, last, I no longer have anywhere to pull." He has several chemo sessions ahead of him to try to shrink the tumor and see if he is a candidate for surgery and removal. "Depending on how you behave, cancer is very rare," he says serenely, "I want to continue living, that's why I'm fighting."
Subscribe here to newsletter of EL PAÍS México and receive all the informative keys of the news of this country

elpais.com