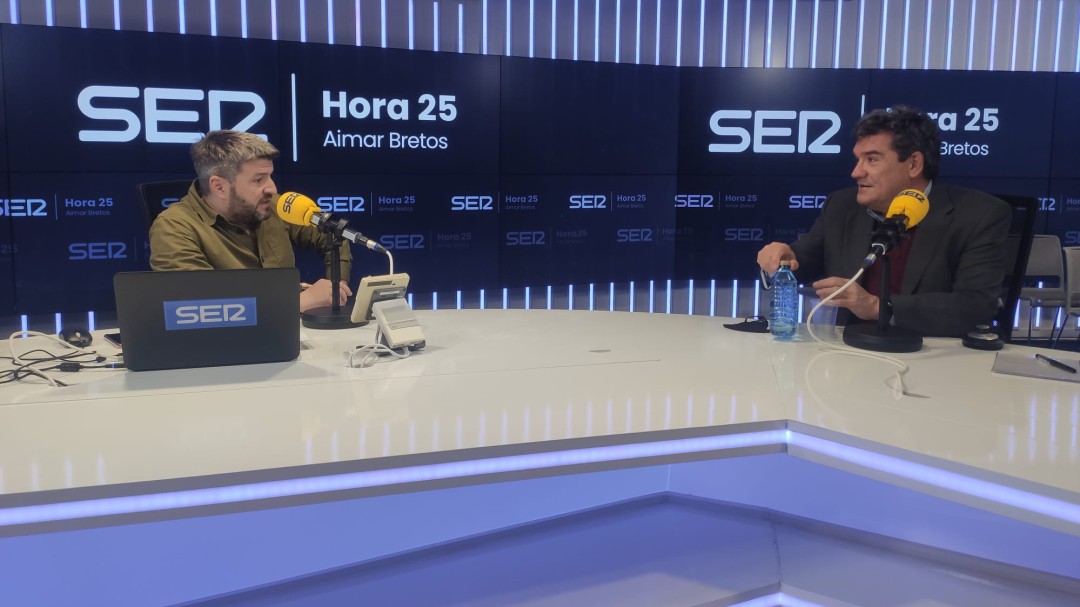 The Government has agreed this Monday with the UGT and CCOO unions the new intergenerational equity mechanism for the sustainability of pensions in Spain. The CEOE and Cepyme employers have risen from the negotiating table at noon for not agreeing with the instrument that the Executive is now going to implement.
The latest proposal by José Luis Escrivá was a gradual rise in contributions between 2023 and 2035, from 0.2% to 0.6% in order to pay the pensions of the largest generation in our country, which corresponds to the ' baby boom '. Although the initial proposal supposed a burden of 0.4 to companies and 0.2 to workers, now this ratio changes and will be 0.5 to companies and 0.1 to workers. Aimar Bretos interviews the Minister of Social Security in 'Hour 25'.
We are not changing the social security contribution system. We are creating a temporary and very limited contingent mechanism to refill the pension piggy bank and generate a cushion for when the years with less stress arrive
We would have liked the bosses to be there. They signed the agreement on July 1, we have been open to them but they have not made a single proposal of what they want. The sustainability factor, which is what we are replacing, required a replacement mechanism. We have been with them seeing what they want, but we have not achieved it.
I find it difficult to judge a third party. I do not know. I have not known what they wanted to do all this time.
Obviously you have to create jobs. When it comes to creating jobs, you have to see what are the labor costs in Spain compared to its competitors. Spain is clearly below the surrounding countries and has been flat in the last 10 years. when we look at social security contributions in Germany they are 19 points of GDP. In Spain there are 14 points. Spain is at the bottom. This very small increment does not change a photograph at all.
Anyone who does a rigorous analysis with data concludes that employment is not going to be destroyed.
We have been until this morning seeing if the bosses entered or not. But they haven't told us anything. Each one to make his judgment. The bosses and the unions have agreed on the bulk. This is a very complex part of the general framework.
I've been talking to them and I don't think this is going to be an issue that will aggravate our relationships. We are talking to them about many issues.
The percentages have not been changed. There is a lot of noise and external positioning. We have not raised anything different. This is the scheme we have at the moment. We are talking about very little. For a medium-high pension of around 2000 euros as a contribution base, this means 12 euros per month (2 for the worker and 10 for the employer). This is the effort to go looser and where the system can have some kind of tension.
The piggy bank reached almost 67,000 million in 2011. Then the system is overloaded with expenses that are draining and from 2012 it begins to undo that fund until now that there are 2,000 million and we hope to reach 40,000-50,000 million.
This is going to have very broad support. I have no doubt. We talk about this with everyone. Our dialogue is constant with the entire parliamentary arch.
It is scheduled for 2022. We cap the basic pension very low compared to other countries. Although the rate is reasonably high, we apply it on a base that is capped. It is reasonable to harmonize this part and we are going to do it. The top is going to be reasonably raised and it is going to go progressively. Anything that goes up knows it would raise the pension. The maximum contribution base seems to me to be 47,000 euros and progressively and in 25 years we could reach 60,000. In a very smooth way.
The system has to be reasonably contributory. I think the system can be more equitable in certain elements. We made a reform with the maternity supplement or contribution to demography. We had a system in which the contribution was made in the second child. When you have your first child is when these losses occur in your career. This is an example. More and more we have more volatile careers and trajectories in which the last few years have not been so good. There we can do things.
We have to discuss with the social agents on this matter. It would be done with alternatives to exclude the last years of listing. You are allowing these people who have more irregular or volatile trajectories to be more protected by the system.
The system harms the fact that the last 25 years are taken into account when calculating the pensions of one in four workers. Probably one in four workers, which was not the case before. We have not presented any options. What we have is an objective, which is to make the system fairer for these people.
Two forces have converged on this issue: the one that tries the squid ink strategy because it knows that we are doing a very powerful reform and tries not to talk about it much. On the other hand, there are those who try to defend that they are defenders of certain higher principles. This is all very artificial. It has come from many places and there are many forces at play.
Documents presented by the Government with the 35-year proposal are not there. Does it seem reasonable to you to talk about these things with these changes? That is going from talking about the substance to talking about I don't know what. It seems to me that it is diverting attention to issues that do not matter to anyone.
I believe that the Spanish system is a perfectly sustainable system. It is difficult for us to look long and reach cross-cutting agreements.
You do not have to touch the retirement age in any case. The numbers come out perfectly. We have agreed them with the European authorities. When we finish this process a year from now, a fully sustainable system will be envisioned. What has happened to Social Security is that it has been overloaded. We are injecting 20,000 million. When we have put that where it needs to be, we will see a totally balanced and sustainable system.
The system had some element of tension until the end of the 1940s and since then it has returned to current levels. What we are creating are planned for the next 20 years. What we have in Spain is a reasonable retirement age. We have made many calculations, we have shared them with the European authorities …
Perhaps we did not convey well is that our objective was to reach a large number of households with the Minimum Living Income, but we did not say that it had to be instantaneous. The CCAA had 20 years to design it and they have reached 250,000 families in all that time. We have reached 400,000 families in one year.
The employment data is complete data of all the affiliates, people in ERTE … This is fixed, but the GDP data is subject to constant revision. Activity is growing at a very strong rate. There is another reality, which is the tax data. VAT data, for example, tells us that we are collecting more than before the pandemic.



cadenaser.com