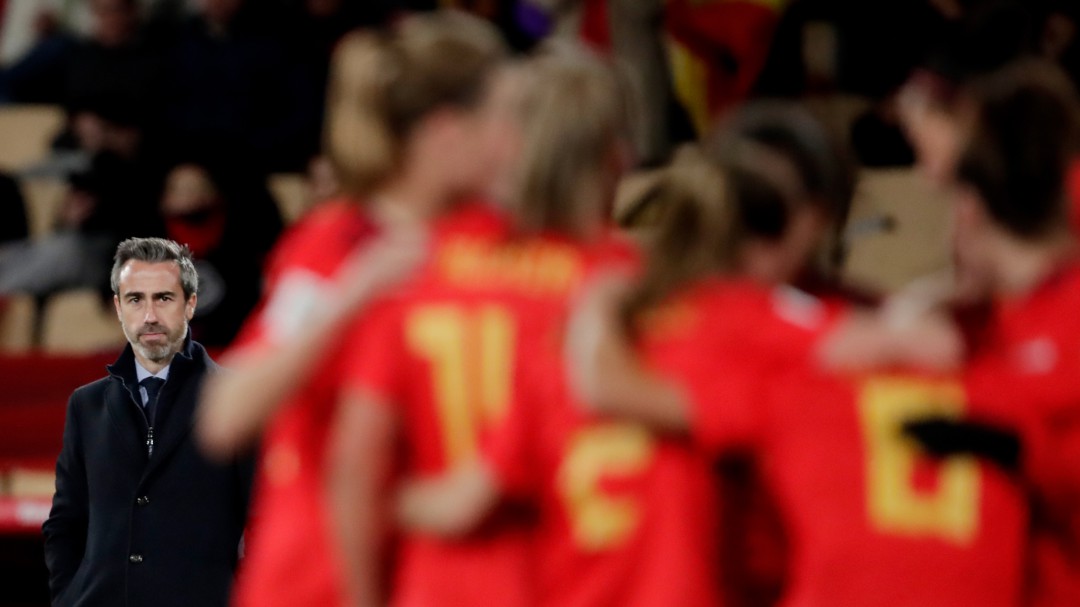 On Tuesday, women's football ended a 'fantastic week'. Along with Alexia Putellas' Ballon d'Or and Jenni Hermoso's Silver Ball, the Spanish women's team added an 8-0 victory over Scotland in qualifying for the World Cup in Australia.
Spain, undefeated in their group, thrashed the Scots, who were second in the group, and thus underpin their classification for the World Cup. With the two best players in the world in their ranks and a highly trained and worked group over the years, there are already those who put Spain as favorites in the European Championship in England this summer. The Spanish coach, Jorge Vilda, puts his feet on the ground. "We are aspirants, not favorites," says the coach at SER Deportivos, where he has spoken about everything that has happened this week around his team.
Congratulations, the successes of Spanish football also belong to the Spanish women's football coach.
They belong to everyone. From everyone involved. They have been two special days. First with Alexia's Ballon d'Or and then ending an impeccable year. Zero goals conceded, we have scored many goals, all victories … it is to be happy.
Congratulations on Scotland 8-0.
It was an important step to go to the World Cup in Australia, but also to prepare for the European Championship this summer.
It seems that the Ballon d'Or, the Silver Ball and the four nominations suited you well.
Well yes (laughs). The truth is. They went to bed late, but rested well, the game was at 9:00 p.m. They were very emotional moments, we all saw the gala and when they arrived again the emotions were on the surface. But hey, we prepared the game well and everything went well.
Alexia's mother said here yesterday that, with the Ballon d'Or or if he did, she was going to go out to bite. He scored a goal.
Nobody knows her better than her mother, but we already know her ambition, her seriousness and how professional she is and the desire she has to improve and contribute. He played, scored, contributed and ended with a standing ovation at La Cartuja.
It's the one he deserved. That this team plays better and better … does it help that a large part of the eleven is from Barça and they know each other so much?
Well, it helps in the end. They train every day together, but they had all gone through the lower categories of the national team and played together. It is a consequence. Mariona Caldentey or Patri Guijarro, when they played with Collerense, they came to the national team. Sandra Paños, in Alicante she was already coming to the national team, Pereira when she was at Espanyol … The same Alexia when she was at Levante, came. Barça has now signed this group of players who for us are among the best to be selected and everything helps.
There is trust and there is friendship and these are two ingredients that make a group successful.
You said it. Group. There are not only Barça players. We have made a group that becomes a team and living together in a big family. I am very happy with how everything works.
And also ambitious. Because, for example, yesterday Jenni Hermoso told Manu Carreño that of course she would have liked to win the Ballon d'Or. And that's not bad, it shows ambition.
Sure, healthy competition. Not just Jenni Hermoso. She is going to work to win, she has been voted the best forward in Europe. There were players in the concentration who did not travel to Paris and who have the level to be nominated. In the future, there will always be Spanish players on the Ballon d'Or lists.
You have such a good group that some give Spain the favorite for the Euro.
We are aspirants. There are still milestones like beating Germany, which has never been beaten. Neither France, nor Sweden … Now we have a friendly tournament where we will face Germany. We go as aspirants like others, but favorites by history and record are others.
How do you get everyone who makes it to the national team to shine? Whoever reaches the national team arrives, what they do is add and improve. Look at the case of the Real Sociedad player Amaiur Sarriegi.
Amaiur's case is special. That a player with such high performance in such a short time with the national team is something extraordinary. How did you do it? Thanks to their intelligence and their ability to adapt. She had not gone through lower categories, but in nothing we have already seen the performance she is giving and what remarkable numbers she is signing.
How was the night in Paris?
Luckily the gala was soon. We all saw her with a projector, with a lot of emotion and a lot of tears. Then the players went to the rooms. I was waiting because, in theory, they would arrive at 1:30 at night. I saw that they were not receiving the messages and at 1:45 I called the press and they told me that they would arrive around 3:00 and I went to bed. But they got a good rest in the morning.
Hopefully it will be the first Golden and Silver Ballon of many in the coming years.
I think so. A few years ago we said that in the future the lists would be filled with Spanish. It has been fulfilled. We already have the best in the world, now to work to have the next one.
Thank you very much and enjoy, that you have a group that is going to give us a lot of joy.
So I am sorry, it is an extraordinary group and we will try to give many joys. Thank you.



cadenaser.com
George Holan is chief editor at Plainsmen Post and has articles published in many notable publications in the last decade.