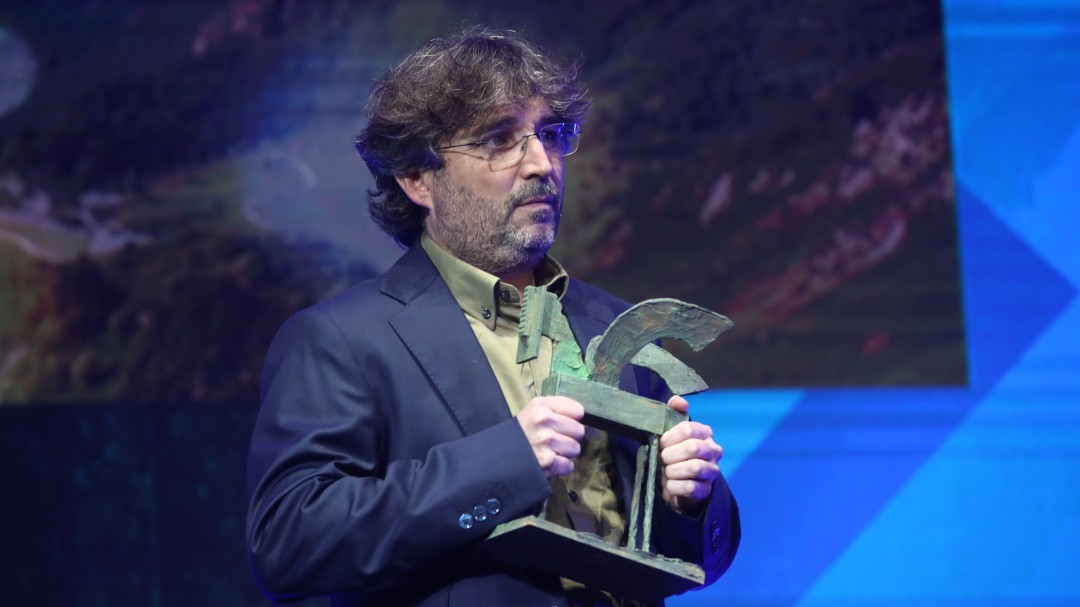 The journalist Jordi Évole has taken the stage of the Ondas 2021 Awards in Barcelona to collect the award for the documentary on Pau Donés'That you give me '. Évole has not skimped on words and wanted to pay tribute first to the singer, and then to all the health workers and people who suffer from a disease. "In the first place, I want to remember all the people of the Vall d'Hebron Hospital in Barcelona and of Public Health," he said.
"Pau adored all the people, he adored Elena, his oncologist, the nurses, all the health personnel," he recalled the singer. Évole has wanted to vindicate public health and has launched this message: "Sometimes I feel sorry for people who take money out of Spain to pay it abroad because they cannot feel the pride that we feel in public health".
Likewise, the journalist winked at his colleagues Julia Otero and Ana Rosa Quintana, who suffer from cancer. "A round of applause please, and as they would do, I want to dedicate this award to people who are having a bad time, an illness, a bad moment at the mental level and who have to eat it alone without help or recognition , nor solidarity they receive. I am convinced that they would like this to come to them and I send them a huge hug, "he said.
What no one expected is what Évole was going to do to put the final touch on the gala. The journalist recalled what a lady told him about shame off and doing something you don't dare to do, and he evoked Donés singing a piece of his songs. "She said that daring to do something that you do not dare was to do a Pau and I loved the definition and in my life I try to do a Pau when I go through the places, and with your permission I am going to do a Pau. I'm going to sing" , has said. At that moment, Évole asked the audience to accompany him and to help him at the end of each verse by saying 'scream'. "I sing regular, but here I am," he warned and started singing. "Thanks Pau", has concluded.
"Pau gave me a very different perspective on life"
The iframe code has been copied to the clipboard
Before going on stage at Los Ondas, Évole appeared at La Ventana to express gratitude for the award to his interview with Pau Donés, singer of Jarabe de Palo who died last spring due to cancer.
This last talk, he explains, changed his life: "It changed me because I think I did not face life as it should be faced, and what Pau told me in that little time that we were together that day made me see things in a different way. different". "I've been very enjoyable, but I had that point of saying 'oh, if you're doing so well, it's that at some point you're going to go wrong', the impostor syndrome always ", confesses the journalist," and Pau gave me a perspective life is very different. "" A guy who has 15 days left to live and makes you that song to life that Pau did, well, of course, he puts you in a place to say 'host, I'm here to complain, tomorrow when I get up I'm going to say thank you, '"he says.
The jury has awarded this documentary, according to its statement, for "showing us that it is possible to start living when we are saying goodbye to life, for the value of words, silences, filming in the open air. For doing so in a documentary format that has become the center of the conversation, which has managed to combine the traditional forms of distribution in film or television with the new screens offered by audiovisual platforms ".
The creative process in this case was not easy at all, and Évole didn't know "what he was going to do with that when we finished recording." After listening to the singer's proposal, with whom he already had a friendship relationship, he says that the first call he made was to his oncologist, whom he asked how to deal with the issue: touched ', then you have to do it and we did it "" When we finished doing it I was not clear what that was going to become, "he continues," we were reflecting and said' maybe it needs some time to download it, to see the montage in a month and a half or two ', and that was when we premiered it at the Malaga festival ".
A success also with the public
The documentary was also widely traveled in movie theaters, where it amassed unprecedented success. "I loved to sneak into the cinema and see that there were several moments when people laughed," remembers Évole, "it was a difficult climate and environment for laughter, but there were four or five moments where people laughed a lot" . "There were many moments of anticlimax, of coming from a super exciting moment and, suddenly, tragedy and comedy came together, shook hands ".
Évole has shared a space in La Ventana de la Tele with the actress Vicky Luengo and the journalist Carles Porta, who have also received two Ondas Awards, which they will collect at a gala in Barcelona.



cadenaser.com