The idea arose, like so many that go nowhere, in the tumult of a dinner with friends. Jason Epstein, who died on Friday at the age of 93 at his home on Long Island, and his wife at the time, Barbara Epstein (1928-2016), had invited the couple made up of critics and critics to their apartment in upper Manhattan. writer Elizabeth Hardwick and poet Robert Lowell. It was the winter of 1962-1963 and New York was in the midst of a newspaper strike, protesting low wages and the imminent automation of the printing presses. In those dry months, the four of them especially missed reading the Sunday supplement of books on books. New York Times. Jason Epstein, who was an influential editor at Random House with little free time, had flirted with the idea of ​​distributing the London weekly Times Literary Supplement. Instead, he suggested taking advantage of the sudden lack of information to launch his own version: a publication with long essays on politics, literature, art and ideas, which, unlike that one, would be fortnightly.
Lowell put up $4,000. Hardwick was appointed editorial adviser. And Barbara Epstein and Robert Silvers, who came from Harper's, a literary monthly, shared the command of the magazine. The first number of The New York Review of Books (NYRB) came out on February 1, 1963 with a lyric-filled cover and an impressive sleeve of contributors (from Auden to Sontag; from Gore Vidal to Adrienne Rich), which they placed under the masthead. All the prominence was taken by the commentary of the new book by James Baldwin: Next time the fire book which is still relevant in Biden's racially tense America.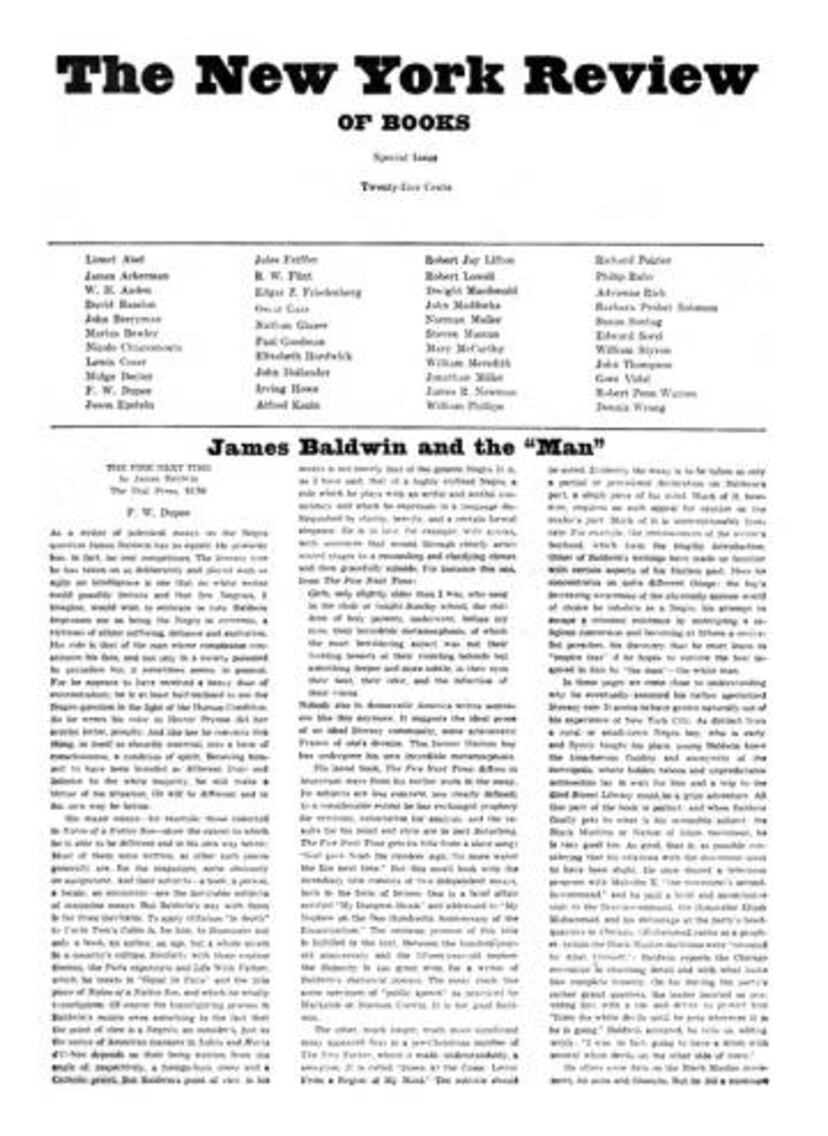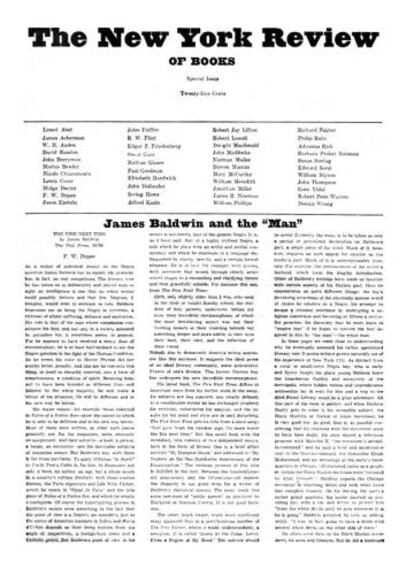 The success was immediate, thanks in part to the idea of ​​Jason Epstein, genius of the marketing with the soul of a man of letters (and vice versa), to distribute copies free of charge in university bookstores. The 114-day strike ended, but NYRB followed. And it goes on: the publication, which has survived all kinds of crises, continues to function for 59 years as an intellectual beacon in this country.
Ten years earlier, Jason Epstein, who was born in 1928 in Cambridge (Massachusetts), grew up in Boston and studied at Columbia University in New York, had another idea: publish classics in paperback format, a preserve reserved for spy novels. , romance and crimes. Then, great literature was given the lavish treatment of leather binding, in editions that a scholar like Epstein and the rest of his generation, better educated than their parents, could not afford.
All the culture that goes with you awaits you here.
subscribe
Thus, Anchor Books was born, publishing Edmund Wilson, Rilke, André Gide and Henry James at prices ranging from 65 cents to a dollar and a quarter. "The covers were artistic, not crappy. I signed many [el dibujante gótico] Edward Gorey. Epstein found that it helped," writes Louis Menand in The Free World. Art and Thought in the Cold War (The Free World. Art and Thought in the Cold War, Farrar, Strauss & Giroux, 2021). "This product was baptized as 'quality pocket book' to differentiate it from the traditional one." By 1954, Anchor was already selling 600,000 copies a year, prompting rival Knopf to replicate the adventure and create Vintage.
Many of those titles and their editorial spirit survive today at NYRB's sister publisher, which publishes classics of 20th-century world literature in paperback and Cartesian layout, with special attention to translated authors.
In the early 1980s, Epstein furthered his obsession with democratizing the classics by founding the Library of America. Again, the inspiration came from Europe, this time from the Pléiade collection, from the Parisian Gallimard, a library of complete editions, aspiring to be definitive, of the great pens of French literature. The American version, which turns 40 this year, offers readers a guarantee of quality, with its hard cover, bible paper, black dust jacket, white letters and a strip in the colors of the American flag. From Mark Twain to Ursula K. LeGuin, from Jack Kerouac to William Faulkner, Mary McCarthy or Zora Neale Hurston, almost every great name in American literature can be found in his catalogue.
All these initiatives were undertaken by Epstein while working at Random House, where he arrived in 1958 with a contract that allowed him to pursue his personal adventures. These never distracted him from his work as editor of Philip Roth, Norman Mailer or EL Doctorow. To his powers of persuasion we owe, for example, the publication Death and life of big cities (1961; in Spanish, in Captain Swing), by Jane Jacobs, one of the most influential urban planning texts of the second half of the 20th century.
De Random retired in 1999, but still wanted more. In 2003, she co-founded On Demand Books, which makes a contraption called the Espresso Book Machine. espresso of books), which, taking advantage of digital advances, allowed printing on demand in minutes of a copy of a specific title when it arrived on the market. The goal was to encourage self-publishing and eliminate the editorial stress of accurately calculating the closest print run to market reality. A handful of these contraptions, which progress inevitably bent the hand, are still distributed by some bookstores around the world.
Epstein was married twice, to Barbara Epstein (until 1980) and to journalist Judith Miller (since 1993), who survives him. He made his first steps as a writer, with essays on issues such as the 1968 Democratic Convention and the Chicago Seven, the publishing world or gastronomy. He also wrote articles for NYRB. The magazine's website, which entered a new and still uncertain era after the death of Robert Silvers in 2017, has dedicated a large part of its cover throughout the weekend to remembering Epstein through some of his texts. for publication.
The last one, on animal suffering, came out in 2014. A year earlier, he wrote another, titled A strike and a start: thus we founded The New York Review, half a century after that dinner, which was improvised that same afternoon, when Barbara Epstein and Elizabeth Hardwick met by chance in the neighborhood they shared. The article ended thus: "I am still impressed by the succession of completely unexpected events that combined to make possible The Review. The newspaper strike that handed us the chance to do the kind of review Lizzie's article called for [Hardwick, que había publicado un texto en Harper's llamando a una renovación en la crítica literaria estadounidense]. The chance encounter between Barbara and Lizzie. Bob's Availability [Silvers]. Publishers' unspent advertising budgets [que no tenían periódicos en los que anunciarse] and the ability of Eastern News [distribuidora de Anchor Books] to reach the right readers. The willingness of forty-five authors to complete their work on time, for which we do not pay them. The duration of the strike. That all of this happened at the same time still seems like a miracle to me in hindsight." That miracle on old newsprint is in mourning these days.
Exclusive content for subscribers
read without limits

elpais.com
George Holan is chief editor at Plainsmen Post and has articles published in many notable publications in the last decade.