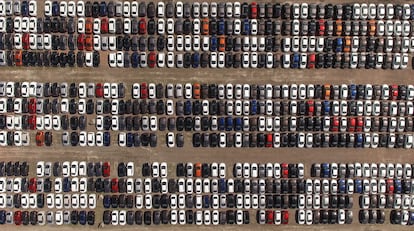 The song My grandmother, from the Puerto Rican group Wilfred y la Ganga, narrated to the rhythm of a kind of rap the misfortunes of Wilfred when he went to his grandmother's house one summer when he wanted to stay at his brother's house. It was the theme of the summer of 1989, or at least it sounded a lot in those months. So much so that a few years ago, without realizing it, I began to sing it in its entirety, from beginning to end, without making a mistake in a single verse and leaving the small audience that listened to me shocked. All because someone, at some point, said "I came from New York" and I interrupted him: "at the beginning of summer, and I wanted to stay at my brother's house, and he told me brother, here you do not stay ".
Why? No idea. I was 11 years old when I heard it and it had remained intact for more than two decades without my having noticed it. Last week, while I was walking with a friend, I recited it in a run and she said, with devastating aim: "How many useful things did you have to forget to make room for the lyrics of My grandmother? ". I laughed, shaking a little. "Yes," I replied, "it is likely that after reading Schopenhauer, I quickly forgot because when I went to look for a place in my brain, I came across Wilfred's fortress and the Ganga."
Before I was 11 years old, I know it because I still believed in God, I remember going to an old shop in town that was run by a woman named Carmucha I thought that, to save myself from hell, I would dedicate my last thought before dying to the Virgin Mary. I promised myself so much not to forget it that the idea has not moved the slightest bit of my brain, not even when I read in The day D From Anthony Beevor that the first American soldier to cross a German barbed wire in Normandy and was hit by the Nazis, at age 18, moaned, "Mom, Mom," the same whisper a Russian soldier bled to death in that 1993 film , Stalingrad: "Forgive me, mom."
Nor have I forgotten that, being no more than 10 years old, I took a shower when I came back from the beach after meeting my new friends and I thought: "I'll fight with that one", although I never did because I am still, fortunately, still without fighting with anyone. Not to mention the most stupid knowledge that would make me an idol in a television contest, such as Bebeto's standing size is 36 and, of that style, so much wisdom that I still wonder where there is left in my head to know how to command. a email.
We are our lies because they define us as much as our truths, but we are also our useless knowledge, those that have been stored inside without knowing why and for what, perhaps only to forget the things that really taught us something, the books of the that it seemed that we would learn something or the movies that we thought would never go out of our head expelled, upon reaching the brain, by the lyrics of My grandmotherby Wilfred y la Ganga. My optimistic self still thinks: "It will be for something."
Memory is childish, but not because it goes back to childhood but because a part continues to live in it, holding incomprehensible dams. And you finish growing when you understand that you have grown older not only with supposedly important memories but with those so stupid that, by dint of resistance, they will stupidly mark your life as much as others. Not necessarily for the worse.
Sign in to continue reading
Just by having an account you can read this article, it's free
Thanks for reading EL PAÍS

elpais.com
George Holan is chief editor at Plainsmen Post and has articles published in many notable publications in the last decade.