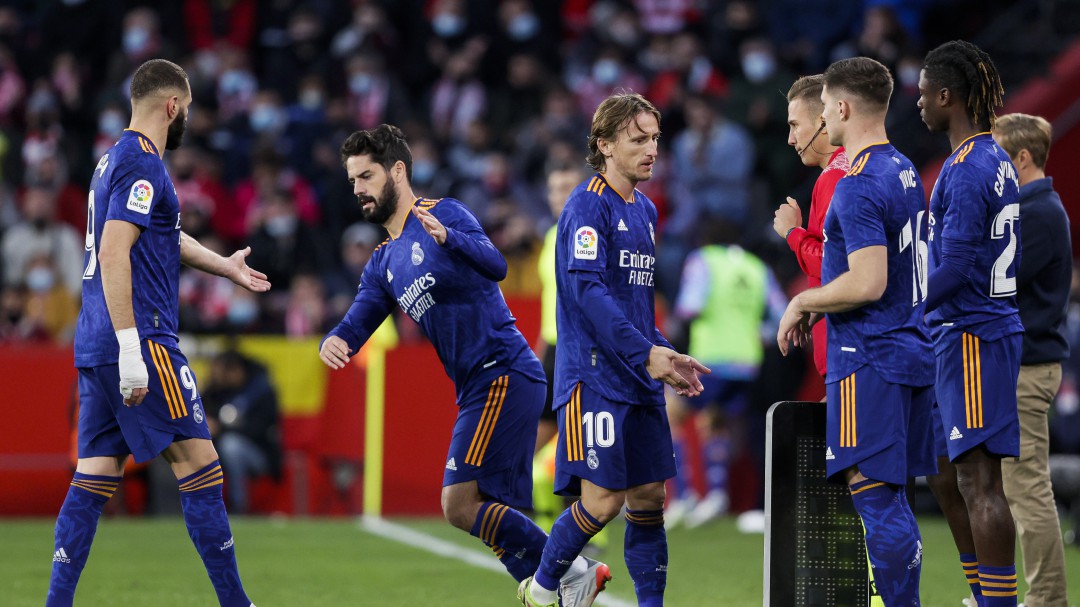 FC Barcelona continues to depend on itself to advance to the round of 16, but, after its draw against Benfica, qualification will have to be played against Bayern Munich. Meanwhile, Real Madrid is already in Transnistria to play against the Sheriff, taking all the spotlight on Isco's anger in Granada for going out to play for less time than he thought.
Isco and the warm-up of Granada
Isco, in Real Madrid's last game against Granada, made headlines for a scuffle he had with Ancelotti and his coaching staff. The Spanish did not want to go out to play for three minutes, so the Italian gave in and let him in a few minutes earlier.
Javier Herráez: "Isco is wrong, but he cannot be taken out for three minutes. Davide Ancelotti is wrong because he wants to take less time out of him."
Julio Pulido: "Ancelotti has recognized that Isco did not want to warm up, it is the reality. He has opened the door for the players to go and claim minutes when they do not have minutes."
Antonio Romero: "Right now, in terms of importance in minutes, it has the importance of Vallejo or Jovic. The history of what Isco has been is for the museum."
"Ancelotti's Madrid coach suit looks as good as Isco is starting to look bad as a Madrid footballer. Ancelotti holds out his hand and Isco would be wrong to miss this opportunity."
Miguel Martín Talavera: "Today Mata comes out to play for 20 seconds and is world champion. Isco cannot be justified."
Madrid can close the pass in Transnistria
The Whites can close their pass to the round of 16 against the Sheriff in Transnistria, being the first Spanish team to do so in the current edition of the Champions League.
Antonio Romero: "The classification is not compromised in what happens against the Sheriff, but it is important to finish first. Already in the first leg the Sheriff played very well and it would be a good opportunity for Madrid to recover."
Barça's draw
FC Barcelona drew against Benfica in a game that, although it leaves the Catalans depending on themselves, complicates the classification when they face Bayern Munich on the last day.
Jordi Martí: "Despite this tie, I think that Barça is growing. I have seen more Barça than I have seen before."
Sique Rodríguez: "The 50,000 who were there today have encouraged more than the 100,000 who were 2 years ago. There are younger fans now."
"Barça today, with respect to the image, has improved. In two games with Xavi. That is the news."
Marcos López: "That Nico and Gavi have more weight in this team than some players like De Jong or Coutinho leaves young people very well and these footballers very bad."
Julio Pulido: "If Dembélé has forced it today, it may be that Ansu Fati will try to force it in Munich as well."
Antonio Romero: "I think that Barça can win because Bayern is first and hunger does more than money."
"I think that Barça can win because Bayern is first and hunger does more than money."
Dembélé was key from the bench
The French winger shook up the match after entering the field for Demir, being the most unbalanced footballer in the final stages of the match against Benfica.
Sique Rodríguez: "Dembélé has a virtue: he dislocates his rival. And a disadvantage: he dislocates his teammates. But I think he hooks the young public a lot."
Antonio Romero: "It seems very risky to me to put the future of the institution in Dembele: a footballer who has been constantly injured, who has shown lack of professionalism … ".



cadenaser.com
George Holan is chief editor at Plainsmen Post and has articles published in many notable publications in the last decade.