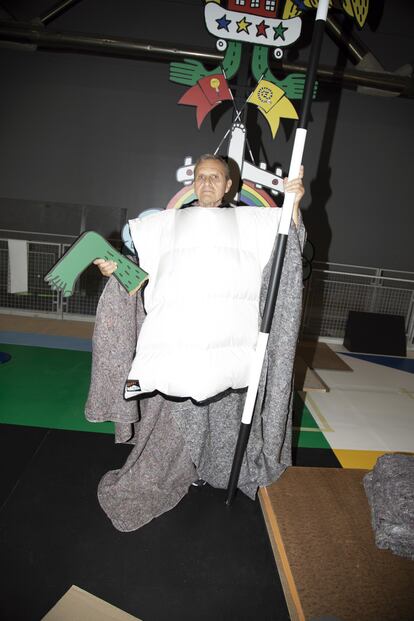 Jean-Charles de Castelbajac
He has dressed Madonna and designed clothes for several generations through Max Mara or Benetton. And yet one of the names that most persecute this 72-year-old Moroccan is that of John Paul II: in August 1997, to celebrate International Youth Day, the Pontiff wore a white cassock to which he had added rainbow colors. "It's funny that a rebellious guy like me would dress another who would end up being a saint," he jokes now, after posing for this session with some of the pieces he exhibits at Le peuple de demain, an exhibition for young people that the Center Pompidou in Paris where he exhibits Totem of the city, the work with which he poses. "I have always wanted to make exhibitions that bring art closer to people, away from elitism and formalities, and when my daughter Eugénie was born I wanted to leave this legacy to her and to the children of today, who will continue to be the adults of the future."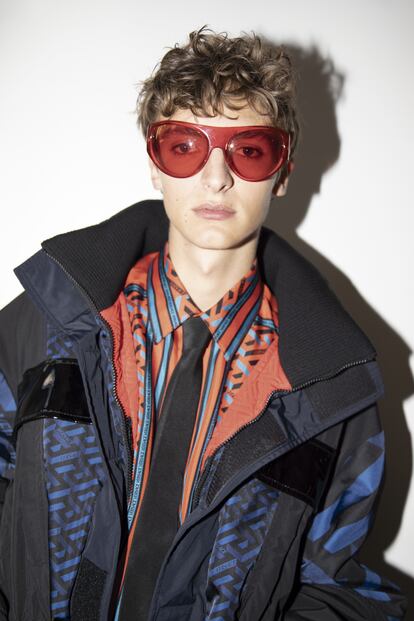 Vassili Schneider
Spider-man and Dostoevsky coexist in the imaginary of this 23-year-old Parisian, the youngest of a family of artists: his father, Jean-Paul, is a dancer and acting teacher and his mother, Isabelle, is a painter, like his three brothers. He adds 27 projects as an actor: he has just finished filming Almond trees, by Valeria Bruni Tedeschi – "the best script I have read in my life" – and it's already rolling Our Lady is burning, on the fire of the cathedral in 2019, under the command of Jean-Jacques Annaud (The name of the rose). "I started as a model since I was stopped on the street in Quebec when I was 17 years old. If I think about tomorrow, I confess that I would like to shoot with Wes Anderson or Yorgos Lanthimos. But in the meantime, to keep time, I am preparing my first short as a director ".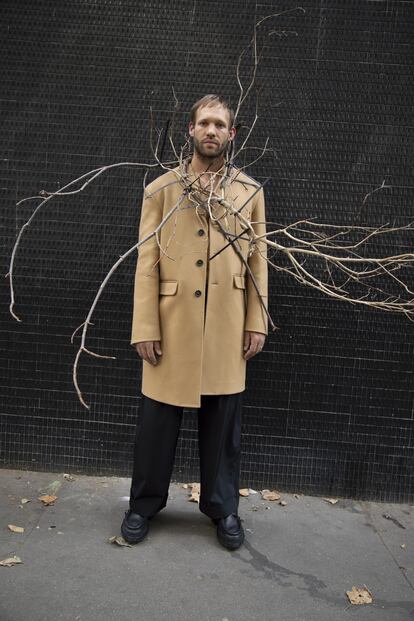 Paul Hamy
The pandemic helped him to get on the sidewalk, almost literally. Every afternoon, he would go out for long walks in Paris and he would pick tree branches that he transformed into artistic pieces (like the crown you see in the image). "I don't know if it has a very high sense, but someone who started out drawing clouds in elementary school tells you," he says. At almost 40 years of age, he combines such hobbies with his acting work – in 2013 he won the César Award for Suzanne– and model for magazines and firms like Diesel. "He has always imposed the movie on me, and I think it's the fault of my first scene. I had to play Catherine Deneuve's lover to Bettie's journey (2013) ", he recalls. He has been seen in The ornithologist (2016) u Occidental (2017). And picking up branches on the street.
Tom mercier
"I move better than I talk," explains this 28-year-old Israeli actor about his exclusive pose for ICON. The movement helps him to loosen the weight in the face of stress, and judging by his resume, we would say that he has had a few of that. In three years the drama has premiered My night (2021) and has been under the command of Luca Guadagnino in the series We Are Who We Are (2020). Too Synonyms: an Israeli in Paris (2019), which seems like a simile of his own life, something he denies: "Yes, I grew up in Israel and not long ago I landed in Paris. But not only with the intention of working more and better: one day, I would like to have the option of acting in Hebrew and in my country ", he says.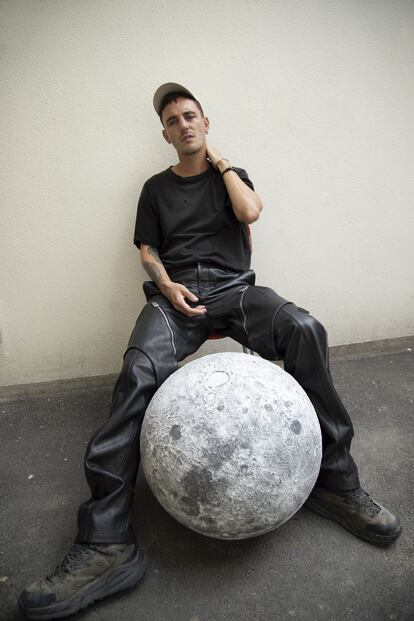 Theo Mercier
It's hard to hear this 37-year-old Parisian laugh out loud, but everything in his artistic universe exudes an almost wicked sense of humor. His oldest work, for example, Radio Vinci Park, recreates the strange atmosphere of underground car parks through an almost bullfighting ritual of seduction between a motorcycle and a man. He has been showing it around the world for six years. He is capable of mixing pieces such as sculptures of feet clad in sports socks and car doors, or the same moon with which he decides to pose for this report. "I want to show the relationship between the object and its environment, and how one without the other means absolutely nothing," he promises.
Pierre Marie
The concept of ornamental artist only sounds Martian until its inventor is known. Pierre-Marie Agin, 39 (signed as Pierre Marie to dry), does not see himself as an illustrator, artist or graphic designer because he sees himself as everything at once. "I draw and create objects, yes, but I hate labels," he says. "After discovering the word ornamentalist in 2010, in an exhibition on European princes of the 17th century, I decided to borrow it to explain to the world what I do." At 19, she wrote a letter to the Hermès team telling how amazing it would be to design some of her scarves. "Against all odds, they responded. I have designed more than thirty ". Every summer she cycles with her boyfriend around France. "If anxiety catches me in Paris, therapy is different: this year I have bought countless pieces by Ludovic de Saint Sernin, Palomo Spain or Znali. Now that I can go to physical stores, Vivienne Westwood is where I cure the worst ills. "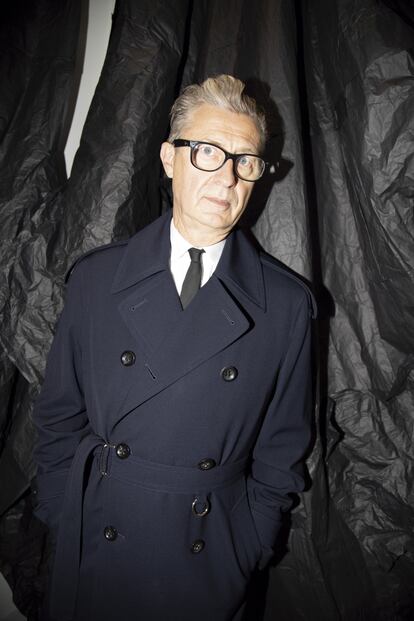 Jerome Sans
Milestones that appear in the biography of this 60-year-old art curator, cultural manager and critic include the creation of the wonderful Palais de Tokio, in 1999, and its direction until 2006, or the launch of the Ullens Center for Contemporary Art from Beijing. The global closure of museums and artistic centers in 2020, he swears, did not take away his desire to continue. "We were all convinced of a drastic change in the global art scene towards a slower and more reflective scenario, but the opposite has happened," he laments. "If there was something we all needed to keep breathing, both during those months and now, it was art. That reflection does comfort me ". He was portrayed during the preparation of Voyages Immobiles, an exhibition (from which the work The Labyrinth of Passions, Joël Andrianomearisoa, with whom he poses) comes from) with which Diptyque celebrates his 60-year career at the Poste du Louvre.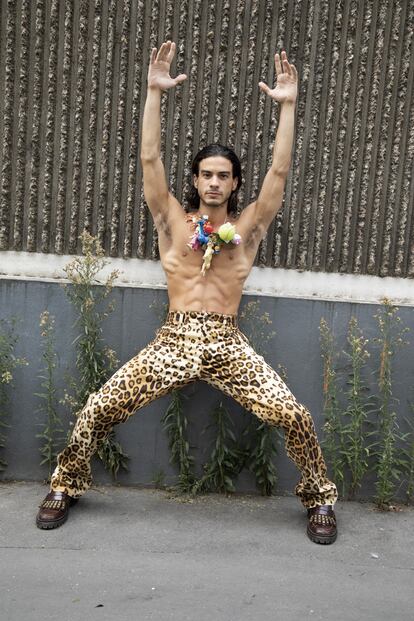 Romain Guillermic
Don't bother Googling Romain Guillermic. The stage name of this 27-year-old French actor and dancer is Skips and it arose in 2011, when Guillermic discovered electro dance, a dance with which battles are fought before a jury, type voguing. "I've been dancing since I was little and when I started studying Bob Fosse or Pina Bausch, I decided it was good to have an alter ego," he explains. Thanks to those battles, Gaspar Noé called him in 2017: "He only asked me two things: if I would cut my hair and if I could send him a video improvising a choreography. And boy did I do it ". A month later, I was in Climax (2018). In July he launched a project: a show with his band. And what's left.
Ouissem Belgacem
His future as a footballer was assured after making his debut at 13 at Toulouse Football Club. But at 18, he came out of the closet and left the profession. "Homophobic insults are probably the most common in soccer and from a young age I knew that I had to hide if I wanted to grow up. It just seemed impossible to be gay and a successful player at the same time, "he explains. His story is now a book Goodbye my shame (Goodbye to my shame) and it will be a movie. Meanwhile, he gives talks and even acts: he just made a stellar cameo in the adaptation of The Wizard of Oz that Paco León is finishing riding. "When I finished, I went straight to Maspalomas. I think that just saying that is enough ".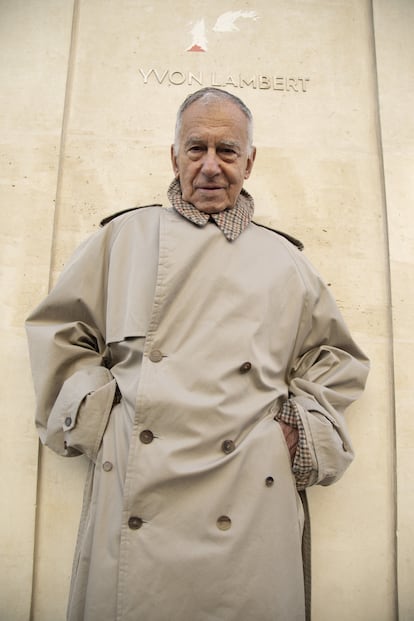 Yvon Lambert
In 2008, the 74-year-old gallery owner donated more than 450 works for the permanent collection of the Museum of Contemporary Art in Avignon. It was something historic. He had been adding to his collection since 1966, when he founded his gallery next to the Luxembourg Gardens (today it is in Le Marais). Mythical artists such as Cy Twombly, Jean-Michel Basquiat and Miquel Barceló have passed through it. "I use art as a means to understand the world. The past, yes, but also the present and the future ", he argues. It only exhibits works that "carry a message. That they offer questions, and answers if they are poetic, to the infinite questions that address us ".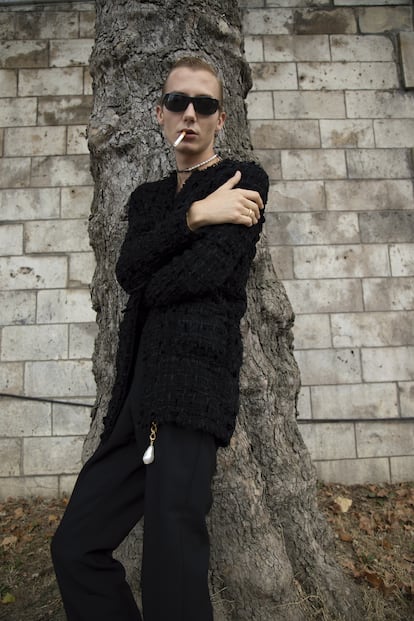 Paul Hameline
He is only 25 years old, but this Parisian was discovered in 2014 by the modeling agent Eva Goedel. He started walking for avant-garde brands such as Vetements and Hood By Air, although he prefers the audiovisual: "I grew up admiring Tim Burton and David Bowie, I think that's where my taste for the peculiar comes from," he says. He collaborated with Zac Farley on Like Cattle Towards Glow (2015), a famously explicit film about the limits of sexual desire. Hameline avoids anything that smells conventional: "I don't like being bored." When he finds himself for a while, he pounces on the mixing desk with the stylist Lotta Volkova: together, they form the DJ duo Tanzpol. Clear.
Realization: Pedro Canicoba
You can follow ICON on Facebook, Twitter, Instagram, or subscribe here to the Newsletter.



elpais.com