Reina walks tired and sweaty down Calle República de Colombia, in the Historic Center of Mexico City, laden with black bags full of toys. This small 38-year-old woman carries them with effort, but she walks quickly, hunting for more products that she must buy at a cheaper price here in the capital than in Ecatepec, where she lives. There he will expose them at his market stall, waiting for people to be encouraged to buy the toys as a Three Kings Day gift. This year, however, it has run into a price increase that has its explanation – according to the traders consulted – by the inflation that affects Mexico, but also by the difficulties in the imports of products due to the pandemic, mainly from China, a huge producer of these objects that are the delight of children. "This year prices rose too high," says the trader. "Everything has increased and that is why I come today [por el martes] why tomorrow [víspera de Reyes] prices will increase further, "says Reina.
Mexico has suffered a constant price escalation, registering the highest inflation rate in 20 years in November, reaching 7.37%, according to data from the National Institute of Statistics and Geography (Inegi). The hikes have hit electricity rates with greater force, with a monthly increase of 24.16%, but also for foods such as green tomatoes (71.8%), fresh chilies (30.6%) and tomatoes (25, 3%). The same institution also recorded an increase in toy prices of up to 6%, one of the highest recorded in recent years. These increases have surprised economists and exceed the forecasts of the Bank of Mexico, which placed the price index at 3%. "Today I have invested 2,500 pesos in these toys, but I have bought less than last year," explains Reina. "This season our sales also dropped, but people continue to buy in the flea markets and bazaars, although I have to work twice as hard to get a little more money, or at least what is invested," he adds.
The Republic of Colombia is this warm January morning a suffocating anthill. The merchants shout attracting customers: "Pass him, everything at half price!", "Come on, güerito, a hundred pesos for the toys!" The street vendors offer the merchandise insistently and thousands of people move slowly on a pilgrimage in this avenue diminished by the huge stalls of products, in which characters from Toy Story They compete for the attention of walkers with robots, Pokémon figures, soulless dolls, Barbie imitations and hundreds of chubby and even grotesque stuffed animals. In a privileged corner of this avenue surrounded by run-down colonial houses is Francisco Ramírez, 53, a robust merchant who has three toy stalls, where he employs members of four families. While they shout the merchandise and the offers, Ramírez packs in cardboard boxes what the people are asking for, some even snatch the objects from the hands of others, in search of the trinket that the grandson, son or nephew has surely asked for. "For me, sales are good, because we have a line of offering good quality products at the best price," says Ramírez. Sales are going so well that he claims he has sold between 30,000 and 40,000 pesos a day.
This merchant, however, has complaints. He accepts that he has had to raise the prices of products due to difficulties in imports due to the pandemic, mainly because it has become more difficult for them to bring them from China. "The merchandise is detained in the large countries, which do not allow it to arrive here and remember that the more detained the product is, obviously the more expensive it is. And the issue of inflation affected as well ", says Ramírez.
If the merchants complain, the salaried workers who visit the Republic of Colombia bear the worst part: they have to do tricks with the family economy so as not to disappoint the children who are waiting for the Three Kings to bring them the toy that they anxiously asked for having been so good. Luis Fernández, 32, is from Tabasco, the same land as President Andrés Manuel López Obrador. He is an electrician and says that with the pandemic his work has been reduced a lot, while the prices of food and services have increased. Fernández criticizes López Obrador, who in his morning conferences has minimized the increase in inflation and has affirmed that the economy is recovering with great strides. "The increase is very noticeable. In my state, the basic food basket is super high, you spend 1,000 pesos on five things, I don't know why the president doesn't see it, "says the man. Fernández has an eight-month-old son and a two-year-old. For the latter, he has bought a plastic tricycle, which has cost him 1,000 pesos, to which he must add the cost of the transfer to the capital. Was it worth it? "Yes," he answers emphatically. "In Tabasco it is more expensive," he says.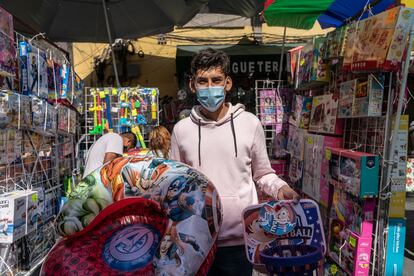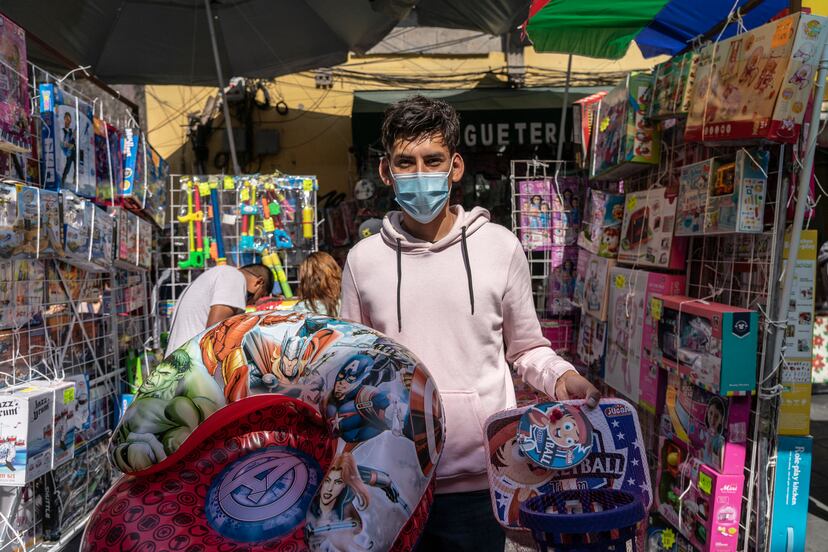 While Fernández is lost in the streets full of walkers of the historic center carrying the toy on his back, Daniel Pérez, a very thin 24-year-old, walks through the stalls to find the gift that his one-year-old son is waiting at home and seven months. This public accountant by profession has come to this street to look for the toy because he can find it cheaper, he says, if he compares the prices with shopping centers or specialized stalls in other parts of the city. "I try to plan the expenses with my wife for these dates to be able to buy the gift," says the young man, who affirms that his belt is being tightened more and more due to the increase in the prices of all products. "This year the price of toys has increased a lot," says Pérez. "I think next year they will increase more," says the young man, who has spent 600 pesos on his son's gift, just the scheduled budget. Despite the increase, he follows a tradition that excited him since he was a child. "She is very pretty and I want to instill that spirit in my son; that he receives his gifts on these dates is very nice, "he says.
Follow all the international information at Facebook Y Twitter, o en our weekly newsletter.



elpais.com