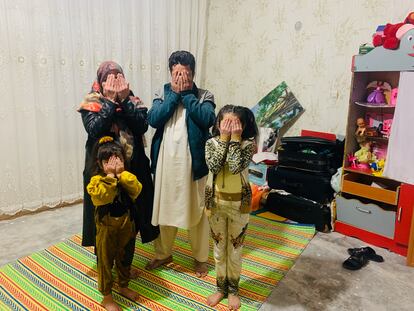 All of Mohammad's possessions are on his phone. This is where he stores the photos of the belongings he sold last August when he received a letter from the Spanish Foreign Ministry to be evacuated from Afghanistan before the Taliban take power. He ran the risk of being the target of the Islamists' revenge for having worked for the Spanish. Although he rushed to Kabul with his wife and daughters, they were unable to catch the flight that could bring them to safety. At least a hundred Afghan families are in the same situation.
Mohammad (assumed name) was employed by the Spanish Agency for International Development Cooperation (AECID) in the Provincial Reconstruction Team (PRT) of Badghis, the province whose stabilization was carried out by the Spanish Army between 2005 and 2013. But not all his colleagues received the safe conducts.
A spokesman for the Ministry of Foreign Affairs assures in a message that "most of the collaborators who [hubo en Afganistán] are among the 2,500 [afganos] that have arrived in Spain ". However, on the ground, there are many who complain of not having access to evacuation. They feel abandoned. "They have told us to wait, how much more do we have to do it?" Asks one of them.
Informal evaluations put between 100 and 120 workers included in the official lists who could not leave. With their families, they would add about 600 people. But Ignacio Álvaro, former AECID coordinator in Afghanistan, estimates that "there are another 100 unregistered families" whose ties to the agency can be demonstrated. In his opinion, "it has been the least fortunate group" of those that Spain has managed to evacuate. "Only 250 people have left the estimated 1,300," he says in a message exchange.
Most of those who have been left behind have left Qala-i-Naw, the capital of Badghis, and are living in hiding. Some had received threats before, others received later. Even those who have not been directly harassed are afraid for their future and that of their families. So much so that to speak with EL PAÍS they not only request anonymity, but also send two women representing 80 families who coordinate and maintain contact with their former Spanish bosses.
"Our lives are in danger," says one of them from behind a strict chador. Her husband, a former AECID employee, is in Kabul where he hopes to go unnoticed. She and her four children have taken refuge with a relative in neighboring Herat. "We sold everything, we no longer have anything to live on," he adds.
What affects the most is what happens closer. To not miss anything, subscribe.
Subscribe
It is not paranoia. The night the Taliban seized Qala-i-Naw, they took Ghulam Rabbani Karimi, who worked as a driver for the cooperation agency between 2005 and 2010. Four days later, he was found dead, with 17 bullet holes, 35 kilometers from there, in a village that he frequented as a driver for one of the Spanish officials.
The other interlocutor, the daughter, sister and sister-in-law of former PRT workers and a human rights defender, heard her death announced on the radio a few weeks ago, after the Taliban killed another woman they mistook her for.
The situation has worsened after EL PAÍS's visit to Qala-i-Naw. The head of the provincial radio and television, Mohibullah Akhundzada, who admits to having attacked the Spanish troops, accused the reporter of wanting to "take the Afghans to Spain" and threatened to "kill them all." Now, he has asked one of the former AECID workers for a list of their names to organize a meeting. Distrust is widespread. They are convinced that this is a trick to, at the very least, have them identified. As soon as they found out, 15 of them have left the city and sought anonymity in neighboring provinces.
In a dozen interviews with former Afghan collaborators in Qala-i-Naw and Herat, they all ask that the Spanish do not forget them and help them get out of Afghanistan. "Other countries have negotiated with the Taliban to remove their former employees; Spain should also find a way to do it ", they insist. No one trusts the amnesty decreed by the Taliban. At the very least, their professional careers are over. Islamists only want loyalists.
Mohammad's appointment was for a flight between August 23-24. "It was horrible," he says while showing the photos he captured around the Kabul airport. "There were half a million people. It was impossible to get close. And then there was the channel ", he recalls. "We spent four days in that filthy canal," adds his wife. With two little girls, it was already difficult to get access control. When the attack by the Islamic State took place on Thursday 26, it became an impossible mission. Four days later the last American soldier left and the airfield was in the hands of the Taliban.
In the previous two weeks, Spain evacuated 2,206 people, including Afghan aid workers and their families (both from its own mission and from other nations) and staff from its Embassy in Kabul. Since then only a few dozen Afghans linked to the Spanish presence have managed to leave through neighboring countries.
Sitting on the floor, unfurnished, the walls bare of memories, Mohammad wonders if there is going to be another chance. The 2,000 dollars (about 1,750 euros) he obtained for his supplies are running out and, since the change of regime, neither he nor his wife have returned to collect their teacher salaries. The possibility of traveling on your own to a neighboring country to receive a Spanish visa comes up against the need to renew your passports that expired at the beginning of September.
"[Los talibanes] they are only providing new documents to students, foreign residents and medical emergencies, "explains Mohammad. He tried, but was rejected. Others do not even dare to ask for a passport because they fear that it will alert the de facto authorities about their past.
The price of friendship with García and David
Some Afghans are not even on the Spanish lists and their relations with the PRT are more difficult to prove. RDI is one of them. A brother of his was a translator for the military and a brother-in-law collaborated with the CIMIC, the unit for civil-military cooperation. But he, he assures, did not even work with AECID. He had a store where the military bought some products.
"Garcia and David used to come, who were in charge of the purchases, we invited them to tea, as is the custom around here, and the soldiers who gave them protection stayed outside; people saw them and from then on they associated us with the Spanish ", he says to explain his situation.
He says he started receiving threatening messages before the collapse of the previous government. On August 13, the Taliban entered the house in Herat where he lived after a long tour of several cities in the country that began when the Spanish left Qala-i-Naw in 2013. Share some blurry images of some confused at the access gate to the house and another with the family in a tent.
After that, RDI went into hiding and their people believed they had fallen into the hands of the Taliban. So when his brother-in-law received the safe-conduct from the Spaniards to go to the airport, he included the two young children of RDI in his family's list, according to a copy of that letter that he shows on his mobile and whose format coincides with others that this correspondent has seen in recent days. But he was unable to access the airfield and now lives in hiding. RDI's brother settled in Germany years ago, from where he has tried unsuccessfully to reclaim them.

elpais.com
George Holan is chief editor at Plainsmen Post and has articles published in many notable publications in the last decade.