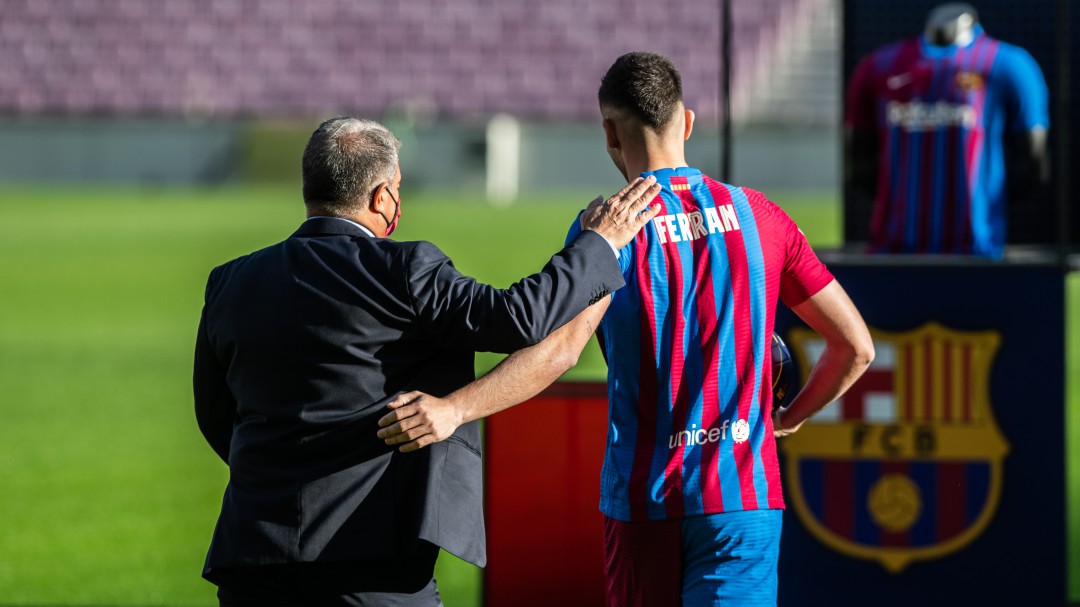 The first 'Open Bar' of the year in SER Deportivos had as its main theme the presentation of Ferran Torres and the problems Barcelona has to sign him up if "a big shot" doesn't come out. This has been explained by Jordi Martí, Antonio Romero and Miguel Martín Talavera, who have had the participation of Íñigo Markinez as a guest. In addition, the words of Ancelotti after the defeat of Real Madrid against Getafe and the state of form of forwards such as Luuk de Jong and Luis Suárez, have been other hot spots of the sports talk.
Does Barça have an 'ace' up their sleeve for Ferran?
Jordi Martií: "The most relevant thing is the announcement that Ferran Torres will be able to register before Sunday. The entry can only be made if a big fish comes out."
"What they have paid for Ferran is a prepandemic figure. It is very expensive to pay that."
Miguel Martín Talavera: "It seems to me not very serious to sign two players and not know if they can sign up. It is an absolute botch to have signed a player and not have another exit. They present him and right now he cannot play."
Antonio Romero: "People may have doubts because Laporta said that Messi was going to be solved, that the renewal of Dembélé was the key for Ferran. Now it turns out that it is Demir … They can be with the fly behind the ear because six days to take out a big fish … ".
"If they don't have him tied up and they don't sign him up by Sunday … they have to go. That's why I think they will have an ace up their sleeve."
"Ferran is a player. He is a player who will give immediate performance to Barça. It fits like a glove in what Xavi has in mind ".
Íñigo Markinez: "I don't understand. There is a big fish coming out … so what? How are the players going to come out without more? Ferran will be able to collaborate but he will not solve the problems that Barcelona has. Neither is Messi."
Ancelotti, Madrid spokesman
Jordi Martí: "Ancelotti is a crack and very intelligent. When Ancelotti says that they have taken one more day of vacation, he screwed up."
Miguel Martín Talavera: "Those in charge of Madrid could learn from Ancelotti, because since yesterday the refereeing issue had to be slipped over the grab …".
"In Madrid they should talk that the defense is a calamity."
Antonio Romero: "Here it was said that the Butragueño thing was badly done."
"Ancelotti showed that he is the spokesman for Madrid. When asked about the penalty, he said he didn't play."
Íñigo Markinez: "Even the best clerk makes a blur. The important thing is trends."
Luuk De Jong, Luis Suarez, Haaland…
Inigo Markinez: "Luuk De Jong has no level for Barça. There are other examples like Braithwaite. And Luis Suárez is for soups".
Miguel Martín Talavera: "Luuk De Jong gave Sevilla a Europa League. There were many jokes that seemed to have signed me. It is very unfair."
Jordi Martí: "If Luuk De Jong is so good … would you join him to relieve Suárez?".
"From Haaland what I see is a lot of prudence. His signing goes through the portfolio and he has rivals who can give him a blow."
Antonio Romero: "Even if Laporta had played, what happened yesterday at Barça is not a historic victory."



cadenaser.com