[ad_1]

Ibrahim passed his friends, who were playing soccer. He would like to have joined them, but he knew it was important to help his family feed their cows. It had rained a lot and the grass was abundant. Yemen is embroiled in brutal conflict, but as Ibrahim traversed the grass his cows were eating, he left everything behind. For a moment.
Hidden under the grass was a landmine. As she passed, Ibrahim's right foot stepped on her. The explosion was monstrous.
Mines are designed to destroy or disable something, from combatants to vehicles and tanks. In this case, he destroyed the legs of a 13-year-old boy. Ibrahim was injured in a terrible way. The quick reaction of his family saved his life. However, he lost both legs. Last month, Unicef ​​announced that the conflict in Yemen had reached another shameful milestone: 10,000 children have already been killed or maimed since the fighting began in March 2015. Or what is the same: four children a day. Ibrahim is one of them.
The day I met Ibrahim, he was with his grandfather doing rehabilitation in a prosthetic and physiotherapy center supported by Unicef. He wore newly constructed lower limbs and a brave smile. He held on tight to the exercise bars as he learned to walk again. It was very hot, both outside the room and inside. But Ibrahim was not giving up.
Just looking at the numbers, the Yemen crisis is unimaginable. Four out of five children need humanitarian aid. 400,000 children suffer from severe acute malnutrition. Two million are out of school. And two-thirds of the teaching staff – more than 170,000 teachers – have not received their salaries on a regular basis for more than four years.
Although other numbers tell a more positive story. UNICEF is supporting treatment for severe acute malnutrition in more than 4,000 primary care health centers, and the organization is providing emergency cash transfers to 1.5 million households every quarter – something that benefits nine million people. and drinking water to five million.
Yemen's crisis is unimaginable: Four out of five children need humanitarian aid, 400,000 children suffer from severe acute malnutrition and two million are out of school
It is support for people who have reached their limit. Support for people who have run out of options. To people who only need a helping hand. When Ibrahim finishes and takes off his prosthetics, his grandfather takes him to another room. Ibrahim is not small and his grandfather is older, but he has been doing this for years.
It is the kind of selfless caring that I saw everywhere in Yemen. From the principals who run a school that has doubled its number of students in two years (due to the destruction of other centers and the number of displaced children), to the pediatricians who have not paid a single fee in 2021. These people fight for survive – and help his community – in Yemen's seventh year of conflict. These are the people we want to help.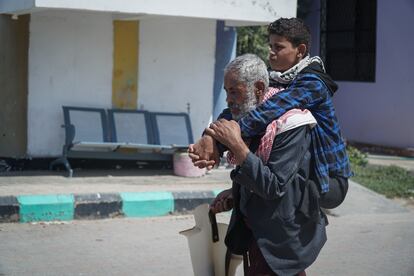 But let's go back to the prosthetic and rehabilitation center. Ibrahim has returned to the gym bars to continue his physical therapy. It is an immense effort. Through this project to help victims, Unicef ​​provides injured children, like Ibrahim, prostheses, accommodation and transportation – for the survivor and their caregiver – for the duration of the treatment. This has an average cost of 1,500 euros for each child to regain his life and mobility through physiotherapy and prosthetics. Although, of course, it does not allow them to regain the life they had before losing their limbs.
For millions of other children in Yemen, the war must end. I insist, 10,000 children have already been killed or maimed since the conflict in Yemen began. Do we really have to keep adding kids like Ibrahim to this miserable list month after month, year after year?
You can follow PLANETA FUTURO in Twitter, Facebook e Instagram, and subscribe here a nuestra 'newsletter'.


[ad_2]
elpais.com
George Holan is chief editor at Plainsmen Post and has articles published in many notable publications in the last decade.