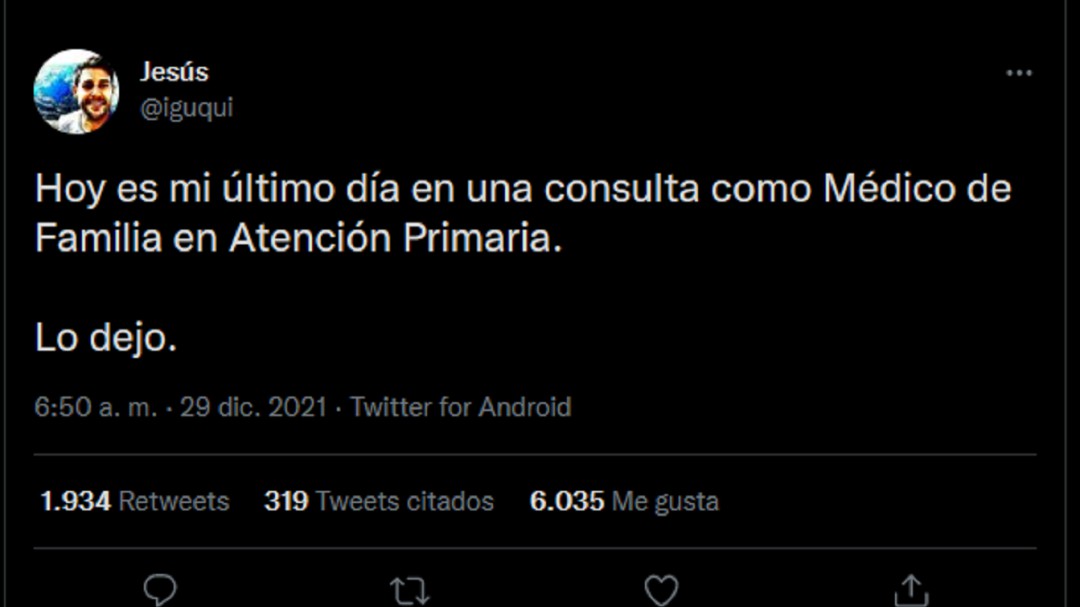 "Today is my last day in a consultation as a Family Physician in Primary Care. I leave it". These are the words that a family doctor from Albacete published shortly before seven in the morning this Wednesday on his Twitter account.
With this brief but forceful statement, the doctor started a thread of six tweets, which now exceeds 6,000 'likes', in which he explained how the path that led him to take what he defined as "the most popular decision it lasts professionally, but the most successful ".
"Weeks ago I made the decision (…) that has (finally) allowed me to sleep a few hours and the one that has allowed me to survive this last chaotic month," continued Jesús, the doctor. "Only knowing that everything is over has it been possible to carry the burden of these days lighter."
"I love my profession, but I can't stand my job"
With the incidence and number of infections in crescendo, saturated health centers and overwhelmed primary care after almost two years of a pandemic, Jesus has become the visible face of many other professionals in the health sector who, like him, have been overwhelmed.
"I love my profession, but I can't stand my job," wrote the manchego with notable resignation, who tried to explain himself in the following way: "Every day what I thought I would do and wanted to do, with what I actually do, becomes more distant. It is like a wound that does not close, and for the time it takes it is impossible to suture. So, I am healing by second intention ".
"To those who follow, infinite thanks"
After regretting the circumstances in which Primary Care professionals work, circumstances that he himself has suffered personally in recent months, this family doctor did not want to miss the opportunity to publicly thank his colleagues, remarking the incalculable value of the role they play.
"To those that you follow, for whatever reason, infinite THANKS. You are the most valuable thing in this system. The only life left to At Primaria are you," could be read in another of his tweets, in which he regretted the loss of "the trust of the population we serve, and that we never had from the administrations to which we belong."
"If you can't take it anymore, stop"
Precisely because of the unquestionable importance of health personnel, Jesus has appealed to those who practice the same profession: "Hold on if you have the strength, look for networks, support and alliances to continue, and if you can't do it anymore, stop. Before you break inside, Please stop. "
These words were accompanied by a short phrase in which the protagonist of this thread affirmed that he felt "privileged to be able to do it", recognizing that not everyone has the possibility, because "there are contexts in which it is really difficult".
"Now is the time to stop, to breathe, to reflect, to put more plasters on this wound and put everything that has moved inside this time in order," concluded the doctor, applauded and supported by thousands of users.



cadenaser.com