Sergio trisca like a cabrilla by the hills of Ojo de Agua, in Guanajuato. With the rope coiled up like a little cowboy, the 11-year-old boy stands up, looks at the footprints on the ground and says: "This is where cows have passed". Are they not horses? "No, they are cows," he affirms without a hint of doubt in his leathery little face. He has inherited the knowledge of his family, but his eyes will never see in those mountains what his parents or grandparents saw. Never. Thousands of giant biznagas have been uprooted to dedicate them to the acitrón, a typical Christmas sweet, like candied fruit, that adorns the roscas de Reyes. Some gathered neighbors managed to stop the illegal logging that, in broad daylight or at night, harvested the mountains on the back of donkeys. The oldest specimens can reach a height of two and a half meters and that indicates a probable millennial age, at a rate of 8 millimeters of annual growth. The threat of acitrón already seems to be fought, but new dangers threaten these plant dinosaurs: the intensive planting of vegetables, the ornamentation of luxury ranches or, eventually, the voracity of real estate. The Guardians of the Hill remain alert.
To say cactus is to say Mexico, and to look back 40 million years ago. Stand next to a echinocactus platyacanthus, or giant biznaga, is to travel to the past. They are born as a spiny ball, after 90 years they can be the size of a beach ball, then they take a run and begin to rise in the form of a swollen column that three or four adults cannot cover by joining their open arms. Its perimeter is an unfolded accordion, a pleated paper lantern of the kind that illuminates the fairs, but huge, monstrous. On each backbone of the pleat, blackish spines threaten strong like daggers. Despite these defenses, the donkeys kick them with their hooves until they strip their skin and put their snouts: a succulent barrel where they can quench their thirst in these semi-desert lands.
So it was for centuries. The Otomí people never exploited these cacti. They hardly make jam of another similar species that bears fruit. But the meat of the platyacanthus It can be turned into thousands of sweetened segments for Christmas desserts or chiles en nogada, another typical Mexican dish. And there began the first predation, hidden behind useless laws for the protection of plants that take hundreds of years to grow and entangled the issue with the dissolution of the ejidos in the nineties, which led to the sale of lands that were previously owned by collective use. From the first decade of the century, Mexico began to lose one of its great treasures, without the governments doing anything to stop it. What could well be strictly protected national parks soon became profitable businesses.
By 2008, some residents of Ojo de Agua organized to stop the looting of their giants. Without help from the Administrations, without a lawyer to advise them. They went up to the mountains to take care of their cattle and when they saw suspicious movements they raised the alarm. "They took more than 20,000 biznagas in a few years. At night they came with chainsaws, they peeled them and cut them down, "says José Reyes Estrada, one of the guards. On the ground were the signs of ecocide, a word that the locals have had to learn: prickly peelings everywhere, like in a sawmill, and a white bone that was the backbone of the cactus. Those dried corpses are still scattered throughout the mountains. When the biznaga dies naturally it turns into a pile of white ash, such that it would have been cremated. When it is the machete that ends his life, that witness bone remains.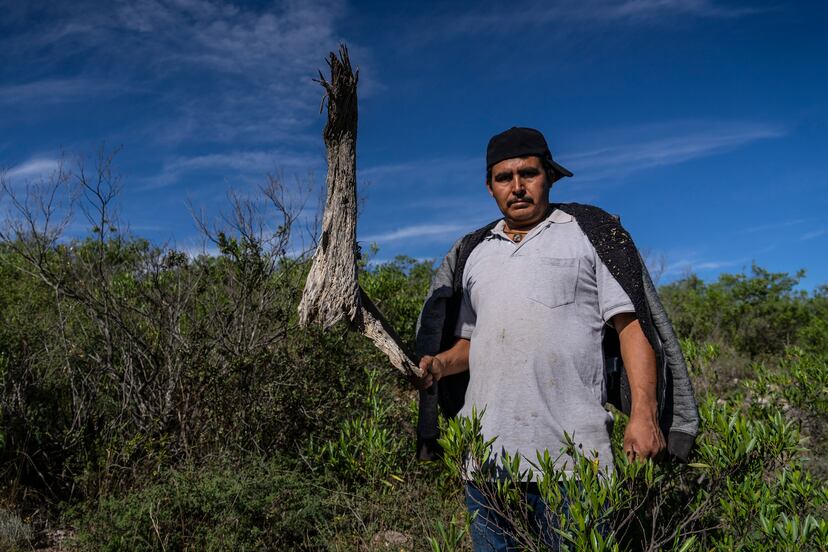 "I think we have already managed to stop the act of the act, but we remain vigilant, because we know that their intentions are to end everything," says María Isabel Orduña Estrada, one of the guardians of Ojo de Agua, in the municipality of Victoria, in that triangle semi-desert between Guanajuato, Querétaro and San Luis Potosí, good habitat for giant cacti. There are also them in Sonora, Chihuahua, Baja California and other locations with similar climatic conditions. His family is in the same fight, and other neighbors too. But there are not many who raise their voices to protect the biznagas. Not surprisingly, environmentalists fight alone in many areas of Mexico and receive death threats that do not stop there. The defense of the land leaves dozens of activists dead each year in this country, whether due to wood, the monarch butterfly, the fight against industrial water poisoning, or any other cause. The Guardians of the Hill have also received them. "It's not a joke, it's true, but if something happened to me, I would want the others to continue in the fight," says María Angélica Orduña, María Isabel's sister, and Ojo de Agua delegate. "It is a pride to show these mountains to those who do not know them, we do not want to exploit them for tourism for money, we want them to be for everyone, our grandparents left them intact for all of us," he says.
At six in the morning, the full moon forces the mountains to stand out against a sky that refuses to light up. The towns are adorned with hundreds of illuminated light bulbs and trinkets, with that ease that Christmas has to slip into bad taste. Hikers grab a pitcher of chocolate atole, sweets, and warm quesadillas. It will take five hours up hill down hill. They walk in single file, among magueys, chimneys, goat branches and moors. At all times, the holy branches must be pushed aside to open a path, taking care that, when they are released, they do not hit the one who comes behind. Clothes and skin will be scratched by the triggers, a kind of thorns with cat's claws, indeed. The gaze travels over the hills. Just a few years ago, entire families of biznagas inhabited these slopes. Today, several are bare, pure scrub. But others retain the greatness of the huge green barrels, which appear after a couple of hours' journey, getting bigger and bigger, as if the entire hill had been bombarded with spiked shells. They are like Obelix in his Gaul. There are not many places in the world with the capacity for such awe.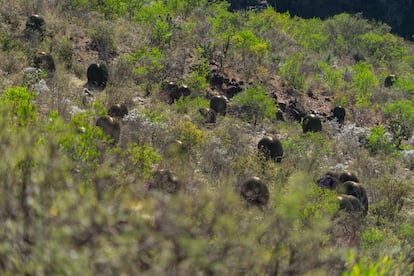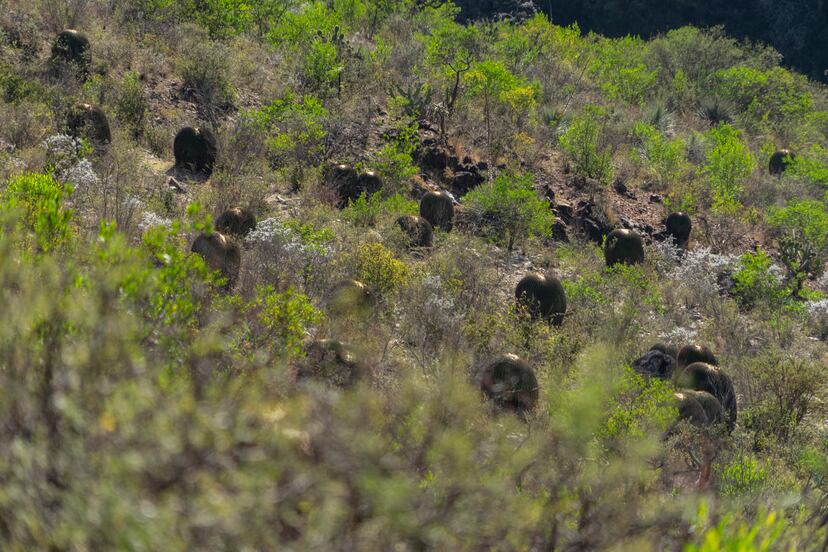 The biznagas are intelligent, where they are seen as miocene or Pliocene dumbbells, immobile, proof against the toughest wind. Its roots are shallow, ready to take over the first drops of rain that wet the earth, with which they will fill the barrel. They can withstand six years of unusual drought. What should have been leaves are now thorns, so that the moisture is not lost and they protect them. And their microscopic stomata operate the other way around than in other plants: in biznagas they close during the day and open at night. They monopolize moisture and treasure it, like camels. Donkeys are another thing, and they are capable of sucking life out of them. But what they did not have, definitely, is human voracity, or its most fearsome derivative: climate change.
All this is recounted by Mario Hernández, director of the Botanical Garden of San Miguel de Allende, one of the most beautiful towns in Mexico, near these lands of cacti in Guanajuato. He speaks of a "second predation", the one that is coming with intensive vegetable plantations, or real estate or any industry that depletes aquifers. He says that it is already being seen in neighboring lands. Also the decoration of private gardens can be inclined towards the illegal sale of these giants. "In the nurseries they need permits and guarantees to sell these plants, but they don't have them. They sell some that are 90 years old and the nursery has only been open for 10 ". And of course, climate change. "The ejidatarios cannot by themselves watch over so many thousands of hectares. These plants are classified as being in danger of extinction ", continues Hernández, an expert sociologist in groundwater and hydrographic basins. But in Mexico the laws are strong and their application weak. On occasions, the illegals have the collusion, if not the impulse, of certain local administrations. "And there are not many people who have, such as Master Léon, environmental awareness to protect this vegetation," says the biologist. Don León Rodríguez García is a teacher from the neighboring community of Ojo de Agua, Cienaguilla, where the road shows tourist routes to visit the giant cacti. He is a great defender of the environment, and also that it is the inhabitants of the area who have the upper hand in protecting their plant heritage.
The Christmas acitrón continues to be sold, but perhaps much of what is in the roscas de Reyes is now, happily, pure imitation. Hundreds of companies boast of environmentally sustainable products, but this safeguard has not reached the mark. If it's imitation, no one says. Perhaps there would be those who would find it tasteful. Others would pay more on the black market if they were guaranteed a true acitrón. Miseries of the human being.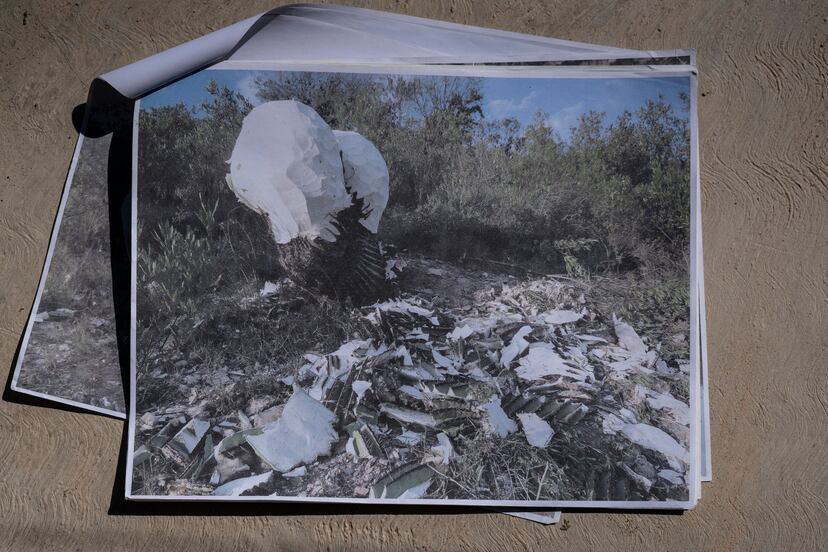 The platyacanthus They continue, for now, telling the story, the droughts of a century ago and the frosts of two ago leave their mark on their time rings, but their skeletons scattered in the mountains also show the current insanity: those who prey and those who do not want to or they cannot stop this environmental destruction with no return. María Angélica Orduña shows in her hand one of those spiny balls that supposedly were replanted by those who uprooted the giants. "They are worth nothing, look, here is the worm that is inside, they bring pests on top of it." Nothing can repair the crime committed against these beautiful barrels that take centuries to grow. For decades to come, one may speak of cacti, but not of giants. Although those that were uprooted left their seeds in the ground, the eyes of the child Sergio will never see them again in their spectacular size.
Subscribe here to newsletter from EL PAÍS México and receive all the informative keys of the current situation of this country

elpais.com