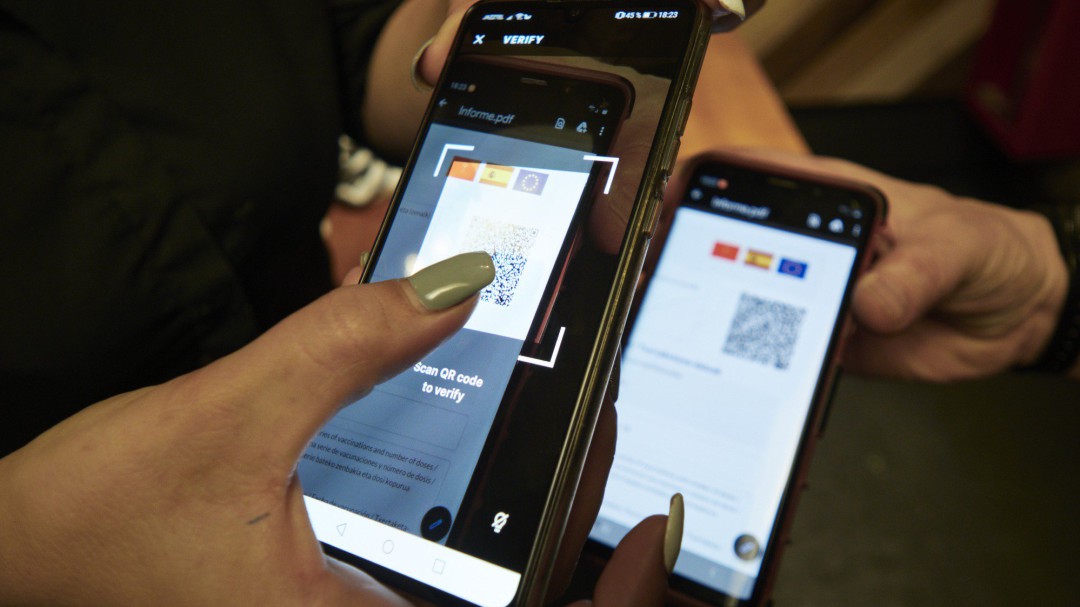 Twelve autonomous communities have an active COVID passport that prevents people without a complete vaccination schedule from accessing certain services: they are Andalusia, Aragón, the Balearic Islands, the Canary Islands, Catalonia, Cantabria, C. Valenciana, Galicia, La Rioja, Murcia, Navarra and the Basque Country . There are five other Autonomous Communities in which they do not require it at all: they are Madrid, Castilla-La Mancha, Castilla y León, Extremadura and Asturias. However, it is convenient to know how to obtain that COVID passport in each autonomy in case we travel at Christmas to another in which they do request it.
CCAA with valid COVID passport
Andalusia
Certificates can be downloaded through the Andalusian ClicSalud + Service website, the Andalusia Health APP and in health centers in person asking for an appointment. To obtain the certificate through the web, it is necessary to identify yourself with a digital certificate, DNIe or Cl @ ve. In Andalusia it is requested Covid certificate or diagnostic test for access to the interior space of hospitality, leisure and recreation establishments limited to users from 00:00 on December 20.
Aragon
In Aragon, the COVID passport is obtained by requesting a pin code at the health center of the person concerned. With this password, it is automatically downloaded in the Salud Informa app or on its website. This service also has the telephone numbers 976306841 (for the province of Zaragoza); 974215746 (for Huesca) and 978623345 (for Teruel). You can choose the face-to-face management going to health centers. In this community you cannot require a passport for hotels and restaurants, gyms, cinemas, shows and the like, but it is mandatory in hotels for celebrations of more than ten people, nightlife, game rooms, visits to hospitals and specialized social centers and in large events for those cases in which there are more than 500 attendees closed and 1,000 open.
Baleares
The Covid certificate can be obtained in the Balearic Islands through the Cita Previa mobile application, which is used to access certain services of the Balearic administration. The application includes a specific section for downloading the Covid digital certificate. It can be downloaded directly to the mobile, by means of a security identification by SMS message or by password. It is also possible to obtain it in digital format through the Patient Portal web space, where users for years have been able to consult their health information and prepare administrative procedures in the Health Service. For those who do not want to obtain it by telematic means, the Health Service has enabled points of face-to-face care to the citizenship in which the certificate can be issued and attend the incidents related to its obtaining. The points are installed in three hospitals in Mallorca: Son Espases, Hospital de Inca, Hospital de Manacor; two points in Menorca: Mateu Orfila Hospital and Canal Salat center; at the Hospital de Ca'n Misses in Ibiza and at the Hospital de Formentera. It is necessary to make an appointment before going.
Canary Islands
In the Canary Islands there is a specific app called my COVID certificate in which you can download. It can also be done on the website of the Canary Islands health service through the tab my story. And in case someone, perhaps older, does not know how to do it online, they can go to their health center and download it there. From Friday, December 10 to January 10, the accreditation of the COVID-19 certificate by staff and users, over 12 years and 3 months, will be in force in the Canary Islands, under the modality of voluntary use, in access to premises subject to capacity or schedule restrictions.
Catalonia
In Catalonia, the certificate can be accessed through the portal La Meva Salut, of the Ministry of Health of the Generalitat. All the information to download the certificate is on that website. PIt allows access to certain services, such as the interior of restaurants, nightclubs, gyms, nursing homes …
Cantabria
In Cantabria, the COVID passport (which is required to access any closed public area where food or drink is served) can be obtained in person at the health centers themselves and, above all (because it is the majority route) in the Cantabrian Health Service website, where the document can be downloaded. The SCS also has a mobile application, but the passport must be downloaded from the web. It is mandatory in Cantabria from December 10 "to access certain high-risk areas in which the intake of food and beverages may occur with the consequent lack of a mask."
C. Valenciana
From 00:00 hours on December 3, the COVID passport is required to access certain spaces in the Valencian Community. It is requested in hotel and restaurant venues with a capacity of more than 50 people, leisure and entertainment venues, spaces dedicated to recreational and gambling activities (casinos, bingo halls, etc …) with restaurant service, to visits to hospitals, and visits to public and private residences. To obtain the COVID certificate, you only need a SIP number, the date of birth and the date of issuance of the SIP card. With these data you have to access the website of the Ministry of Health or go in person to health centers by appointment.
Galicia
In Galicia there are three ways to obtain the Covid passport. The most convenient and fastest way is to download it in the Sergas (Galego de Saude Service) mobile application. It's called SERGAS MOBIL and it has a specific icon COVID certificates which is accessed either with a digital certificate or with an SMS with verification code.
You can also get your health card at any pharmacy and by the same procedure at a health center.
The Rioja
To obtain the COVID certificate in La Rioja, you must enter the Rioja Salud website or the website of the Ministry of Health. It can also be obtained in person at health centers or at the La Rioja Citizen Service Offices. Although it is not essential, it is advisable to go by appointment. To request it, you can use the free telephone number 900 700333 or the appointment website. In La Rioja, people aged 12 years and over must present the COVID certificate to access specialized hospitals and Social Services centers, visits to admitted patients and residents, premises and establishments with a license for discotheques, party rooms, bars with a special license, restaurants with a capacity of more than 50 diners, large cultural events in indoor spaces with food and / or drink consumption for more than 1000 people. In this community, three types of Covid Certificate are accepted as valid: vaccination certificate, diagnostic test certificate and recovery certificate.
Murcia
It can be downloaded at the electronic headquarters of the Region of Murcia, the simplest thing is to use the digital certificate, the digital ID or the Cl @ ve. You can also do the management in the Patient Portal. Another option is to do it in person (if you are from Social Security) in Murcian health centers.
Navarra
Navarra facilitates obtaining the COVID passport in person at health centers throughout the provincial community and also digitally on the Navarre Health Service website, where it is accessed with a personal password.
Basque Country
The EU digital COVID certificate can be obtained in person or digitally. The same procedure is valid for the recovery certificate (for those who have had the disease from 11 to 180 days after having had a positive PCR) and for the negative test certificate (for people with negative diagnostic test 48 hours before in antigen test and 72 hours in PCR test). It can be requested in person at any of the three Zuzenean offices (Vitoria, San Sebastián and Bilbao), by appointment, by calling 945-019000 or at this link. Online, it can be obtained with or without an electronic signature through the health card number (TIS). It can also be ordered online without having a health card.
CCAA without passport COVID
Asturias
In Asturias, a COVID-19 Digital Certificates application form has been enabled with which both the vaccination and the recovery are obtained. It can also be ordered in health centers in person but by appointment.
Castile and Leon
It can be obtained through the Sacyl application for mobile devices or on the Internet portal of the Ministry of Health. It cannot be obtained in person.
Castilla la Mancha
As for obtaining a passport, in Castilla-La Mancha it is quite simple. All you have to do is access the website of the Ministry of Health with the health card details. It can also be obtained in person at the oSESCAM Management Registry offices.
Estremadura
It can be ordered on the Extremadura Health Service website through the digital certificate or Cl @ ave. It can also be ordered online at health centers and in the CSOnline Extremadura app. Those who prefer to request it in person can do so at health centers and hospitals in Extremadura.
C. of Madrid
Although in the Community of Madrid they do not ask for it, they do need it for citizens who move to other Autonomous Communities at Christmas. It can be obtained with the Virtual Health Card app. When downloading it, it must be activated by asking for a password on 900 102 112 or in person at a health center or hospital of the Madrid Health Service. It can also be obtained via the web, at the COVID Digital Certificate management portal. It can be obtained in person at the Registry and Citizen Service Offices in different parts of the city (by appointment).



cadenaser.com
George Holan is chief editor at Plainsmen Post and has articles published in many notable publications in the last decade.