Mark Cousins ​​makes a living from his gaze. The 56-year-old British director is a popular student of film history through written and visual essays. He recently discovered that he had a genetic predisposition to develop macular degeneration, from which he could go blind in the future. He also had to have surgery for a cataract that had been clouding his vision for years. The day before that complicated eye operation he decided to start filming a documentary without leaving his bedroom in his flat in Edinburgh. The doctors were going to replace the natural lens of the left eye with a plastic one and his concern made him return to one of his books, History and art of the look (Publisher Past and Present). The movie The Story of Lookingwhich can now be rented at Filmin for 3.95 euros, analyzes from a personal point of view what images mean in our lives.
Cousins ​​celebrates that, after undergoing surgery, he sees things with crystal clarity for the first time in a long time. "With the operated eye I perceive the colors somewhat brighter, as I do not capture them in a natural way. Now I have one eye that is a telephoto lens and the other that is panoramic. With one I see life as if it were a Robert Altman movie and with the other as if it were one by Orson Welles", he jokes during a videoconference connection with EL PAÍS to chat about his project.
Cousins ​​admits that observing is his true calling. And that he has made her her profession. She first scans and then writes or shoots what she perceives. He quotes the writer Gertrude Stein to explain: "Imagination is the sum of observation and construction." In The Story of Looking sneaks the viewer into his bed. He places the camera on her and naked, lying between the sheets, argues that we are what we see. And, also, that we see based on what we are. In his dissertation he comes to say that the images of childhood and adolescence mark our adult judgments, like a lens that turns reality into something subjective.
"The obvious thing would have been to visit the most attractive places in the world to incorporate them into the documentary. He could have recorded the best of architecture, art and nature. But I wondered what would happen if I did just the opposite. What if I don't go anywhere? That option to turn things around has served me very well in the past," she says. The result is a documentary that combines the images that Cousins ​​had in view from her bedroom, among the chimneys of the urban landscape of the Scottish capital, with others from the archive of the trips she had made in the past.
It is also based on the great sequences of Welles's or Zhang Yimou's cinema that once were engraved on his retina.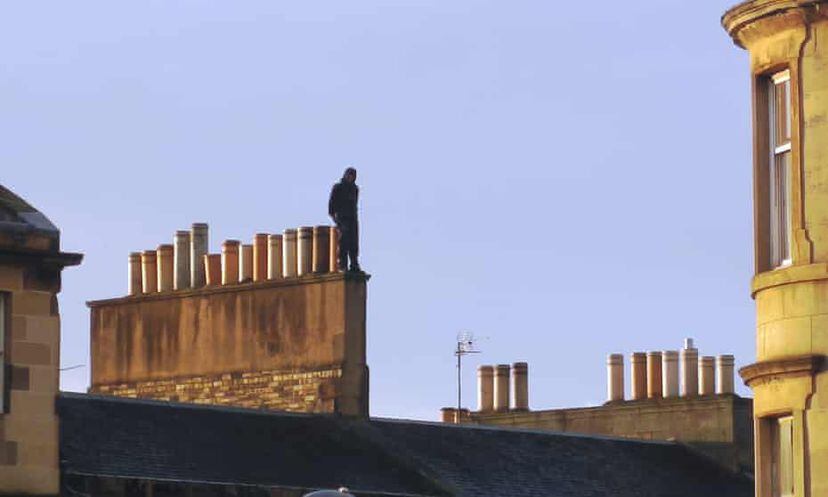 A visual autobiography
The director was shocked to see the Eiffel Tower during a vacation he spent in Paris when he was 11 years old. "I was overwhelmed, because of its size and also because of its geometry. He came back to me later with the Mies van der Rohe pavilion in Barcelona. Feeling that artificial things can also be beautiful marked my life", he recalls. Before those architectural epiphanies, it was the cinema that made him understand for the first time that the images he saw built him as a person. It was one night that he was in front of the television, with something more than eight years old. The BBC broadcast thirst for evilby Orson Welles, omnipresent in his life to the point of dedicating one of his recent visual studies to it, In the eyes of Orson Welles (2018). "The plot dealt with issues of race and gender that he didn't understand at that age. What I did realize at the time is that she had a more visual than verbal brain," she notes.
As a teenager, movie theaters allowed him to get away from the troubles in the working-class neighborhood of Ballymena, Northern Ireland, where he grew up. In them, she confesses she, she found an escape similar to that of Mia Farrow's character in The Purple Rose of Cairo (1985) by Woody Allen. And it is precisely this concept, that of consolation through what we look at, that now incorporates in The Story of Looking. "When we walk through the door of a movie theater, we cross a threshold, as Dorothy does in The Wizard of Oz. It is the place where problems melt like lemon drops on the chimneys", he says in reference to the letter of Over-the-Rainbow which Judy Garland sings on the tape. "Through movies we also live. We just do it in a safer way. And, once we feel safe, those stories can fuel in us a kind of fear or desire that we can't find anywhere else," she continues.
But for Cousins, the documentary genre has a very special power, since he has worked so hard in his career on titles such as The history of cinema: an odyssey (2011), A story of children and cinema (2013) and Women Make Film (2018). "It's a medium that keeps you deeply connected to the world while using language as suggestive as that of fiction," she concludes.
inspirational bbc
As for so many other audiovisual creators around the world, BBC broadcasts or productions have been one of the great inspirations in the life of Mark Cousins. That British Prime Minister Boris Johnson threatens again in recent weeks the future of the public broadcaster by freezing the citizen tax that finances it and even planning its privatization by 2028 is "an ideological persecution" in the eyes of the director. "The Government's argument is that older people cannot afford that payment, when it is a few pence a day. You can't buy absolutely anything with that money. The BBC has this motto of making the good popular and the popular good and that makes people in power feel threatened, "says Cousins.
You can follow EL PAÍS TELEVISION on Twitter or sign up here to receive our weekly newsletter.



elpais.com
George Holan is chief editor at Plainsmen Post and has articles published in many notable publications in the last decade.