The Earth heals itself from its crises by adapting to them, shedding what it does not need and clinging to what gives it food, health and the ability to regenerate. Her vaccine is herself. Humanity is cured the same and the vaccine against crises is also not to lose our roots in nature, or to recover it in time. Cities have done it with the renaturalization of their landscape environment for the health of their inhabitants. Do you remember? We baptize them here as vaccine cities. We have lived through a global pandemic and we are in the midst of a climate crisis. In the same way that there are vaccine cities, humanity can also heal in health before the last call of the planet to restore the lost connection. How? They tell us about it in the films tomorrow, After tomorrow, 2040 and soon, in Hope! We are on time. Of the latter vaccine-series we talk today. Come in, open your eyes and consciences wide, and see.
A little over a year ago we talked in this same blog about the "vaccine cities" for the health and life of its inhabitants, a recipe book for vitamins based on walks through the forests and rivers that surround our cities. Who does not remember the spring of waiting in the de-escalation to get out of the house and run to breathe fresh air to our closest parks, gardens and rivers? And it is that the cities that in their day chose to re-naturalize those landscapes buried under the asphalt inoculated the best vaccine against what came upon us shortly after … The pandemic. And against what we already had on then. The climate crisis.
'Hope!' goes beyond a catastrophic or remote series in its proposals of our day to day
But it seems that we have forgotten that one day we were vulnerable, that health is something more than not getting sick, that physical, social and environmental health is a whole. "This virus has been a huge slap on the earth, a whole humility cure that invites us to work for a reconnection with our closest ecosystems," said Antxon Olabe. Science has given us a remedy in record time and the pharmaceutical companies have charged us dearly – nothing is free, at the same time …-. But covid-19 is a warning from nature and the true vaccine does not have its own name, rather an awareness of what we are: part of it. However, the uprooting and disconnection is such that there is no pandemic or Filomena to open our eyes once and for all. Or if?
If cities have given us examples that reconnecting with nature is good for our health and prevents us from evils greater than coronavirus – read climate change – there is still hope. And this is what the team of Hope! We are on time. That not everything is written yet, or not sufficiently explained. That there are still people who wonder "Now what?", "What have we done wrong?", "What is happening to us?" or "What can I do?"
Humanity in the age of the Anthropocene seems to need a catharsis and vaccine-series They remind us of where we came from and where we are going, what we are going to find out there tomorrow, and how we can do our part in this mess on a planetary scale.
'Hope!' it goes beyond a catastrophic or remote series in its proposals for our day-to-day life. It was born with an eagerness to get closer to a Spanish-speaking public, a faithful follower of Javier Peña's direct and educational videos on the networks. "Let's get going fast now that we are on time." Is the motto of the project.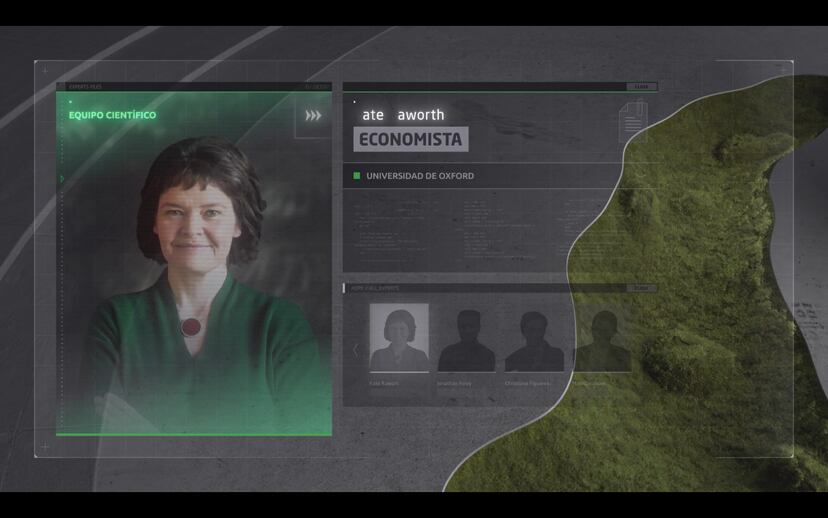 Is this new? No, we have examples from our neighboring France to our geographic antipodes. In the article on vaccine cities we already made reference to the series Collapse (Collapse). Despite the name, we see in this production a message that is repeated in all those that deal with the climate crisis: The key is not to isolate ourselves and act now.
The Australian 2040 is another feat of film that, following in the wake of the French tomorrow Y After tomorrow, transcends the screens to enter the consciousness of citizens of all ages. Anna Argemí told about it in this same blog. Javier Peña, famous for his viral videos on climate change –with more than 400 million views–, has managed to pick up the gauntlet of these initiatives and bring them home.
Thus, and from the hand of the producer El Gatoverde, the Hope! Standing on the planet will transform into Hope! The Series, a project of 10 chapters of 35 minutes each for which a crowdfunding has been launched that coincided with the celebration, from October 31 to November 12, of the Glasgow Climate Summit. It is already going for 97,000 euros raised, but the project is ambitious: the cost of each episode is around 150,000 euros and they need between 300,000 and 400,000 euros to cover the entire shoot. The deadline to achieve it ends on the next 16, although they are already about to achieve the minimum.
It is already going to 97,000 euros raised, but the project is ambitious: the cost of each chapter is around 150,000 euros and they need up to 400,000 euros to cover the entire shoot
"We are going to do quality dissemination while entertaining the maximum scientific rigor: in the style of Cosmos". Mariano Baratech thus refers to another of Hope !'s reference series: Carl Sagan's. In fact, the emissions simulator that in the series will try to test the solutions and their immediate effects bears the name of the great popularizer in his honor.
Javier Peña advances us the approach of Hope!: "Each chapter will address a sector and explore the zero-emission alternatives that we have to replace them: electricity, transport, food, housing and construction; consumption and waste; industry, tourism and leisure; the restoration of nature… ". "Each one will end up with a hook that poses the problem to be dealt with in the next one. For example: "Okay, we have electrified transportation, but now what do we do with batteries and the heavy metals they contain?"
On October 27, Piamonte de Madrid was presented at Impact Hub, and no one was missing: Fernando Valladares, Mariano Baratech, Juantxo López de Uralde, Inés Sabanés … film people, environmentalists, and many media interested in following up on this series, presented as something that goes beyond what we have seen so far. "It will be the first series that talks about solutions, in Spanish, taking advantage of the virality of the videos of Hope!, with augmented reality, a scientific advisory council, connected with international platforms … "
But what most caught our attention was the idea of ​​creating a launching foundation for some of the solutions proposed in the series –restoration of ecosystems, for example–, and that transcends a transmedia project, from the scientific rigor endorsed by an advisory team with Susana Bayo, Eloy Sanz, Joaquín Araujo, Emma Huertas or Fernando Valladares himself, among many others.
It will also be a sustainable shoot, and the foundation will serve to offset the environmental footprint generated by it. If they have seen 2040, you will find the similarities with Hope! The interesting thing is that Javier Peña brings it from the antipodes and translates it, in every way, into our context, putting good work, rigor, desire, familiar faces who speak our language, on the screens of our homes. "We cannot change our habits if we do not know the solutions," he insists.
It will be a sustainable filming, and the foundation will serve to offset the environmental footprint generated by it.
Hope! proposes a roadmap of the best solutions to achieve zero emissions. But this is not valid, you have to know how to restore ecosystems to reactivate the carbon cycle. That is why they want to show concrete experiences that already work, in an attractive way, in a different tone, loud and clear. And bring it home. The series is already underway. And they tell us that Televisión Española already knows about the project. All the hope placed on Hope!.

elpais.com
George Holan is chief editor at Plainsmen Post and has articles published in many notable publications in the last decade.